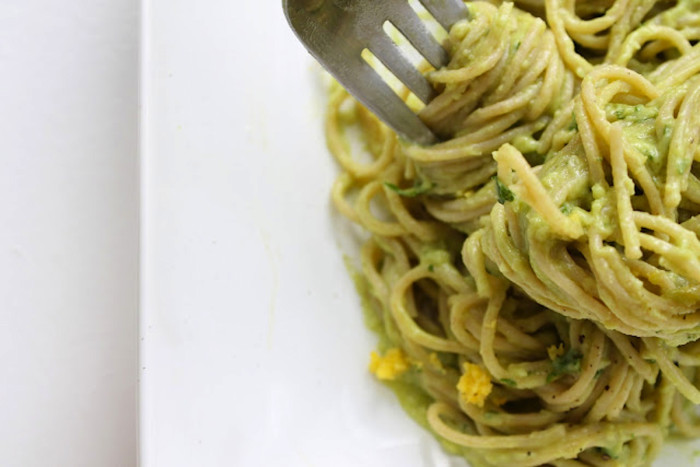 From Michelle Oddis, food blogger extraordinaire and mistress of awesome boozy Jell-O confections like the ever-popular Caramel Apple Shot, comes this vegetarian pasta sauce recipe made from avocados. Actually, she borrowed it too, but that's how the greatest recipes eventually find their way into your kitchen. If you have 15 minutes, a food processor and a desire for the best substitute for alfredo sauce known to mankind, this is the way to go.
We're waiting on chili-rimmed guacamole shots, Michelle.
Ingredients
1/2

box

whole wheat thin spaghetti or pasta of choice

1

avocado, halved and pitted

2

tablespoons

olive oil

1/2

clove

garlic

1

bunch

parsley

Salt and pepper
Directions
Bring salted water to a boil in a medium sized pot. Add in your pasta, reduce heat to medium, and cook until al dente, about 8-10 minutes.
Meanwhile, make the sauce by placing the garlic, lemon juice and olive oil into a food processor. Process until smooth.
Now add in the pitted avocado, herbs and salt. Process until smooth and creamy.
When pasta is done cooking, drain and rinse in a strainer and place pasta into a large bowl.
Pour on sauce and toss until fully combined. Garnish with lemon zest and black pepper. Serve immediately.
*Dish does not reheat well due to the avocado in the sauce.