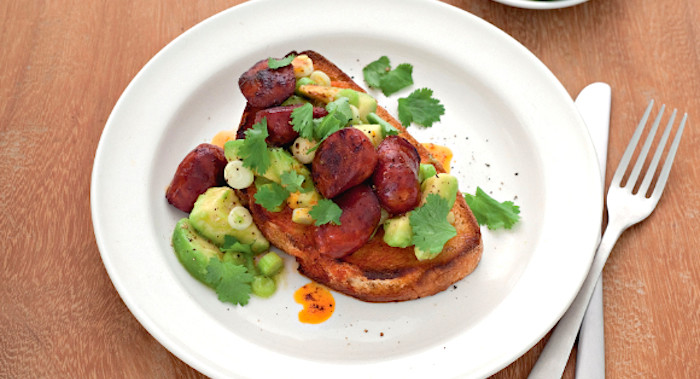 Wake up your taste buds with this fiery alternative to the sausage sandwich – my perfect food for the morning after the night before. The quality of the bread will really make all the difference here; you want something with a good chewy crust and character. If you don't find sourdough, then halve and toast some ciabatta or baguette instead.
Chorizo is a piquant Spanish sausage that is spiced with paprika and garlic, with a delicious smokiness. There are two types: cooking chorizo, which is soft like a regular sausage, and cured chorizo, which is firm and dry and eaten uncooked, like a salami. Either type will work in this recipe, but choose the cooking chorizo if you have an option.
Ingredients
9

ounces

chorizo sausage

2

ripe avocados

4

scallions

2

limes

a few drops of

tabasco sauce

1

tablespoon

extra virgin olive oil, plus extra for drizzling

4

thick slices

good-quality bread, such as sourdough

1

clove

garlic

1

handful

fresh cilantro

sea salt and freshly ground black pepper
Directions
Cut the sausages into bite-size pieces. Heat a skillet or frying pan, add the sausages to the dry pan, then fry for 5 minutes, until golden and crisp around the edges. The sausages will release their own red oil as they cook.
Meanwhile, cut each avocado in half; then use a spoon to scoop out the pits (stones) and the flesh. Roughly slice or chop the flesh.
To cut an avocado in half, very carefully push the blade of a knife into the flesh, until the knife stops at the pit. Slide the knife all the way around the avocado, keeping the blade against the pit. Pull out the knife, then twist the 2 halves apart.
Thinly slice the scallions (spring onions) and squeeze the juice from one lime. Add the juice and onions to the avocados in a bowl. Add the Tabasco and oil, then season to taste with salt and pepper. Cut the remaining lime into wedges.
Preheat the broiler (grill) and spread out the bread on a baking sheet. Toast until golden on both sides. Cut the garlic in half and rub the cut side over the toast. Drizzle with a little extra-virgin oil.
Top the toast with the avocado mixture, followed by the sizzling sausages and a spoonful of the cooking juices. Tear the cilantro (coriander) leaves over the top and serve with the extra lime wedges for squeezing.
More chorizo recipes on Food Republic: