Malaysian Must: An Authentic Nasi Lemak Recipe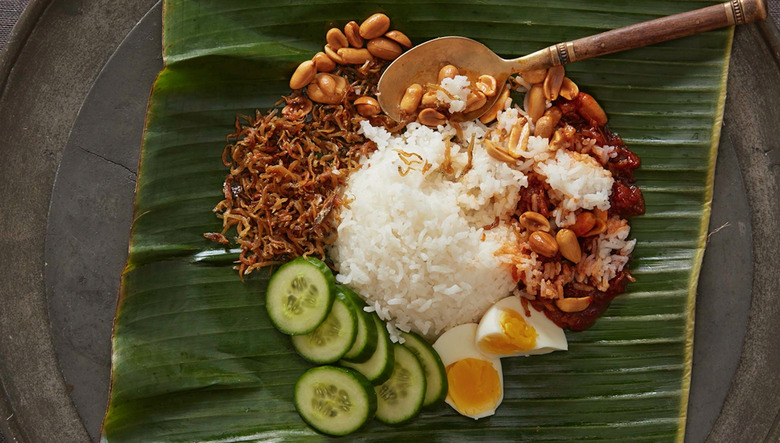 We may receive a commission on purchases made from links.
Think you can't cook Malaysian food? Too complicated? Wouldn't know where to start? Think again! This spicy, tangy, vibrant cuisine is well within reach if you have a copy of chef Christina Arokiasamy's new cookbook. She served as Malaysia's first official Food Ambassador to the U.S., so take her word for it and whip up some authentic nasi lemak tonight.
It's hard not to love nasi (rice) lemak (rich and creamy), so popular that its greatest advocates insist on calling it the country's national dish. Throughout my school years, I would savor nasi lemak, wrapped in green banana leaves, at least three times a week. Inside the bundle was warm coconut rice infused with the vanilla-like aroma of pandan leaves and citrusy ginger accompanied by a hard-boiled egg, crispy fried anchovies and peanuts, a few slices of cucumber, and a dollop of sambal — flavors that are still etched in my mind.
Since all the side condiments can be served at room temperature, they can be made well in advance. I always prepare more than I need at one time so I can enjoy this dish again whenever I want. For instance, the fried peanuts and anchovies, which bring complexity and crunch to the dish, can be fried and then stored in an airtight container at room temperature. The sambal can be stored in the refrigerator or freezer and then microwaved when you need it. When all of the main preparations are done ahead of time, you are only left with cooking the coconut rice, which should be served piping hot along with warm hard-boiled eggs and fresh slices of cucumber.
Malaysian Must: An Authentic Nasi Lemak Recipe
This spicy, tangy, vibrant cuisine is well within reach, with a copy of chef Christina Arokiasamy's new cookbook. Learn how to make authentic nasi lemak!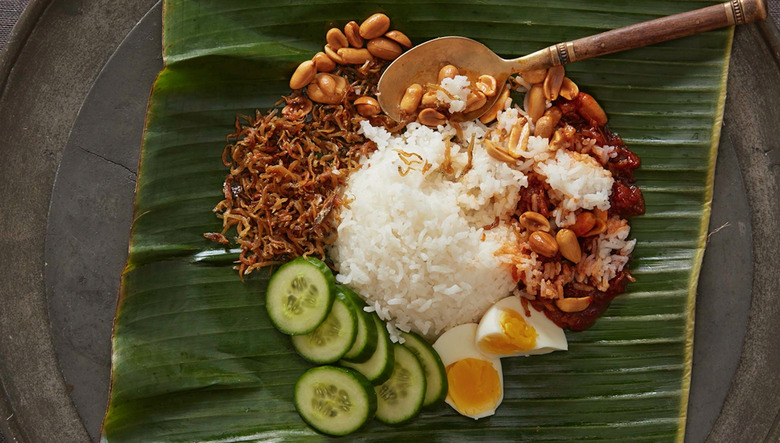 Ingredients
3 cups basmati rice
1 tablespoon salt
4 cloves garlic
1 1-inch piece fresh ginger
2 pandan leaves
3 cups coconut milk
1 1/2 cups water
2/3 cup peanut or canola oil
1 cup raw peanuts with skin on
1 1/2 cups dried anchovies
6 tablespons Sambal Ulek
4 cloves garlic
1 1-inch piece fresh ginger
4 shallots
3/4 cup water
6 tablespoons peanut oil
1 teaspoon salt
1 tablespoon sugar
1/2 medium onion
3 tablespoons Tamarind water
6 banana leaves (12 by 9 inches each)
1/2 small cucumber
3 hard-boiled eggs
Directions
Prepare the coconut rice: Wash the rice by gently rubbing it with your fingers in a bowl filled with water. When the water becomes cloudy, drain the water and repeat the process until the water is clear. Place the rice in a large saucepan and add the salt, garlic, ginger, pandan leaves, coconut milk, and water. Bring to a boil over medium heat, then simmer, uncovered, until steam holes appear in the rice and the surface looks dry, about 10 minutes. Reduce the heat to low, cover with a tight-fitting lid, and cook, without stirring, until all the coconut milk is absorbed and the grains are tender and fluffy, about 20 minutes more. (Alternatively, you can cook all the ingredients in a rice cooker.) When the rice is done, discard the garlic, ginger, and pandan leaves and stir the rice.
Meanwhile, fry the peanuts and anchovies: Heat the oil in a wok or skillet over medium-low heat. When the oil shimmers, add the peanuts and cook until they turn brown, about 5 minutes. Transfer the peanuts with a slotted spoon to a paper towel to drain.
Next, carefully add the dried anchovies and stir-fry, moving the anchovies back and forth, until golden brown and crispy, about 7 minutes. Transfer the anchovies to a paper towel. Discard the oil. Set aside half of the anchovies to serve with rice and use the other half for the sambal.
Prepare the anchovy sambal: Blend the sambal ulek, garlic, ginger, shallots, and ¼ cup water in a blender to a smooth paste with the consistency of applesauce. Heat the oil in a wok or skillet over medium heat. When the oil is hot, add the sambal paste, salt, and sugar and stir-fry until fragrant and the oils separate onto the surface, about 10 minutes. Add the onion and cook until the onion is soft, another 5 minutes. Add the tamarind water and remaining ½ cup water and mix well to combine with the paste. Now add half the crispy anchovies and allow to cook for 5 minutes. Taste the sambal and add more sugar or salt if needed; you want a balanced sweet-salty taste. Turn off the heat.
To serve, line each diner's plate with a banana leaf. Place about 1 cup of the cooked coconut rice in the middle of the leaf. (If you like, press the rice into a bowl first and then invert it onto the plate for a neat domed shape.) Put about 3 tablespoons of the anchovy sambal on top of the rice. Place a few sliced cucumbers, half of a hard-boiled egg, and finally 1 tablespoon each of the peanuts and fried anchovies around the rice. Serve warm.