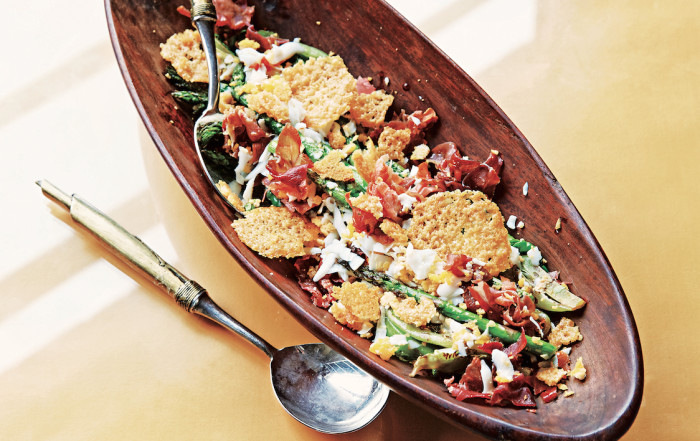 The most popular new book about salad and only salad comes from British restaurateur John Vincent and food writer Jane Vincent. Leon Happy Salads brings the recipes from the beloved London produce palace straight to your own kitchen. Remember: A boring salad is not a happy salad.  

Shaved egg and Parmesan crisps are a revelation.
Ingredients
10 1/2

ounces

asparagus spears, trimmed

3

tablespoons

olive oil

Leaves from a sprig fresh thyme

8

slices

prosciutto

3

Little Gem lettuces

2

teaspoons

balsamic vinegar

3

hard-boiled eggs

2

tablespoons

chopped fresh chives

Salt and freshly ground black pepper
Parmesan Crisps
1

ounce

roughly grated Parmesan

1

ounces

finely grated Parmesan
Directions
For the Parmesan crisps
Heat the oven to 200° C/400° F/gas mark 6.

Line an ovenproof tray with baking parchment. Mix the Parmesan together and pile onto the tray in 2- to 3-centimeter (¾- to 1¼-inch) mounds about 4-5 centimeter (1½-2 inches) apart. Bake in the oven for 5-6 minutes.

Remove from the tray with a palette knife and place on a wire rack. If the crisps fall apart, don't worry, just sprinkle them on.
For the salad
Heat the oven to 200° C/400°F/gas mark 6.

Toss the asparagus with a tablespoon of the olive oil. Season well and place on a baking tray. Sprinkle with thyme leaves and place in the oven for 5-8 minutes, or until the asparagus is just cooked. Remove and leave to cool.

Place the prosciutto slices on baking parchment and pop them into the oven for 5 minutes. They should shrink and become crisp.

Cut the Little Gems into wedges. Mix together the balsamic vinegar and remaining olive oil in a large bowl and season well. Heat a griddle pan and grill the Little Gem wedges until lightly charred and wilted. Toss in the dressing while they're still hot.

Arrange the Little Gems on a large serving plate. Top with the roasted asparagus and crumble over the prosciutto. Grate the egg over the salad and finish with Parmesan crisps and chives.