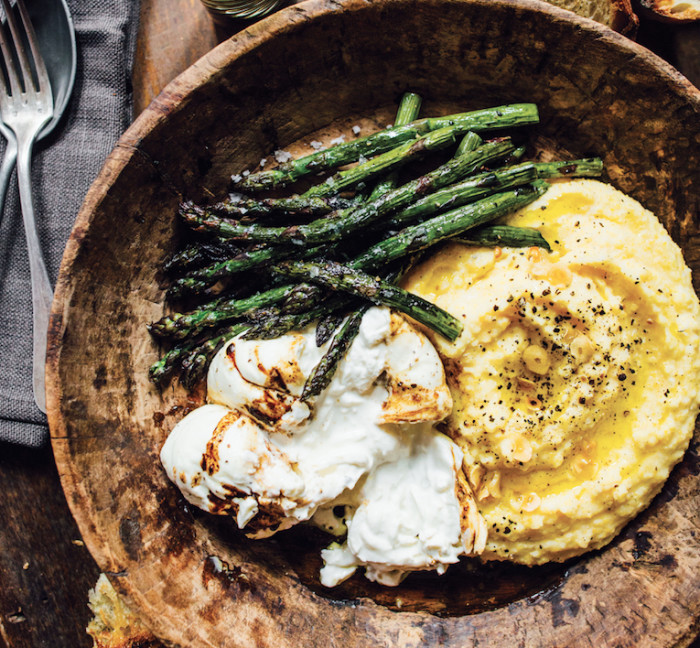 Change up your dinner game with renowned food writer and test kitchen master Melissa Clark. Dinner tonight is asparagus polenta with burrata. With recipes across the playing field, from a simple egg-based supper to an elaborate (but not difficult) roast, there's something in the mix for everyone. Churn out stellar salads, hearty pastas, freshly baked bread and more with this versatile new volume.
A soft mound of polenta is a blank canvas of a meal, ready to absorb whatever you're in the mood to put on top. I'll often cook up a potful as a landing pad for all kinds of leftovers that aren't quite substantial enough to be called dinner on their own—those couple of tablespoons of last night's braised short ribs, a container of sautéed veggies, that small amount of cooked beans that have no other destination. In this recipe, the polenta is a bed for roasted asparagus and burrata cheese—a kind of mozzarella that oozes cream when you poke it. It's a meal both comforting and company-worthy, especially if you serve it with a juicy rare steak or pork chops. I usually make my polenta with water. But if you want a richer flavor and have some good stock in the freezer, feel free to substitute it for all or part of the liquid in any of the recipes in this chapter.
Ingredients
1 1/4

teaspoons

kosher salt, plus more as needed

1

bay leaf

1 1/2

cups

polenta

2

bunches

thick asparagus (about 2 pounds), ends trimmed

2

tablespoons

extra-virgin olive oil, plus more for serving

1/2

teaspoon

freshly ground black pepper, plus more to taste

3 to 4

tablespoons

unsalted butter, to taste

1

whole burrata cheese, about 8 ounces

balsamic vinegar, for serving (optional)

flaky sea salt, for serving
Directions
For the polenta
Heat the oven to 450°F.

In a medium pot, combine 6 cups of water (or use stock if you prefer) with the 1¼ teaspoons salt and the bay leaf. Bring to a simmer, and then slowly whisk in the polenta. Stir frequently until the polenta has thickened enough that it no longer sinks to the bottom of the pot, 5 to 10 minutes.

Reduce the heat to low, cover the pot, and simmer very gently until tender, 15 to 30 minutes (depending on the coarseness of the grind).

While the polenta cooks, place the asparagus on a large rimmed baking sheet and toss it with the olive oil, salt to taste, and pepper to taste. Roast until tender and browned, 7 to 15 minutes.

When the polenta is done, remove the bay leaf and stir in the butter and the ½ teaspoon black pepper.

Spoon the polenta onto serving plates and arrange the asparagus on top. Place a portion of the burrata alongside each serving. Drizzle with olive oil and with balsamic vinegar if you like, and season with flaky sea salt and black pepper.