Asparagus Frico Recipe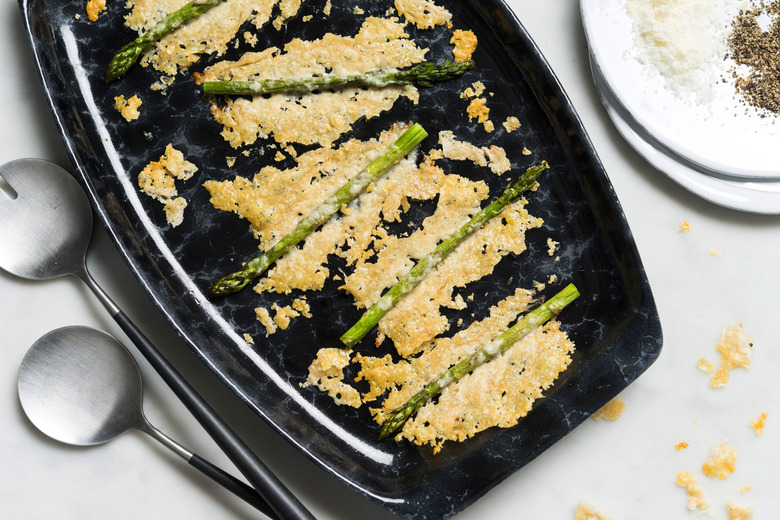 Crispy, cheesy asparagus is a good way to eat your greens. (Photo: Evan Sung, stylist: Kaitlyn DuRoss.
We may receive a commission on purchases made from links.
This recipe is part of Crispianity: a column devoted to all foods crispy and crunchy, two of the most underappreciated attributes of a great dish. Author Adeena Sussman is a food writer and recipe developer, pairing here with her photographer friend Evan Sung. Sussman's most recent cookbook, coauthored with Lee Brian Schrager, is Fried and True: More Than 50 Recipes for America's Best Fried Chicken and Sides.
When it comes to the crisp factor, few things match up to a well-made frico. Little more than grated cheese piled onto a baking sheet and heated into a lacy, crunchy round, it's an Italian-restaurant staple that does double duty as a cracker. With spring (in theory) sprung, I wanted to integrate the freshness of young asparagus for a classic touch. What emerged was a combination of tender green spears with the bonus crunch of peppery toasted cheese. Eat it alone, pile some greens on top, or layer a piece of prosciutto on top. Frico-licious.
Asparagus Frico Recipe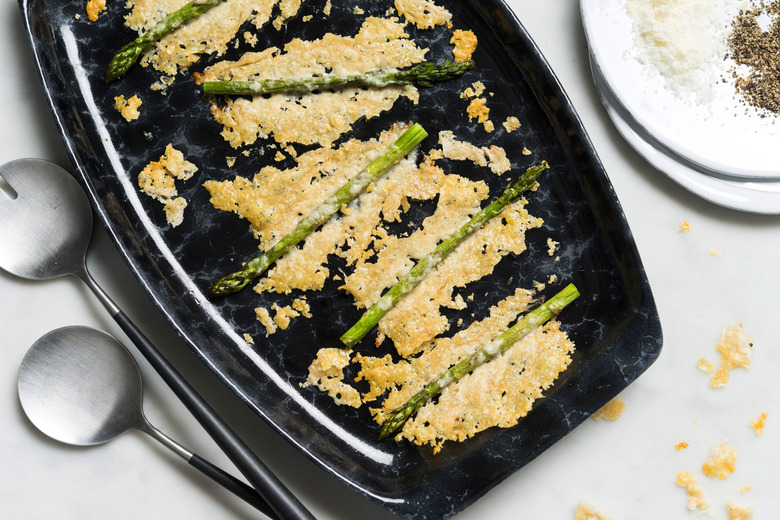 Ingredients
6 thin spears asparagus
1 1/2 cups Parmigiano Reggiano cheese
Olive oil
Freshly ground black pepper
Directions
Preheat the oven to 400°F. Line a baking sheet with a silicone mat (such as Silpat) or parchment paper.
Arrange the asparagus spears in a single layer in an asymmetrical pattern, leaving an inch or two between spears.
Sprinkle about 1/3 cup shredded cheese over each spear, leaving the tips exposed but covering the rest of each spear with cheese. Brush the tips with oil and sprinkle generously with freshly ground black pepper.
Bake until bubbly and starting to brown, rotating once if necessary, about 6-7 minutes.
Cool until the cheese crisps up. Break apart and eat immediately.
Cheese And Bacon Okra Poppers
Veggie Cakes With Chard, Ricotta And Saffron
Grilled Radish Crostini