Asparagus And Almond Salad With Spiced Quail Eggs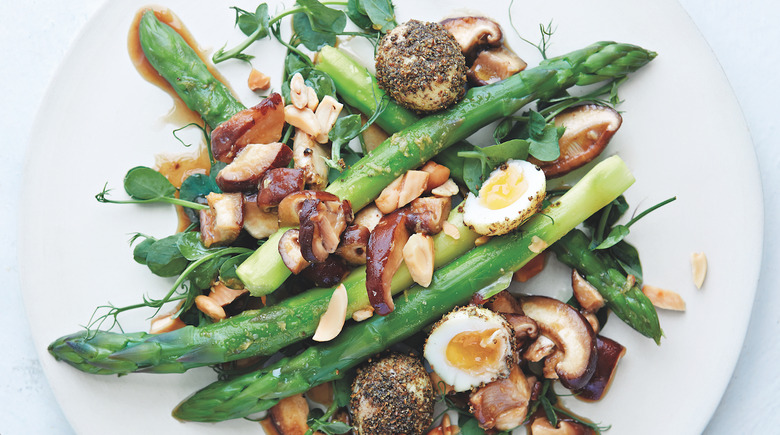 We may receive a commission on purchases made from links.
When your salad cookbook is endorsed by Yotam Ottolenghi, you know you have a winner. New Zealand chef and restaurateur Peter Gordon's new recipe collection is an homage to the fresh and seasonal (of course) but also to the leftovers, scraps and "now or never" ingredients in the fridge that minimize waste with beautiful results. 
This is a really pretty, elegant salad full of popping tastes and contrasting textures. Quail eggs are tricky things to peel — use your fingernails and a small, sharp knife — but well worth the effort. If you can't get them, then use hen's eggs and serve one per person.
Asparagus And Almond Salad With Spiced Quail Eggs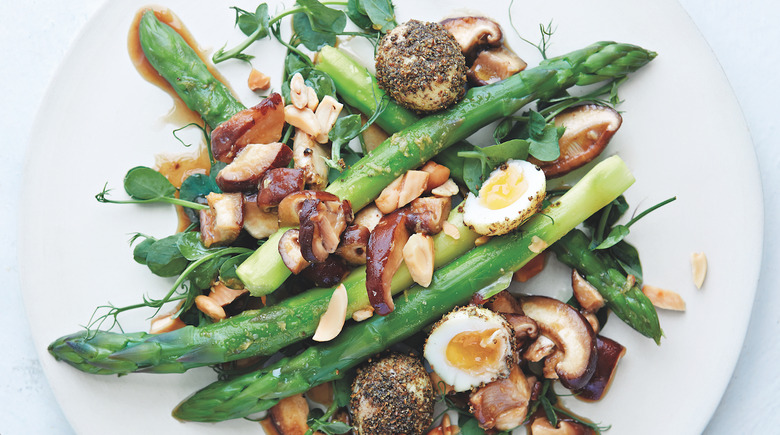 Ingredients
1 teaspoon coriander seeds
1/2 teaspoon nigella seeds
1/4 teaspoon cumin seeds
1/4 teaspoon fennel seeds
12 quail eggs
1 tablespoon white vinegar
1 1/3 cups fresh Shiitake mushrooms
1 pound, 12 ounces asparagus
1 handful salad leaves (I used pea shoots)
1 tablespoon lemon juice
3 cups almonds
1 tablespoon soy sauce
2 tablespoons mirin
1 tablespoon miso paste (I used shiromiso)
2 teaspoons finely chopped or grated ginger
Directions
Lightly toast the coriander, nigella, cumin and fennel seeds in a dry frying pan (skillet) over a medium heat until they become aromatic. Leave to cool. Add ½ teaspoon of flaky salt and grind the spices in a spice grinder or using a mortar and pestle.
Place the quail eggs in a pan large enough to hold them in a single layer. Pour in enough water to cover by 3 centimeters (1¼ inches), add the vinegar, bring to the boil and cook for 3 minutes. Drain into a sieve or colander, then place in a bowl of iced water and leave for 5 minutes. Peel the eggs and roll them in the ground spices.
To make the dressing, mix the soy, mirin, miso paste and ginger until the miso has "dissolved," then stir in 2 tablespoons of warm water.
Bring 200 milliliters (¾ cup) of water to the boil in a medium pan. Slice half the shiitake mushrooms and dice the other half. Add to the boiling water, give a good stir for 20 seconds, then drain into a colander. Leave for 30 seconds, then tip into a bowl and mix in the miso dressing. Cover with cling film (plastic wrap) and leave to marinate, stirring again after 10 minutes.
Snap the ends from the asparagus and peel the lower 3 centimeters (1¼ inches). Blanch in salted boiling water, or steam, for 10 minutes, then refresh in iced water. Drain. To serve, toss the asparagus and salad leaves with the lemon juice and lay them on your plates. Spoon on the mushrooms and marinating juices, then tuck in the quail eggs and scatter with the almonds.