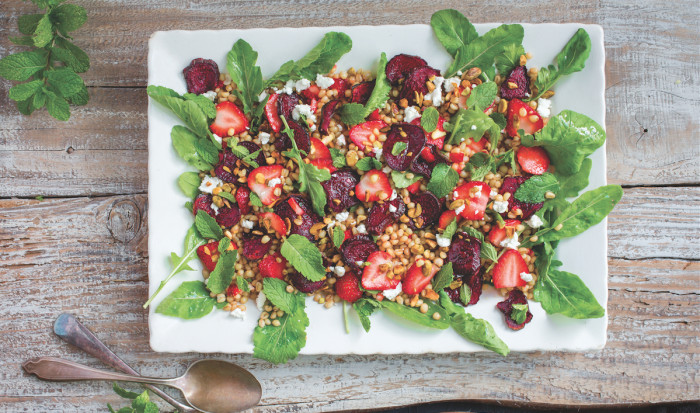 Keep it simple and green with food writer and cookbook author Susie Middleton's new recipe collection. If you're angling to adapt a more plant-based diet, there's no better path to healthy living than a reliable cookbook filled with delicious, attractive vegetable dishes developed by a pro. This beet, arugula and wheat berry salad is a fresh, vibrant way to enjoy your ancient grains. 
In my garden, strawberries begin to ripen about the same time the first beets are ready to harvest. One day I realized that the sweet, citrusy acidity of my Ozark Beauty strawberries would be the perfect foil for the earthy nuances of beets, and that both go well with maple syrup and balsamic vinegar. Because wheat berries also love maple and balsamic, I had found the perfect pairing for a beautiful and tasty salad. (Cook your wheat berries ahead of time, or if you need a quicker-cooking grain here, use farro.) The cool flavors of arugula and goat cheese add the perfect contrast, but you could certainly leave out the goat cheese for a vegan version. Ideally, use a large platter or two smaller platters for this salad, which gets a whimsical character from scattering and layering the ingredients rather than mixing them in a deep bowl.
Ingredients
1

pound

beets (6 to 8 small to medium), any color, unpeeled

1/4

cup plus 1 tablespoon

grapeseed or olive oil

1 1/4

teaspoons

kosher salt, plus 2 large pinches

1

tablespoon plus 2 teaspoons

white balsamic vinegar or a combination of red balsamic vinegar and white wine vinegar

1

tablespoon

maple syrup

1

tablespoon

fresh lemon juice

3

tablespoons

diced fresh strawberries, plus 8 to 10 strawberries, cored and sliced

1 1/2

cups

cooked wheat berries

4

cups

arugula (preferably small or baby leaves)

1/3

cup

chopped toasted pistachio nuts, or toasted sliced almonds

2

ounces

fresh goat cheese, crumbled while still cold

1

tablespoon

fresh baby mint leaves or slivered mint (optional)
Directions
For the salad
Preheat the oven to 450°F. Line two heavy-duty rimmed baking sheets with parchment paper.

Using a sharp, thin-bladed knife, trim the ends of the beets and then slice each beet crosswise into rounds between ⅛ and ¼ inch thick. (Don't use a mandoline, which would cut them too thin.) If a beet wobbles around while you are trying to cut it, cut a thin piece off the bottom to stabilize it.

If you have both red and yellow beets, put them in separate bowls. Toss the beets with 2 tablespoons of the oil and ¾ teaspoon of the salt. Spread out the beets in a single layer on the baking sheets (preferably keeping red and yellow beets separate) and bake, flipping with a spatula and rotating the pans halfway through cooking, until the beet slices are tender, glistening, and shrunken, a total of 16 to 18 minutes.

In a small bowl, whisk together the remaining 3 tablespoons of oil, the vinegar, maple syrup, and lemon juice, and a big pinch of salt. Stir in the diced strawberries.

Put the wheat berries into a small bowl and season with ½ teaspoon of the salt. Stir in 2 tablespoons of the strawberry dressing and let sit for 10 to 20 minutes to allow the grain to absorb some of the dressing.

Have ready four large dinner plates, two medium platters, or one large platter. (Both ovals and rounds look nice; just aim for a lot of surface area.) Reserve a few leaves of arugula, then divide the arugula evenly among your serving dishes, scattering it over the dishes. Sprinkle it all with the remaining big pinch of salt and drizzle with 2 tablespoons of the strawberry dressing, divided up among the dishes.

Over the arugula, arrange or scatter the roasted beets, strawberry slices, and seasoned wheat berries. Drizzle with the remaining dressing, then sprinkle with the goat cheese, the pistachios, the remaining arugula leaves, and the mint leaves (if using). Serve right away.