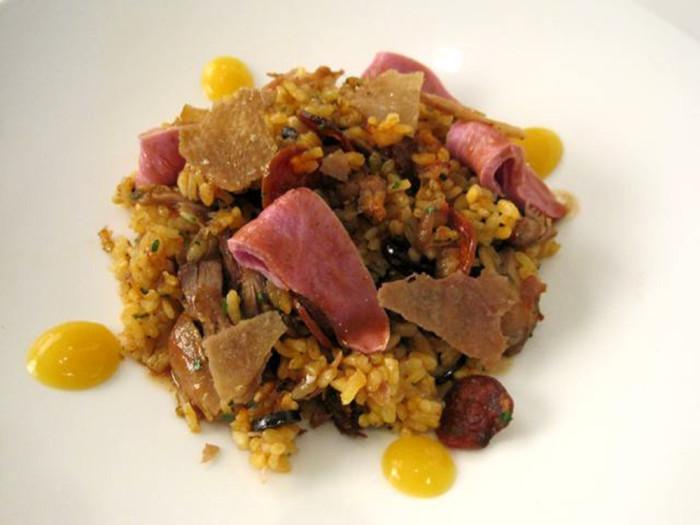 There's a very solid reason a seemingly simple rice dish is one of the rock star dishes at the NYC temple to new Portuguese cooking, Aldea. George Mendes' infusion of flavor into everything he touches in his kitchen—besides this recipe, try his tasty shrimp alhinho—keeps the throngs of food-obsessed folks coming back. Serve this rice dish with duck for your next dinner party and your guests will be so impressed that you may have trouble stopping them from coming back as well!
Ingredients
for rice
8

ounces

rice, calaspara

2

ounces

sofrito, recipe below

2 1/2

cups

duck stock

salt and freshly ground white pepper, to taste

olive oil, as needed
Sofrito
1/4

cup

onion, chopped

3

cloves

garlic, minced

1

tomato, peeled and diced

1

tablespoon

pimenton

1

pinch

saffron threads

2

tablespoons

olive oil
Duck confit
2

duck, legs

1/2

onion, peeled and sliced

1

carrot, peeled and sliced

3

cloves

garlic, sliced

3

cups

duck fat

1

tablespoon

white peppercorns

1

tablespoon

coriander

2

pieces

star anise

1/4

bunch

thyme

1

bay leaf

1

sprig

rosemary
Duck breast
2

duck breast

skinless

1

tablespoon

duck fat

1/4

cup

chorizo, sliced

2

tablespoons

black olives, pitted and sliced

1/2

cup

apricots, dried

1/4

cup

white wine

1

tablespoon

sherry vinegar

2

duck skin, crisped in oven, from the breast
Directions
Make the duck confit:
Set oven to 300 degrees F. Season the duck legs with salt and pepper on both sides and then sear in a tablespoon of duck fat until golden brown on both sides. Remove from pan and set aside.
Add the onion, carrot, celery, and garlic and cook until tender.
Next add the the coriander, white peppercorn, star anise, and herbs (all tied in cheesecloth—sachet).
Continue cooking for additional 5 minutes. Add the duck fat, melt, and then transfer all to oven-proof casserole. Cover with aluminum foil and cook for 6-8 hours, until duck meat falls off the bone.
When cool enough to handle, pull the duck meat off the bone, discard the bones and be careful of loose cartilage.
Make sofrito:
Over medium-low heat, sweat onion and garlic in the olive oil until just slightly golden brown.
Add the saffron threads and cook 2 minutes more. Then, add the diced tomato and cook over medium heat unitl all moisture is gone.
Add the pimenton. Set aside.
Make the apricot puree:
In medium saucepan, combine the apricots with the white wine and cook over medium-high heat until wine is reduced by half.
Add the sherry vinegar, then puree in vita-prep (or blender) at high speed until smooth.
Pre-cook rice:
Place the 1.5 ounces of sofrito in heavy-bottomed rondeau. Add additional 1/4 cup of olive oil. Place over medium-low heat.
Add the rice and toast, constantly stirring with rubber spatula or wooden spoon.
Add 12 ounces of the stock and mix well. Let cook stirring to avoid sticking for about 8-10 minutes.
Remove rice from pan and spread onto parchment paper-lined sheet pan. (Pre-cooking the rice is a step we take at Aldea to expedite the service, but rice can also be finished at this point.) Add the additional stock as well as garnishes.
Cook duck breasts:
Season duck breasts with salt and pepper. Vacuum pack with the duck fat and cook in water bath at 65 degrees celsius for 20 minutes.
To finish:
Pre-heat oven to 375 degrees F.
In large paella pan, Spread rice along the bottom in even layer.
Add the duck confit, chorizo, olives, and season with salt and pepper. Mix well and flatten out again. Add the additional 6 ounces of stock and place in oven.
Cook for 7 minutes until rice is crisped around the edges and a "soccarat" has formed on the bottom of pan. Remove from oven and let rest for 5 minutes covered with aluminum foil.
To serve: Dish out onto plates and garnish with the sliced duck breast, crisped up skin, and the apricot puree. Or place entire rice at center of table with garnishes on top and let guests serve themselves.