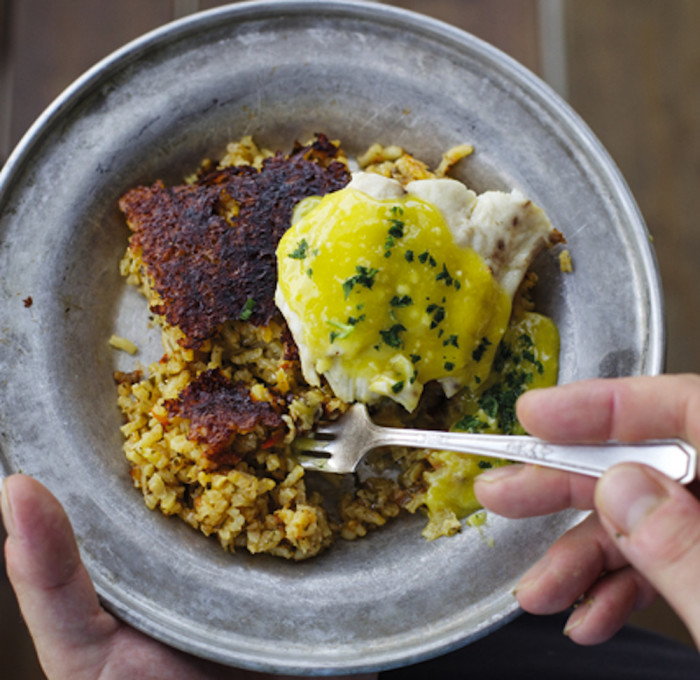 This is a Valencian Spanish preparation that utilizes fish fillets and bones to make an incredibly savory rice dish that is served with an intense garlic mayonnaise. When done correctly, a slightly charred crust will form on the bottom of the pan, and this should be fought over. The key is watching for the liquid to finally be absorbed by the rice, and then listening for the sizzle of the crust forming after the sounds of bubbling fish stock cease. Use black drum, redfish, snapper, small grouper, croaker, whiting, triggerfish, sheepshead or speckled trout for this recipe.
Ingredients
4

pounds

whole fish fillets, bones reserved

1

bay leaf

4

sprigs

thyme

1

teaspoon

fennel seeds

1/2

cup

olive oil

4

ripe tomatoes

8

cloves

garlic

1

onion, chopped

1

medium

red bell pepper, seeded and finely chopped

3/4

cup

parsley, chopped

pinch of

saffron threads

1 1/2

cups

short-grain rice, preferably Spanish bomba, but can substitute carnaroli or arborio

1/4

cup

white wine

kosher salt

1

recipe

aioli, (see link in directions)

1

lemon, quartered
Directions
In a large pot over high heat, combine 1 gallon of water, the fish bones, bay leaf, thyme and fennel seed. When the stock begins to show small bubbles, lower the heat just enough to maintain a simmer. Simmer for 45 minutes, skimming any foam that rises to the surface. Strain the stock through a fine-mesh strainer into another pot and keep warm.
In a large cast-iron or paella pan, heat the olive oil over medium heat. Add the tomatoes, garlic, onion, red bell pepper, ½ cup of the parsley and saffron. Cook, stirring often, for 10 to 12 minutes, or until thickened, concentrated and beginning to stick to the bottom of the pan.
Add the rice and cook, stirring, for 2 minutes. Add the white wine and salt and cook for 2 minutes more, then add 6 cups of the warm reserved fish stock. Bring to a boil, lower the heat, and simmer until the rice has absorbed the liquid, 30 to 35 minutes, adding more stock if the rice is not cooked through.
Once the rice is tender and the liquid is absorbed, allow the rice to cook for a few minutes more, listening for a sizzle as a crust forms on the bottom of the rice. Once it has sizzled for a couple of minutes, remove the pan from the heat.
Reheat the remaining fish stock until small bubbles form, then turn off the heat. Add the fillets to the stock and let cook until just done, 3 to 4 minutes for a medium-size fillet.
Carefully remove the fillets with a slotted spoon and serve over rice with very generous amounts of aïoli, lemon and the remaining chopped parsley. Use a thin metal spatula to remove the crusty rice from the pan.