Arrogant Bastard Ale Avocado Tacos Recipe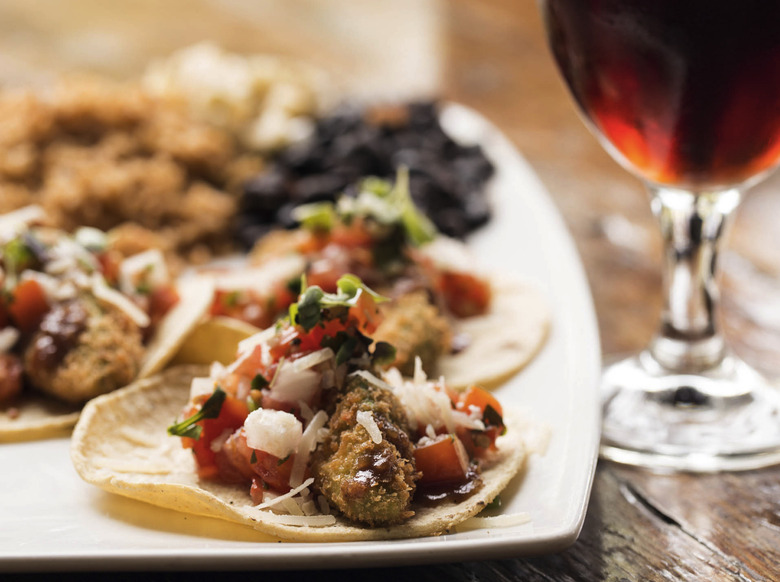 We may receive a commission on purchases made from links.
If you're a fan of cooking with beer...only like, REALLY cooking with beer, the American Craft Beer Cookbook is a volume that should never leave your kitchen. Apply the beer-cooking method to favorites like meatballs, clams and epic burgers and infuse ordinary food with the greatest carbonated beverage ever created by man. Fried avocado tacos just got so much better.
Vegetarian tacos are a great alternative to meat-laden variations, and all the fresh ingredients in this recipe really bring a pop of flavor. If frying is not your thing, the avocados can be served fresh. Accompany the tacos with black beans, Spanish-style rice, and an American strong ale like Arrogant Bastard Ale, which has a smack of hop bitterness.
Reprinted with permission from The American Craft Beer Cookbook
Arrogant Bastard Ale Avocado Tacos Recipe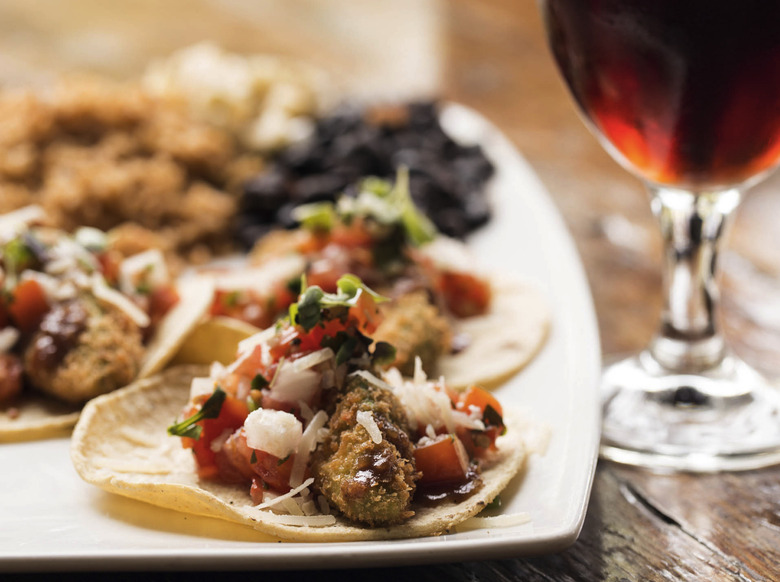 Ingredients
1 1/2 cups plum tomatoes
1/4 cup yellow onion
1/4 cup jalapeño peppers
1/4 cup lime juice
2 teaspoons finely chopped fresh cilantro leaves
Salt and freshly ground black pepper
2 cups Stone Arrogant Bastard Ale
3/4 teaspoon Cajun spice blend
1/2 teaspoon chipotle chiles
1/2 teaspoon garlic
1/2 teaspoon kosher salt
1/2 teaspoon smoked paprika
1 cup all-purpose flour
1 teaspoon baking powder
4 1/2 ripe avocados
2 cups panko breadcrumbs
salt
1 cup Stone Levitation Ale BBQ Sauce or similar barbecue sauce
18 small corn tortillas
1 cup Asiago cheese
Microgreens or chopped fresh parsley
Directions
Combine the tomatoes, onion, jalapeños, lime juice, and cilantro in a bowl and stir to combine. Season with salt and pepper to taste.
Cover the bowl with plastic wrap and refrigerate for at least 30 minutes or up to 3 days to allow the flavors to mingle.
Pour the ale into a narrow high-sided container. Stir in the Cajun spice blend, chiles, garlic, salt, and paprika.
Sift the flour and baking powder together in a small bowl, then add them to the beer mixture slowly, whisking well until the ingredients are thoroughly incorporated. Add more flour if necessary to create a tempura-style batter for coating the avocados. Set the batter aside.
Preheat the oven to 200°F. Prepare a deep fryer or pour 2 to 3 inches of oil into a deep cast iron or heavy pot that is at least 4 inches deep. Heat the oil to 360°F. Pour the breadcrumbs into a shallow dish.
Use tongs to grab the avocado quarters and dunk them in the prepared batter. Shake off any excess and roll the avocados in the breadcrumbs to coat all sides. Fry the avocados in batches until golden brown, 1 to 2 1/2 minutes each. (Do not overcrowd the pot, as this will lower the temperature of the oil significantly.)
Transfer the cooked avocados to a parchment paper–lined baking sheet. Season with a sprinkling of salt and keep them in the oven until the entire batch is ready.
Heat the barbecue sauce in a medium saucepan over medium-low heat, stirring occasionally, until heated through. Warm the tortillas on a griddle or in the oven, if desired.
Place one avocado quarter on each of the tortillas. Top each avocado with the warm barbecue sauce, salsa, cheese, and microgreens. Serve immediately.
Gone Fishin': Catfish Tacos With Chipotle Slaw Recipe
Fried Okra Tacos Recipe
Smoked Pork Belly Carnitas Tacos Recipe