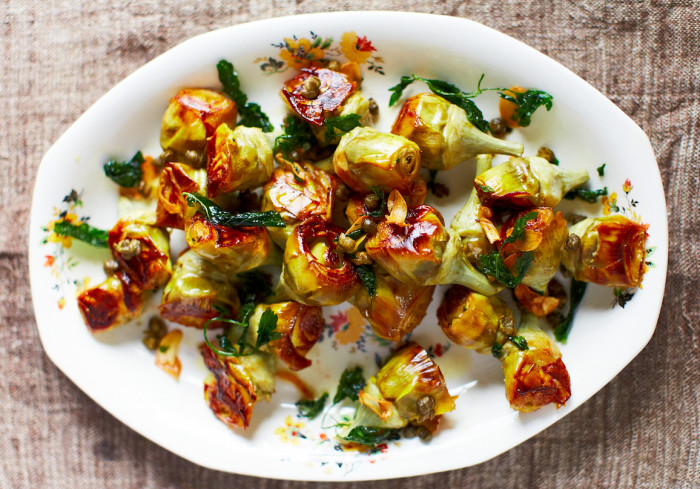 Hungry for something new? Look no further than a cookbook by renowned chef April Bloomfield of NYC's Spotted Pig and the Breslin. Her latest cookbook, A Girl and Her Greens, hits the shelves April 21st and highlights vegetable-focused cuisine. Get in season with delicious spring artichokes — this recipe will jump-start your spring cooking repertoire. 
One of the reasons I go giddy about springtime is artichokes, particularly the small ones with tips closed tightly, like a flower at night. Some home cooks are reluctant to fill their totes with artichokes, but here's what to know: The artichokes need to be turned — the barbed leaves plucked off and the other inedible bits trimmed away. I quite like the process. It's meditative and satisfying once you get the hang of it. In this dish, the fleshy artichokes get browned and crispy tops and look like strange, beautiful roses. The acidity in the white wine cuts through the rich, dense veg and, along with the salty pops from the capers, highlights the artichokes' unique herbaceousness.
Reprinted with permission from A Girl and Her Greens: Hearty Meals From the Garden
Ingredients
1/4

cup

extra-virgin olive oil

3 1/2

pounds

baby artichokes (about 18), trimmed (see intro)

2

medium cloves

garlic, thinly sliced

1 1/2

teaspoons

Maldon or other flaky sea salt

1 1/2

cups

dry white wine, such as Sauvignon Blanc

1

heaping tablespoon

capers, drained

Five-finger

pinch

mint leaves (preferably black mint), torn at the last minute
Directions
Heat the oil in a heavy pot (wide enough to hold the artichokes with room to spare) over medium-high heat until it just begins to smoke.
Stand the artichokes cut-sides down in the oil, wait a minute, then reduce the heat to medium-low, sprinkle in the garlic and salt, and cook, without stirring, just until the garlic turns golden and smells toasty, about 3 minutes.
Pour in the wine, cover the pot, and cook, without stirring, at a vigorous simmer until you can insert a sharp knife into the thick artichoke bottoms with barely any resistance, about 25 minutes. About 5 minutes or so before they're fully tender, scatter on the capers and cover again.
Uncover, raise the heat to medium-high, and bring the liquid to a boil.
Cook until all the wine has evaporated (the bubbling sound will become a sizzle), about 3 minutes. Add the mint and keep cooking the artichokes in the oil (it's okay if a few of them tip over), until the cut sides of the artichokes are a deep golden brown, 3 to 5 minutes. Lower the heat if necessary to prevent the artichokes from getting too dark.
Arrange the artichokes prettily on a plate, and scoop the capers, oil, and slightly crispy mint over the top. Serve straightaway or at room temperature.
Get the most out of artichoke season with more recipes from Food Republic: