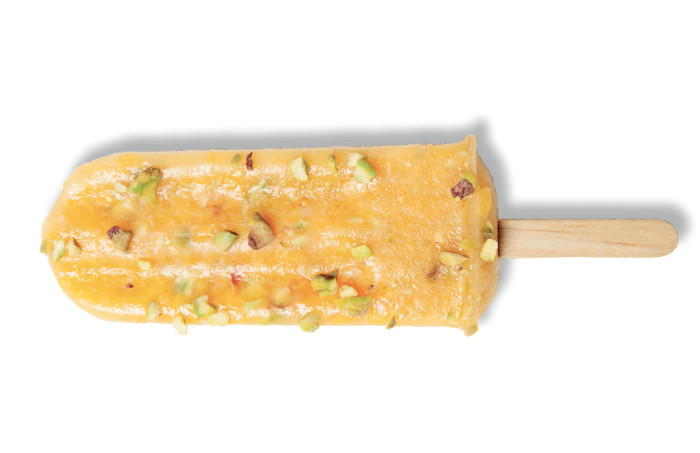 We have a contender for most useful cookbook of the summer! Ice Pops! (Exclamation point included.) This collection of 50 inventive frozen treats on a stick will keep you cool all summer long. Remember: Small-batch is always better.
Apricots make deliciously velvety ice pops. Make them in midsummer before apricots vanish for the year again. Choose ones that are only very slightly soft and have a sweet aroma, as those are the tastiest. This combination has a Middle Eastern charm.
Ingredients
1 2/3

cups

water

2/3

cup

granulated sugar

2

tablespoons

freshly squeezed lemon juice

1

pound, 2 ounces

apricots, cut in half and pitted

1/2

teaspoon

almond extract

1/4

cup

shelled pistachios, chopped
Directions
For the pops
Put the water, sugar, and lemon juice in a medium saucepan and bring to a simmer. Simmer until the sugar has dissolved.

Add the apricots and simmer until they have broken down — about 5 to 10 minutes. Remove the pan from the heat and let the mixture cool to room temperature.

Stir in the almond extract and chopped pistachios until well mixed. Pour the mixture into your ice pop molds, leaving 1/4 inch at the top to let the mixture expand when it freezes. Insert the ice pop sticks and freeze. It's nice to roll the ice pops in pistachios before serving, too.

Variation: You can add 3/4 cup heavy cream to the apricots after they're cooked, and only use scant 1 cup water.