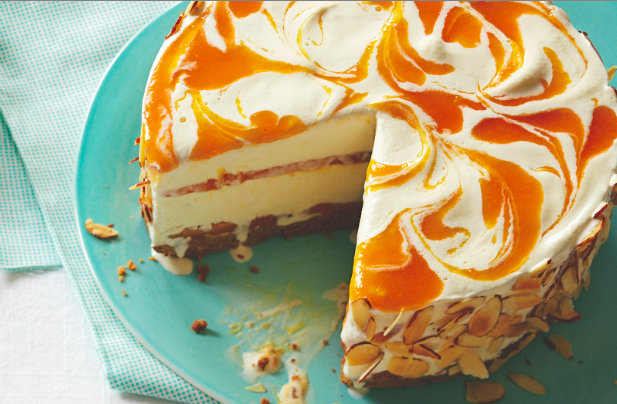 Leave it to West Coast guide to the good life, Sunset Magazine, to dream up a dessert that makes us borderline envious that we occupy the other coast. 
A high-drama way to end an evening, apricot almond swirl ice cream pie is festive and easy. A crunchy, almondy crust of ground amaretti cookies holds vanilla ice cream layered with honey-simmered apricots. Apricot purée is curlicued across the top. We made the pie in an 8-inch cheesecake pan with a removable side, but you could also use a regular 9-inch pie pan and sprinkle the toasted almonds on top instead of pressing into the side. We like Blenheim dried apricots in the pie for their vibrant flavor.
Reprinted with permission from The Sunset Essential Western Cookbook
Ingredients
7

ounces

amaretti cookies

5

tablespoons

butter, melted

1 3/4

cups

dried apricot halves, preferably Blenheim

3/4

cup

honey

2

quarts

vanilla ice cream, divided

1

cup

toasted sliced almonds
Directions
Preheat oven to 325°. Grind cookies into fine crumbs in a food processor. Drizzle in 4 tablespoons melted butter and blend until crumbs start to come together, adding more melted butter as needed. Press crumb mixture firmly over bottom (not side) of an 8-inch cheesecake pan with removable rim. Bake until crust is set, about 10 minutes.
Let crust cool completely. Meanwhile, simmer apricots with 1 1/2 cups water and the honey, covered, until apricots are very soft, 15 minutes; let cool. Take 1 quart ice cream out of freezer to soften.
Arrange 1 cup apricots over cooled cookie crust. Blend remaining apricots and liquid in a blender into a thick, pourable purée (add more water if needed). Strain.
Stir softened ice cream until smooth. Spread over apricots in crust, set on a plate, and freeze until firm, about 1 hour. Spoon on all but 2 tablespoons apricot purée. Freeze until purée firms, about 1 1/2 hours.
Let remaining 1 quart ice cream soften; spread over purée. Top ice cream with small dollops of remaining purée, then swirl with a chopstick. Freeze 2 hours more.
Remove rim of pan and pat almonds firmly into side of pie. (If pie won't come out easily, set it over a bowl of hot water for a couple of minutes; slide a thin knife between the pan edge and crust. Pie should pop right out.) Serve immediately, though pie can be softened for 5 minutes at room temperature if necessary for easier slicing.
*Find crunchy Italian amaretti in well-stocked grocery stores. Alternatively, use almond biscotti and blend in 1 teaspoon almond extract with the melted butter in step 1.
Make ahead: Once the pie is made through step 5 and fully frozen, keeps up to 4 days, double-wrapped in plastic wrap. Add the almonds just before serving.
More Sweet Tooth recipes on Food Republic: