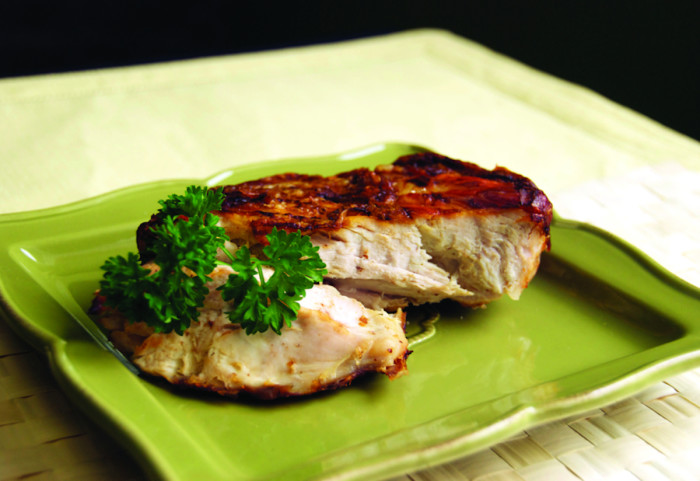 In The Hunger Games, Katniss describes groosling as appearing similar to a small wild turkey. Thus, while we have no such animal, we can cook turkey in a way similar to Rue and Katniss's after they form their alliance. This turkey, well smoked over a fire, won't be quite as fatty as the groosling, but it will be just as delicious.
Tips from your sponsor: smoking is a form of slow cooking with wood as the key flavor. The fire should be low, between 225°F and 300°F. Whole birds, whole fish, large roasts, ribs and tough meats do well smoked slowly. Slow-smoked food is cooked until it's well done.
Ingredients
1/2

cup

balsamic vinegar

2

tablespoons

water

1

tablespoon

paprika

1

tablespoon

kosher salt

1

tablespoon

1/4

teaspoon

marjoram

2

(1 1/2 - 2 pound)

wild turkey breast halves
Directions
Combine the vinegar, water, paprika, salt, lemon pepper, and marjoram in a glass jar and shake to blend.
Place the turkey breasts in a large Ziploc bag. Pour the marinade over the turkey and carefully seal the bag, removing most of the air. Refrigerate for about 1–2 hours.
Build an indirect fire in a kettle grill or water smoker and add 3 or 4 water-soaked applewood chunks to the fire.
Remove the turkey breasts from the marinade and place on the indirect-heat side of the grill or smoker (discard remaining marinade). Slow smoke at 225°F for about 1½–2 hours or until a thermometer inserted into the thickest portion of the breast meat registers 165°F–170°F for well done. The turkey will retain a slightly pink color from the slow smoking and the wood.
Slice and serve.