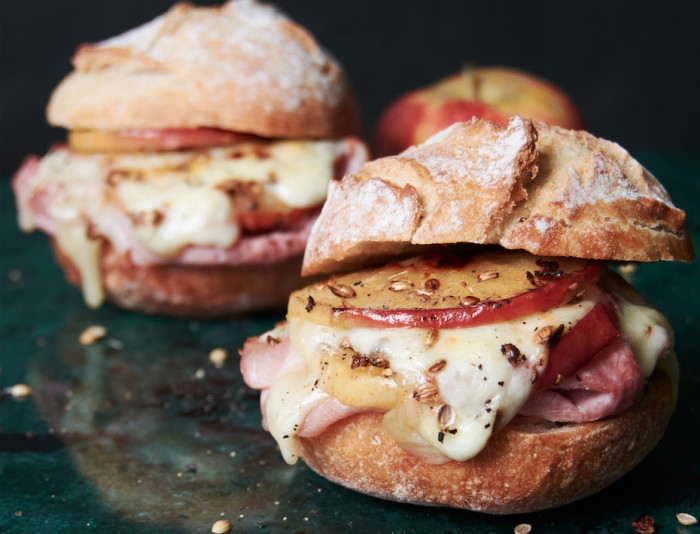 Blogger Meike Peters, of the acclaimed Eat in My Kitchen, has a new cookbook filled with her favorite recipes. Inspired by European comfort food and Mediterranean classics, this collection of 100 dishes is a must-read for anyone looking for a cooking lesson with inimitable charm. This apple, ham and raclette sandwich is a hearty, flavor-packed way to switch up your lunch. 
Imagine a cold gray morning in the early days of fall — the air silent and misty, a quiet chill hinting at the coming change of light and temperature. This is the moment when you realize that it's time for summery treats to make way for food that's more hearty and rich. A ham and cheese sandwich sounds just right.
It's not winter yet, and autumn apples shine in glowing gold, orange, and red. The flavors are sweet and saturated, almost overly ripe. All the fruit is now at its peak and ready to show off what's been collecting under its skin for months.
For this sandwich, I prefer to use an old apple variety that's sour and juicy, like Belle de Boskoop. It's firm but softens slightly when sautéed in coriander-infused butter. The spiced fruit pairs so well with rustic ham, but we're not done yet. Aromatic grilled raclette sinks into every bite, and the whole thing is sandwiched on a crusty bun. Altogether, this seems like the best thing that could happen to ham and cheese.
Ingredients
1 1/2

tablespoons

butter

1

teaspoon

coriander seeds, crushed with a mortar and pestle

1

small bay leaf

1

firm tart baking apple, such as Belle de Boskoop, Granny Smith or Braeburn, cored and cut into 6 slices

4

slices

ham

2

rustic sandwich buns, cut in half

3

ounces

Raclette (or any aromatic cheese that melts well, such as comté or gruyère), cut into 4 thick slices

A few

black peppercorns, crushed with a mortar and pestle
Directions
For the sandwich
In a large, heavy pan, heat the butter over medium heat. Add the coriander and bay leaf and stir to coat them in butter. When the butter is hot and sizzling, arrange the apple slices next to each other in the pan and sauté for 1 to 1½ minutes per side or until golden brown — mind that the spices don't burn. Take the pan off the heat and set aside.

Set the oven to broil (quicker method) or preheat to 500°F.

Layer 2 slices of ham on the bottom half of each bun and top with 2 apple slices.

Add 2 slices of raclette and finish with the roasted coriander seeds from the pan and another slice of apple. Put the sandwiches under the broiler or roast at 500°F for a few minutes or until the cheese starts to melt.

Sprinkle with crushed peppercorns and place the top on each bun.