Andrea Reusing's Simple Fried Chicken Recipe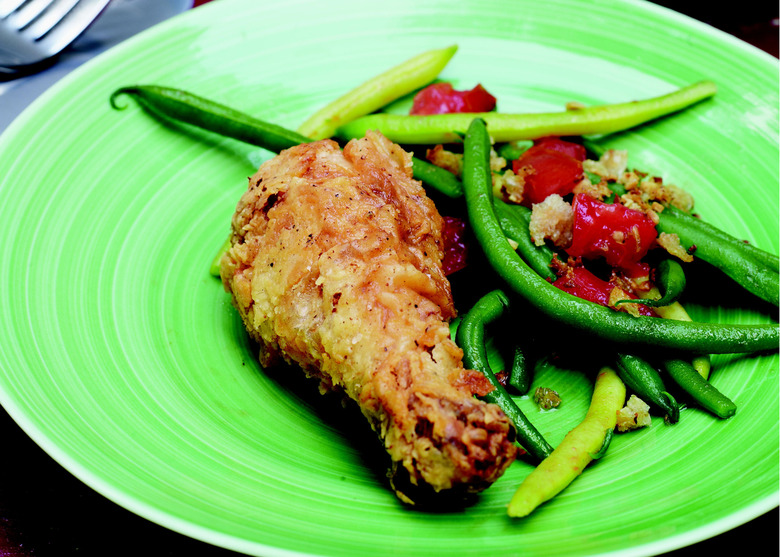 Photograph copyright © 2011 by John Kernick
Some of the best-tasting chicken we get in North Carolina comes via FedEx from Frank Reese in Kansas. Whenever I splurge and get some for Lantern, I make a big batch of fried chicken in a deep cast-iron skillet, slowly browning it in a few inches of rendered pork fat. Lard makes the best possible fried chicken and blissfully contains more of what is good for you and less of what is bad than most vegetable oils. It produces crisp, nutty, and nearly greaseless fried chicken that is of course perfect eaten hot but still remarkable at room temperature. Tonight we're having it for dinner with green beans with garlicky bread crumbs and a berry pudding. This weekend, I'll make some to take to a picnic, along with potato salad made with hard-boiled eggs and diced pickles, spiked with pickle juice.
Andrea Reusing's Simple Fried Chicken Recipe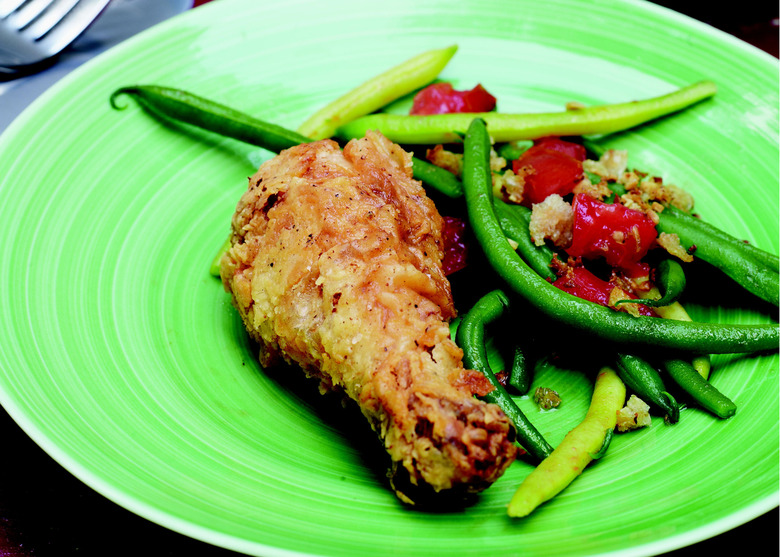 Ingredients
1 (3 1/2-to 4-pound) chicken
2 cups buttermilk
2 tablespoons freshly ground black pepper
2 cups all-purpose flour
1 1/2 teaspoons freshly ground black pepper
Lard or expeller-pressed vegetable oil
Directions
Put the chicken, buttermilk, and 1 tablespoon of the salt into a large bowl. Stir well and refrigerate overnight. 
Drain the chicken in a colander and let it come to room temperature. Mix together the flour, remaining 1 tablespoon salt, and the pepper in a large bowl.
Put two large cast-iron skillets or other deep, heavy sauté pans on the stovetop and add lard to fill each about 1 inch deep. Heat over medium-high heat to 325ºF. 
Starting with the dark meat, gently dredge one piece of the chicken in the flour mixture to coat it lightly. Avoid pressing the flour into the chicken; it should just be a dusting with any excess brushed off. As soon as a piece is floured, gently lay it in the hot oil and avoid the temptation to move it at all for the first few minutes, so that it doesn't stick. Repeat with the remaining dark meat and then move on to the white, ideally cooking the two in separate pans. Once a pan is about three-quarters full, reduce the heat to low and partially cover.
Watch the chicken closely, turing the pieces with tongs as needed for even cooking and rotating the pan itself on the burner. As the first side turns deep golden brown, 8 to 10 minutes, turn the pieces over and continue to cook until they are evenly crisp and golden, another 8 to 10 minutes.  Check for doneness; the dark meat will take a little longer than the white.
Transfer the chicekn to a clean brown paper bag to drain, and serve warm or at room temperature.