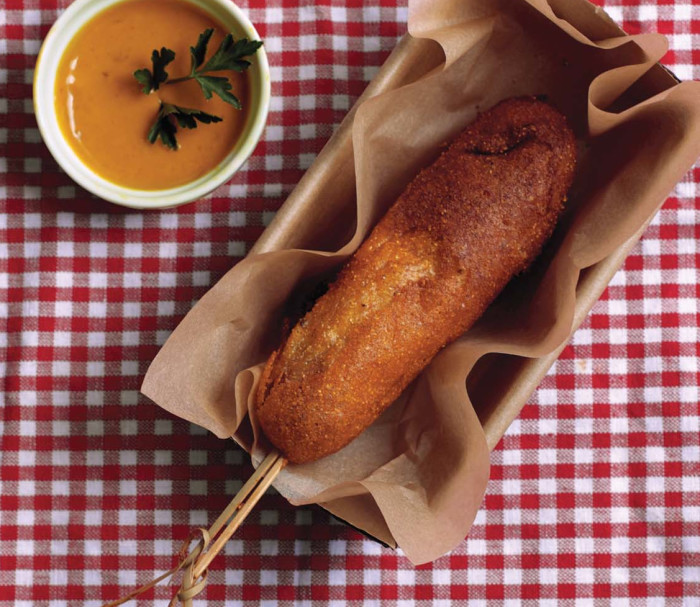 Check out this recipe for andouille corn dogs from the man who invented the underground fried chicken DJ party: Dante Gonzales of Dante Fried Chicken, Ride or Fry food truck and subsequent pop-ups (read our interview with him, On The Road With Dante Fried Chicken).
Before the Ride or Fry truck run came to an end, we hit one more out of the ballpark with these corn dogs. I consider them a premium DFC delicacy. Here's how they came to be: we decided to flip the plain ol' corn dog by dipping smoky Andouille sausage in batter laced with chili and Parmesan. The result is completely insane, so brace yourself. It was fun coming up with a dish that has so much DFC personality, yet is inexpensive to make and utterly delicious.
Ingredients
1

gallon

peanut oil

1

cup

turkey chili's, preferably Trader Joe's

1/2

cup

water

1

cup

buttermilk

1/2

cup

pale ale

1

tablespoon

white sugar (optional)

1

jalapeno pepper, diced with ribs and seeds removed (optional)

1

cup

yellow cornmeal

1

cup

all-purpose flour

2

teaspoons

sea salt

1

teaspoon

baking powder

1/4

teaspoon

baking soda

1/2

teaspoon

cayenne pepper

1

teaspoon

chili powder

8

links

Andouille sausage

1

cup

cornstarch
Directions
For the batter:
In a blender or food processor, purée the chili with the water. Transfer to a medium bowl and add the buttermilk, beer, sugar, if using, and jalapeño, if using. Stir to combine.
In another medium bowl, combine the cornmeal, flour, salt, baking powder, baking soda, cayenne pepper, and chili powder.
Add the chili mixture to the flour mixture, stirring just enough to bring the batter together; there should be lumps. Set aside for 10 minutes.
For the corn dogs:
Before you start coating and frying, set up your work area.
Pierce each sausage with a skewer or chopstick, set aside.
Pour the cornstarch into a pie plate or casserole dish. Roll each skewered sausage in cornstarch, tapping it lightly to remove the excess. Set the coated sausages on a wire rack set over newspaper or paper towels.
Prepare your deep-fryer according to the instructions or fill a high-sided, heavy-bottomed Dutch oven or 12-inch skillet (preferably cast-iron) halfway with oil (about 3 inches) and heat to 375F. (Use a candy thermometer to take the oil temperature.)
Fill two large drinking glasses three-quarters full with the batter.
Working 2 at a time, quickly dip a sausage into each glass and immediately and carefully place them into the hot oil. Fry the corn dogs until the coating is golden brown, about 4 to 5 minutes, turning halfway through.
Using tongs, remove the sausages one at a time from the oil and place them on the wire rack to drain for 3 to 5 minutes. Repeat until all the sausages are fried.
More food on a stick from Food Republic: