African Adobo-Rubbed Tuna Recipe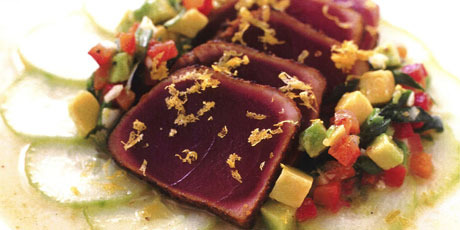 Adobo means spice rub or marinade, and the particular recipe we include was introduced by African slaves brought to Bahía in Brazil in the 17th century. But the actually birthplace is of some confusion.
The one I make most often is a wet kind of paste. It makes for a messy albeit fun way of cooking! I rub it on raw chicken, steaks, veal chops and even some of the more meaty fish and most often sear it to push the flavors deeply into the food and then finish it by roasting where the heat is more in a 'surrounding' mode which helps prevent the adobo from getting bitter which it could if said searing where prolonged.
Note: You can just make the adobo spice rub part of this recipe and use as desired.
African Adobo-Rubbed Tuna Recipe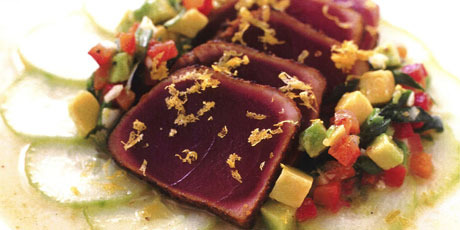 Ingredients
1 1/2 teaspoon ground coriander seeds
1 teaspoon ground ginger
1 1/2 teaspoon red pepper flakes
1 1/2 teaspoon tumeric
1 1/2 tablespoon dried mustard
1 1/2 teaspoon ground nutmeg
1 1/2 teaspoon ground allspice
1 1/2 teaspoon cayenne
1 1/2 teaspoon
1 1/2 tablespoon salt
1 tablespoon paprika
1 1/2 tablespoon dried orange peel
1 tablespoon sugar
4 6-ounce tuna filets
2/3 cup peanut oil
2 1/2 tablespoons sugar; (more or less to taste)
1/2 cup champagne vinegar
1 whole European cucmber
2 ripe avocado
3 scallions cut thinly on the bias
2 piquillo peppers or roasted red peppers
2 cloves garlic
1/4 cup freshly squeezed orange juice
1/2 cup extra virgin olive oil
kosher salt & cracked black pepper
12 ounces tuna; sinew; bloodline and fat removed
1 teaspoon of peeled and minced shallots
1 teaspoon soy sauce
1 teaspoon orange zest
1 tablespoon adobo spice rub
Directions
Mix all of the dry ingredients together. 
Mix the sugar and vinegar in a bowl. Stir well. Add in the cucumber and allow to marinate about 15 minutes. Reserve. 
In a medium bowl, put the diced avocado, scallions, roasted peppers and garlic.   Whisk together the lime and orange juice with the olive oil and salt and pepper. 
Pour over the salsa ingredients and gently toss.  Refrigerate for 15 minutes. 
Arrange the cucumber in neat slices across the bottom of the plates. 
Slice the tuna and lay it over the cucumbers. 
Place the avocado salsa on top or along the sides of the tuna.                  
Now spoon a little of the pickling juices around the cucumbers and serve. 
Sometimes I add a little grated orange peel on top of the dish as well.