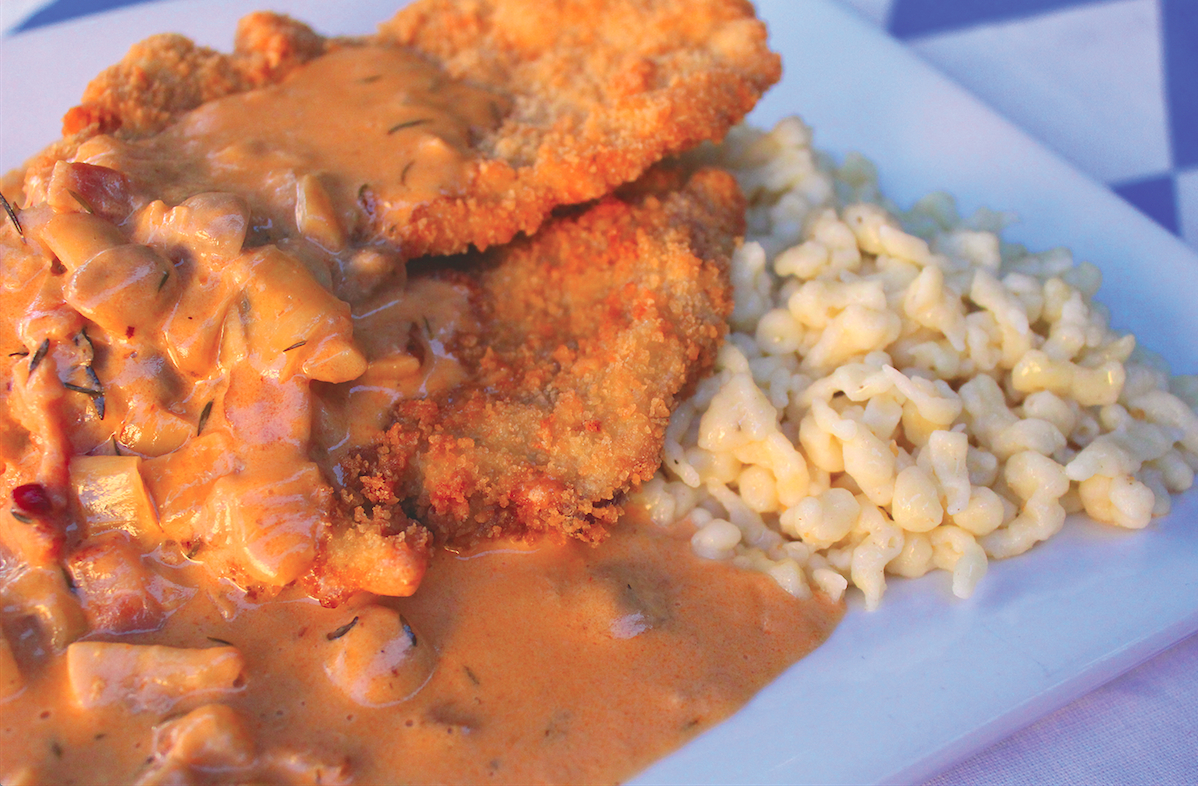 Chef couple Brooke and Luther Fedora's new food and beer book isn't for the guy who splashes some lager into his chili and calls it a day. Incorporating different styles of beer into inventive food from around the world is an art. Learn how to cook with your favorite brews and learn a thing or two about pairing in the process.
Schnitzel is a traditional German dish. We have added a creamy mushroom sauce that complements the crunchy breaded pork and the egg spätzle perfectly. We love to drink a big, cold mug of märzen with this dish.
Ingredients
Sauce
1

pound

button mushrooms, washed and cut into bite-size pieces

2

teaspoons

tomato paste

3

slices

bacon, finely chopped

1

small

white onion, finely chopped

1/2

cup

chicken broth

1/2

cup

cream

1

tablespoon

sour cream

4

stems

fresh thyme

4

stems

parsley

salt and fresh pepper, to taste

2

tablespoons

butter
Schnitzel
1

pound

thin pork cutlets

1/2

teaspoon

salt

1/8

teaspoon

freshly ground black pepper

1/3

cup

all purpose flour

2

eggs, lightly beaten

1

cup

breadcrumbs, fine

1

cup

vegetable oil
Directions
For the sauce:
Place chopped bacon in cold sauté pan and render over low heat until fat begins to melt.
Add the onions and cook until they become soft and the bacon starts to become crunchy. Remove from pan and set aside in a separate bowl.
Melt butter in the pan the bacon and onions were cooked in, and add the sliced mushrooms.
Cook over medium heat until mushrooms begin to soften; this takes about 4 minutes.
Add the bacon mixture and tomato paste to the mushrooms.
Stir together and add the chicken broth and thyme.
Cook over medium heat until reduced to a quarter of the original volume. Remove the thyme when finished reducing.
Stir in cream, sour cream, salt, pepper and the parsley.
Continue cooking over low heat until combined.
Remove from heat and set aside in a warm area.
For the schnitzel:
Pound the pork cutlets into 1/8-inch thick slices. (The best way of doing this is to lay out a large piece of plastic wrap on the counter or a large cutting board. Place the pork one piece at a time on the plastic and cover with another large piece of plastic wrap. Pound with a meat tenderizer.) Remove the pork cutlet from plastic and set aside.
Mix the flour with the salt and pepper.
Place the flour mix, eggs, and bread crumbs in three separate medium sized bowls. Arrange the bowls in a row.
Bread each piece of pork by coating the pork in the flour mix, then dipping into the eggs, and finishing with a coat of bread crumbs.
Set aside until ready to cook. (These can be prepared an hour in advance and held in the refrigerator.)
Heat the oil in a large, heavy skillet or pan over high heat until it reaches 350°F.
Carefully place the breaded pork cutlet into the hot pan.
Cook on each side for about 3 minutes, or until each side is a deep golden brown.
Remove from the heat and serve with the schnitzel sauce and spatzle.
Find more schnitzel recipes on Food Republic: