Açaí Bowl With Extra Everything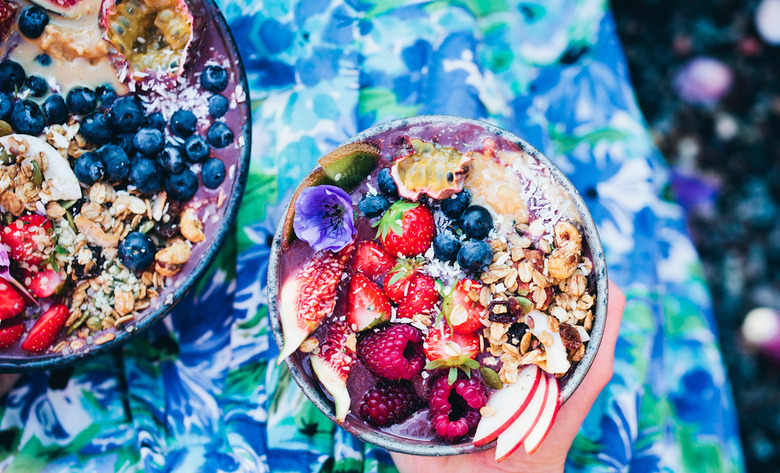 We may receive a commission on purchases made from links.
Bloggers and vegetarian recipe developers David Frenkiel and Luise Vindahl of the highly acclaimed Green Kitchen Stories have a new cookbook out. Get inspired to eat (and drink) your fruits and veggies with renewed enthusiasm!
Açaí, the Amazonian superberries, have to be frozen or freeze-dried immediately after picking to maintain their potency. We always try to encourage choosing locally grown ingredients, but we just couldn't write a book about smoothies and not include one açaí recipe. If you try it, you'll understand why! The earthy flavors taste so good when mixed with strawberries, sweet banana and honey. Don't be shy with the toppings here. We add heaps of fresh fruit for sweetness, granola for crunch, nut butter for richness and edible flowers to pretend that we are in Brazil when eating this delectable delight!
*Frozen açaí pulp is usually sold in large packs that can be hard for the blender to crush. If that is the case, you can just crush the frozen pulp with the back of a knife before adding it to the blender.Reprinted with permission from Green Kitchen Smoothies
Açaí Bowl With Extra Everything
Servings
2
(or one large serving)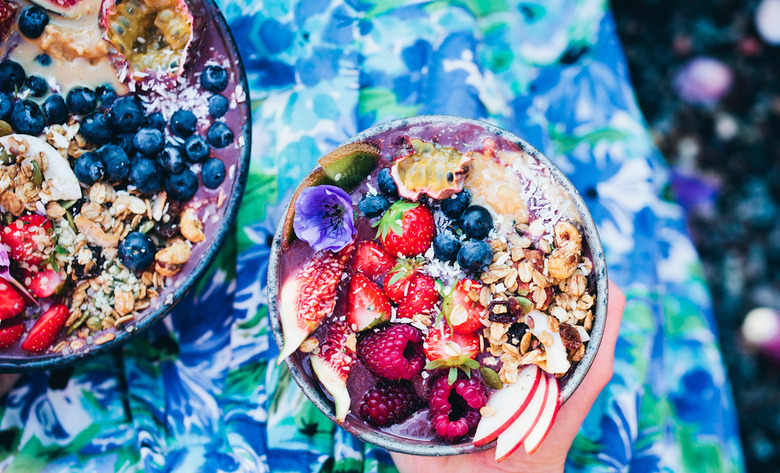 Ingredients
1 pack (3 1/2 ounces) frozen açaí pulp* (or 2 tablespoons freeze-dried açaí powder plus 3/4 cup frozen blueberries)
1 cup frozen strawberries (organic if possible)
1 frozen banana
2 tablespoons quality raw honey
1/2 cup oat or almond milk
Fresh fruit (a mix of thinly sliced red apple and green kiwi fruit, chopped figs, berries and passion fruit pulp)
granola
desiccated coconut
Nut butter
Edible flowers, optional
Directions
Put all of the ingredients for the açaí bowl in a blender and blend on a high speed until completely smooth.
Pour into two small bowls or a medium-sized one, top with fresh fruit and finish with a sprinkling of granola and coconut, a dollop of the butter and a few edible flowers and serve.