A Very Simple Salmon Burger Recipe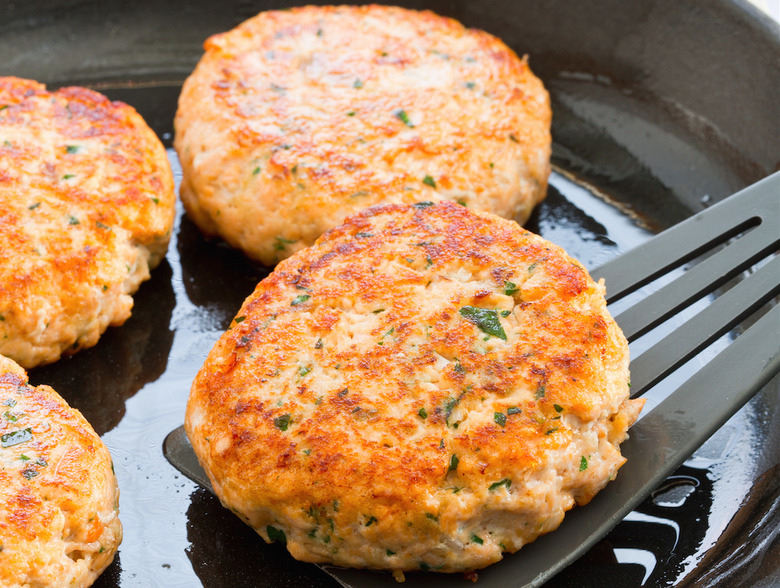 Giving red meat a break? Opt for a moist salmon burger, like this one.
We may receive a commission on purchases made from links.
Welcome to America's Test Kitchen, the promised land of troubleshooting your most basic cooking fails and fixing problems you never knew you had. The editors' new cookbook: The Make-Ahead Cook, is an ever-useful guide that will unobtrusively lead you away from the the take-out menus and back into the kitchen where a much better dinner awaits you. No time to cook? Master the art of "make it ahead of time..." 
We wanted moist, flavorful salmon burgers that tasted foremost like salmon and that could be made in advance and cooked up for a quick and delicious dinner. Many salmon burger recipes use canned salmon, but since the salmon is the star of this dish, we found that it was well worth the additional modest expense and effort required to make our burgers with fresh salmon. Burgers made with canned salmon were lackluster (to say the least) and mushy, while those made with fresh salmon were moist and full of flavor, with an appealing, chunky texture. A food processor made quick work of chopping the salmon into pieces.
To keep the burgers together in the skillet, we used a light binder of mayonnaise and bread crumbs. Store-bought bread crumbs muddled the flavor of the salmon, so we made our own fresh crumbs from white sandwich bread. Minced shallot added some aromatic depth, and some Dijon mustard provided moistness and flavor. With a little fresh parsley, we had a bright and meaty salmon burger that truly tasted like salmon. Be sure to process the fish in three separate batches and for no more than four pulses, or it will turn to paste and be impossible to shape. If you don't have a food processor, salmon is easy to chop by hand; to make it even easier, put the salmon in the freezer for 10 minutes before chopping.
A Very Simple Salmon Burger Recipe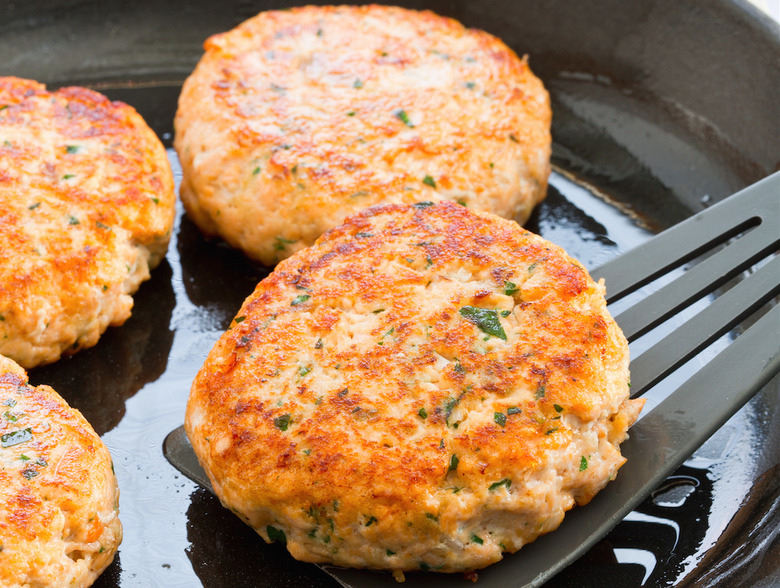 Ingredients
1 1/2 slices hearty white sandwich bread
1 pound skinless salmon
1 shallot
3 tablespoons mayonnaise
2 tablespoons fresh parsley
2 teaspoons Dijon mustard
1/8 teaspoon salt
1/8 teaspoon pepper
1 tablespoon vegetable oil
lemon wedges
Directions
Pulse bread in food processor to coarse crumbs, about 4 pulses; transfer to a large bowl.
Working in 3 batches, pulse salmon in now-empty processor until coarsely chopped into 1/4-inch pieces, about 2 pulses, transferring each batch to bowl with bread crumbs.
Gently mix until thoroughly combined.
Whisk shallot, mayonnaise, parsley, mustard, salt and pepper together in separate bowl, then gently fold into salmon mixture until just combined.
Divide mixture into 4 equal portions.
Form each into loose ball, then pat lightly into 1-inch-thick burger; place on large plate.
Cover and refrigerate burgers for at least 1 hour or up to 24 hours.
Heat oil in 12-inch nonstick skillet over medium-high heat until shimmering.
Gently lay burgers in skillet and cook until crisp and well browned on first side, 4 to 5 minutes.
Gently flip burgers and continue to cook until golden brown on second side and burgers register 125 to 130 degrees, about 4 minutes.
Serve with lemon wedges.
Have Blowtorch? Make Salmon Sashimi!
Citrus-Poached Salmon With Dijon Mustard Sauce Recipe
Salmon Baked In Cream With Sweet Bay, Thyme And Dill Recipe