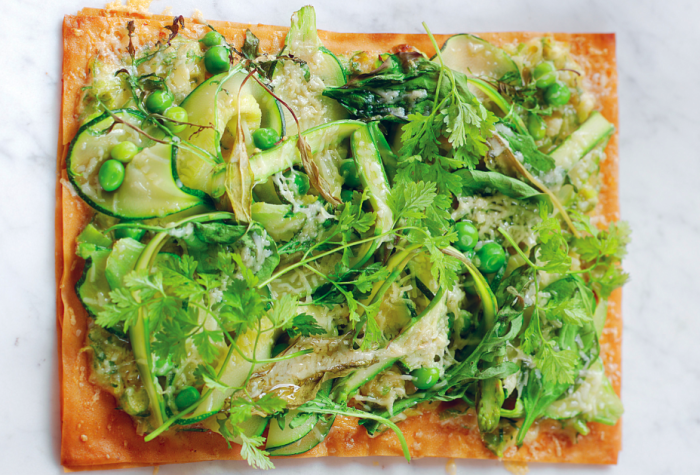 There's no better way to enjoy beautiful spring vegetables than on simple crisp phyllo dough with all the accoutrements. We borrowed this recipe from Tom Aikens' cookbook, Fresh, so we'd have a platform for all this farmers market produce we've been Instagramming non-stop. Hey, what would you do if presented with a spring vegetable tart this aesthetically pleasing?
Be sure to check out our plate deconstruction of Tom Aikens Restaurant's candied beetroot dessert!
Ingredients
3

sheets

filo pastry

12

large sorrel leaves

1/3

cup

rocket leaves (arugula)

6

spears

asparagus

1/5

cup

baby spinach leaves

1

medium courgette

8

spring onions

4

tablespoons

butter
Mix the below ingredients together in a bowl with 1/2 the cheese and season to taste
1

tablespoon

chopped chervil

1

tablespoon

chopped parsley

4

tablespoons

creme fraiche

4

tablespoons

grated gruyère cheese

2

egg yolks
Directions
Pre-heat the oven to 350˚F.
Slice the asparagus and courgette thinly lengthways on a mandolin, place a pan of salted water onto the heat and bring to a boil. Place the strips of asparagus into the water, remove after 10 seconds and place straight into iced water to cool. Repeat the same process for the courgette and dry both of them well on kitchen paper.
Cook the peas until just soft (approximately 2-3 minutes), refresh in iced water and dry on kitchen paper. Place a shallow pan on low to medium heat, then add half the butter. Once it has just melted, add the spring onions and season with salt and pepper. Cook briefly for 2-3 minutes until just cooked and place onto a tray to cool. Mix this with the egg and crème fraîche mixture in a bowl.
Melt the remaining butter, take a sheet of filo and brush all over on one side. Place another sheet on top and brush again with butter. Place the last sheet on top and brush with butter. Cut this into four equal rectangles, place another baking tray on top to keep the filo flat and bake these at 350˚F for approximately 15 minutes until golden and crispy.

Spread the spring onion and egg mixture onto the bottom of the filo, then lay on the sorrel and spinach leaves. Add the vegetables, courgette, asparagus, peas and rocket leaves last, sprinkle over some extra cheese and bake at 340˚F for 8-10 minutes.
Try out these tart recipes on Food Republic: