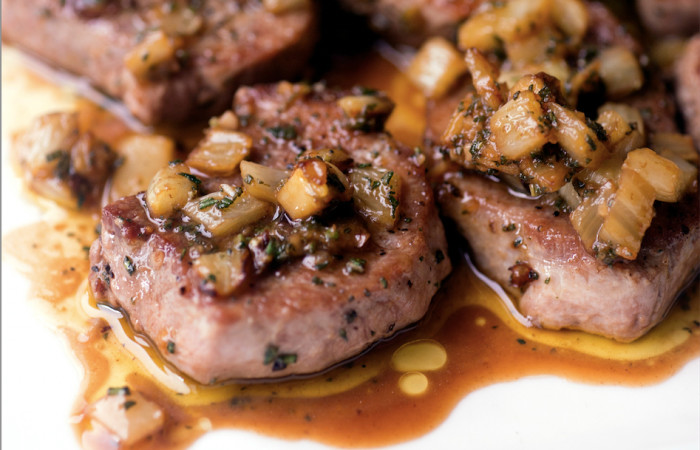 Everybody might be talking about the Hearth chef-owner's bone broth business, but Marco Canora has long been an advocate for healthy cooking. His new book, A Good Food Day, serves as both a recipe guide and a treatise for following simple rules about healthy living.
I'll admit, I was a bit of a trash-talker when it came to pork tenderloin. I found it beyond boring, the boneless, skinless chicken breast of the pork world. As I started adding more lean cuts of meat to my routine, I felt compelled to come up with a way to nudge pork tenderloin into the realm of the delicious, tender, juicy meats I love. This simple recipe nailed it. I give the tenderloin a Tuscan treatment via a quick pan sauce that includes fennel and a finely chopped mixture of rosemary, sage and garlic. To compensate for the lack of fat in tenderloin, I slice it into medallions to increase the amount of pork touching the pan (more browning = more flavor), and cook it hard and fast. The last thing you want to do is cook the tenderloin whole or in thick steaks, which have far more bland interior meat than the seared, browned, caramelized meat you want.
Ingredients
1

large clove

garlic, peeled

1

tablespoon

fresh rosemary, roughly chopped

1

tablespoon

fresh sage, roughly chopped

3

tablespoons

extra virgin olive oil

1

pound

pork tenderloin, cut into 1/2-inch-thick medallions

Fine sea salt and freshly ground black pepper

1/2

large

fennel bulb, cut into small dice

1/4

cup

dry white wine

1/4

cup

chicken broth
Directions
Smash the garlic clove with the flat side of a knife and roughly chop it.
Combine the rosemary, sage and garlic on the cutting board and finely chop them together.
In a 12-inch skillet, heat 2 tablespoons of the olive oil over high heat.
While the oil heats up, season both sides of the pork medallions with salt and pepper.
When the oil is smoking hot, add the medallions in one layer and cook, untouched, for 1 1/2 minutes.
Flip each medallion and cook until they're nicely browned, another 1 1/2 minutes.
Transfer the pork to a plate to rest.
Add the remaining 1 tablespoon olive oil to the pan (still over high heat), add the fennel, and season with salt.
Cook for 1 minute, using a wooden spoon or rubber spatula to scrape up the browned bits of pork on the bottom as it cooks.
Add the garlic and herb mixture, toss with the fennel and cook for 30 seconds.
Pour in the white wine, chicken broth and any juices the pork has released on the plate.
Boil for 1 1/2 minutes, until there's only about 2 tablespoons of liquid left.
Spoon the pan sauce over the pork and serve.
Find more pork recipes on Food Republic: