A Gooey Manchego Cheese Fritters Recipe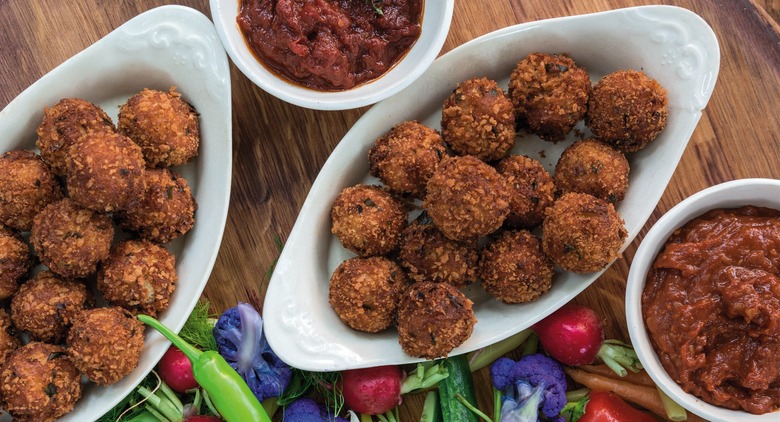 We may receive a commission on purchases made from links.
These gooey Manchego cheese fritters are tops! Brooklyn restaurant the Good Fork feeds diners like they're family. Chef Sohui Kim's first cookbook is a collection of favorite recipes, tales and techniques. The Good Fork Cookbook has a dish for evereyone. Whether it's Korean-tinged American fare or modern spins on French and Italian classics, you're sure to find your new favorite bite.
Like bread puddings, this is one of many ways I like to use up leftover bread. You might think they would be heavy, but in fact they are lighter than most fritters. The bread disappears into these fluffy orbs that are deeply flavored with two intense salty cheeses. They are fantastic, but in all honesty what really makes this dish is the tomato jam, which your friends will want to eat with a spoon. It is great on anything — such as biscuits or served with bread and cheese.
A Gooey Manchego Cheese Fritters Recipe
The bread disappears into these fluffy orbs that are deeply flavored with two intense salty cheeses. Make these manchego cheese fritters now!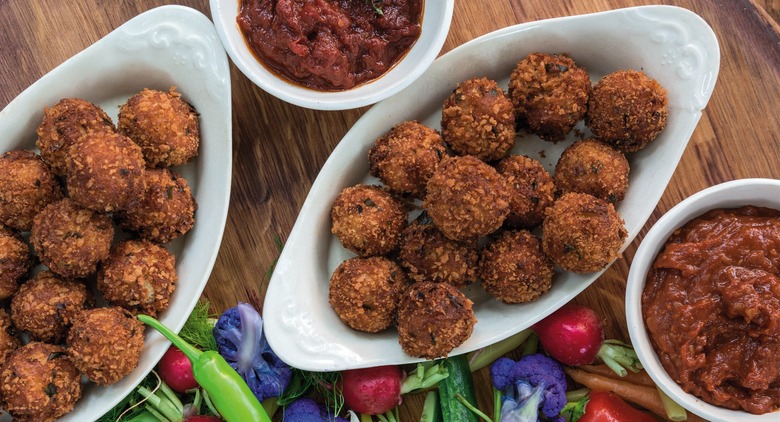 Ingredients
1 cup heavy cream
3 large eggs
1/2 cup milk
8 cups ciabatta or French bread, cut into 1-inch cubes
1 1/2 cups Manchego cheese
1 1/2 cups grated Parmigiano-Reggiano cheese
1/4 cup chopped fresh parsley leaves
1 tablespoon chopped fresh chives
1/2 teaspoon fresh thyme leaves or 1/8 teaspoon dried thyme
2 cups panko breadcrumbs
canola or safflower oil
freshly ground black pepper
chopped mint leaves
2 tablespoons extra-virgin olive oil
1 can (28 ounces) whole plum tomatoes
1/4 cup tightly packed light brown sugar
3 tablespoons red wine vinegar
1 tablespoon tomato paste
1 teaspoon fresh thyme leaves or 1/4 teaspoon dried thyme
Kosher salt and freshly ground black pepper
Directions
:::jam:::
In a skillet over medium heat, warm the olive oil. Add the tomatoes and cook, stirring occasionally, until they fall apart and are slightly caramelized, about 12 minutes. Add the brown sugar, vinegar, tomato paste, and thyme. Continue to cook, stirring frequently, until the mixture is glossy and jam-like, about 5 minutes. Season with salt and pepper. Set aside, or cover and refrigerate for up to 2 weeks.
:::fritters:::
Shape the dough into 1-inch balls, roll them in the panko, and set them on a plate or baking sheet.
Heat 2 inches of frying oil in a deep, heavy-bottomed pot to 365°F or until a breadcrumb sizzles when you drop it in. Place a wire rack on another baking sheet.
Fry the fritters in batches, monitoring the temperature of the oil and making sure not to crowd the pan. Cook each batch until it is dark golden brown and crispy, 2 to 3 minutes, then remove with a slotted spoon to the wire rack.
Sprinkle pepper and chopped mint over the fritters and serve them while they are still hot, accompanied by warmed or room-temperature tomato jam.