A Cherry Tomato On Top: Tom's Daughter Cocktail Recipe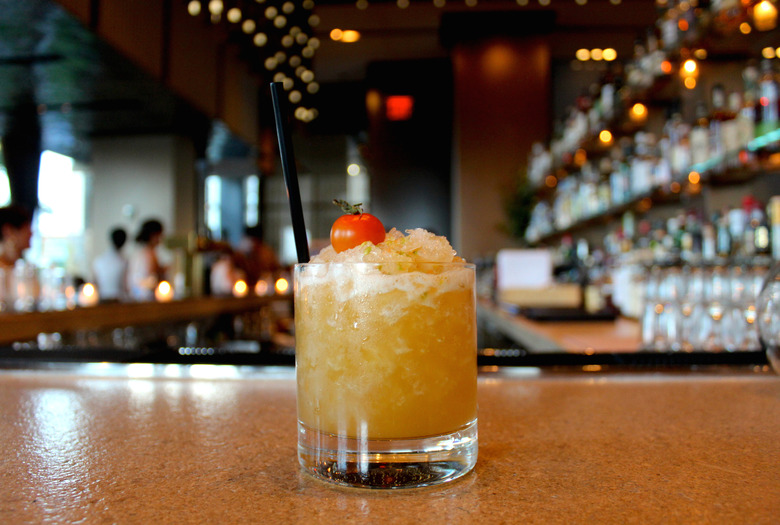 Few can argue the impact of the farm-to-table movement on the way we eat in restaurants today, but for bartenders, expanding their arsenal of ingredients beyond the standard mise-en-place of fresh citrus, requisite herbs and syrups to incorporate this philosophy is no small feat. At Tom Colicchio's waterfront-vista'd Riverpark on the east side of Manhattan, the cultivation of a 3,000 square foot garden steps away from the kitchen has significantly broadened the selection of fresh herbs and spices for head bartender Bailly Roesch, who also grew up on a farm in upstate New York.
Bringing a bit of country upbringing to city life, Bailly started her creation of the Tom's Daughter cocktail with an unconventional but summery ingredient: Sun Gold cherry tomatoes. Pulling from the restaurant's garden, Bailly chose lemon verbena to muddle in with the sweet summer tomato flavor, adding an herbal element. Though potentially a strange combination, the use of honey as a sweetener ties the whiskey, tomato, verbena and citrus together for a bright, refreshing take on a classic smash, which typically uses mint.
Believing that a drink's garnish should be indicative of its ingredients, Bailly tops this golden-hued cocktail with a single Sun Gold, kicking off the olfactory anticipation of delicate tomato flavor and perfumed verbena. The invention is a simple, brilliant blend of the tried-and-true cocktail approach with new flavors from the garden. This all reinforces the idea that, whenever possible, bartenders should make use of locally available ingredients in the same way chefs do; strengthening the relationship with the cuisine on the table. Impact and philosophies aside, the Tom's Daughter is simply a delicious expression of summer in the city. Enjoy.
A Cherry Tomato On Top: Tom's Daughter Cocktail Recipe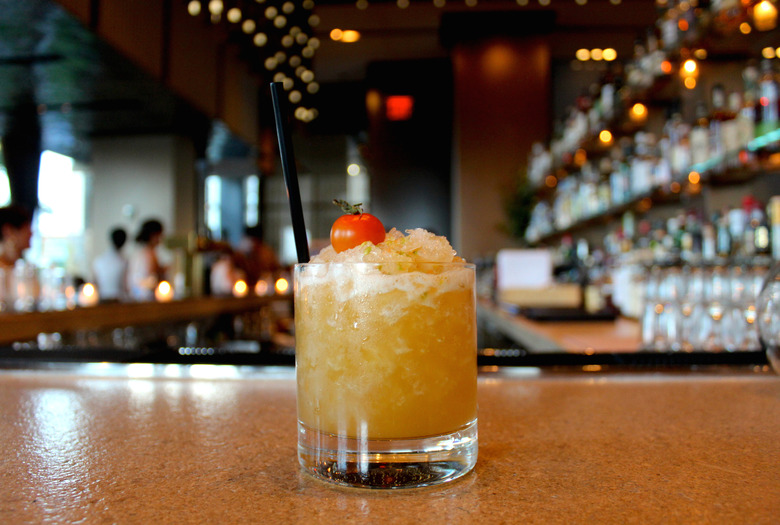 Ingredients
1 1/2 ounces Rittenhouse Rye
1/2 ounce Yellow Chartreuse
1/4 ounce honey syrup
1/4 ounce lemon juice
4 Sun Gold cherry tomatoes
1 lemon verbena leaf
Directions
In a small cocktail shaker, muddle 4 tomatoes and the lemon verbena leaf together.
Add the remainder of the ingredients into the shaker and add ice. Shake vigorously for 10 seconds.
Strain over crushed ice into an Old Fashioned glass and garnish with a Sun Gold cherry tomato and straw.
Blood And Sand 2.0 Cocktail Recipe
The Crusade Punch Recipe
Passion In The Jungle Cocktail Recipe