Sydney-based chef and author Lennox Hastie of Firedoor published a long, passionate ode to the art of cooking with fire that has us raring to crank up the grill.You may be wondering how to cook that dry-aged beef rib you've diligently been dry-aging for weeks — and what if it's been aging for longer? Say, 200 or so days? Hastie has some prime advice for you. 
At odds with the typical grill restaurant, most of the menu at Firedoor comprises fish and vegetables. It is here that the largest variations continue to challenge me every day. Sometimes we have fourteen species of fish in the same week.
I knew, however, that if I was going to have one steak, it had to be a great one. It wasn't enough to simply take the best Australian steak and grill it. It had to be better. It had to contend with the memory of Galician beef, which is forever imprinted on my palate. The beef in Spain is recognised as some of the best in the world, with retired dairy cows producing rich, incredibly developed grass-fed beef.
Beef comes down to breed, feed and environment. Australia doesn't have the Spanish breed rubia gallega, nor the culture of using older animals that are exclusively and continually fed on rich pasture.
I wanted to produce a steak that would give me an emotional response, so I approached Anthony Puharich from Vic's Premium Quality Meat — a man as passionate about meat as I am about fire. We began exploring which breeds would work best.
Many of the old English breeds, such as angus and hereford, have been introduced into Australia. We hand-selected the best of these animals 12 hours after slaughter. What we found were ostensibly freaks of nature, pure breeds that had reached a level of intense marbling, a trait usually only found among wagyu. But it wasn't enough. We needed to take them to the next level. Taking inspiration from traditional Swedish preservation practices and Italian techniques for making prosciutto, we decided to render the fat surrounding the kidneys of the animal; we painted the open sides of beef with it until they were sealed under a layer of their own fat, before dry-ageing on the bone for more than 200 days (depending on the size, marbling and maturity).
As you can imagine, when we first began, it was an absolute nightmare. We had no information to go on and both the quality of the meat and the process were inconsistent. Over the next few years we persevered, we observed and we learnt, until we had something that was amazing.
Today we work with two main producers: Rangers Valley in northern New South Wales, which produce angus cattle that are grain-finished gradually for 270 days; and O'Connor Beef in Gippsland, Victoria, which breed grass-fed Hereford-Cross Angus cattle. Both produce very different expressions of the steak. In fact, no two animals are ever the same, and to this day I find it difficult to describe the flavor, with a profile ranging from intense umami meatiness through to old sherry and aged parmesan. We have created something so incredible and so unique that speaks of the ingredient and reminds me of what we achieved with the caviar all those years ago. And the beautiful thing is that the process never ends. It is something that we continue to learn about and improve upon. It is an exceptional steak, but it takes a whole lot more than just me at the grill to bring it to the plate.
There are, of course, several ways to cook steak but there is so much going on with this steak that it needs very little embellishment other than the aromatic flavor of grapevines and good salt. It is important that the steak is brought to room temperature before cooking to allow the fats to render through the meat.
Reprinted with permission from Finding Fire: Cooking At Its Most Elemental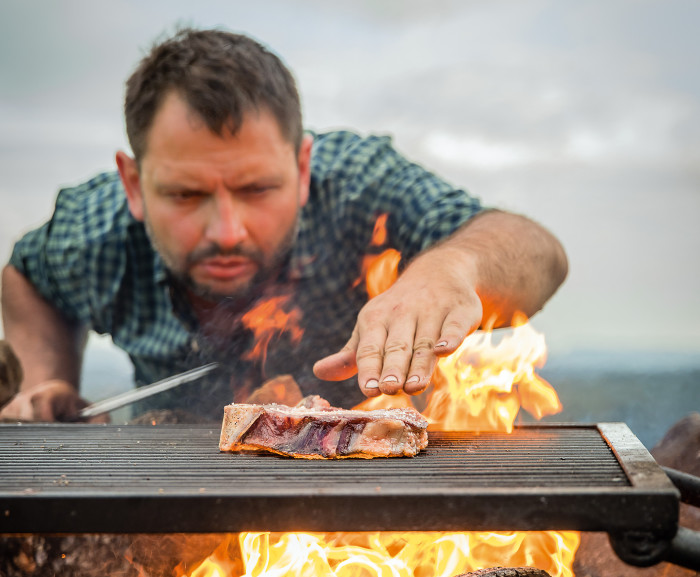 Ingredients
2

pound 3 ounces

dry-aged beef rib on the bone, at room temperature

Fleur de Sel or sea salt
Directions
For the steak
Prepare your embers. Suspend a grill approximately 4 inches above the embers.

Holding the steak by the bone, brush it across the grill rack 3 or 4 times to baste the grill.

Place the steak on the grill and immediately season well.

Leave for 1 minute and rotate 60 degrees, adjusting the height of the grill or the embers as necessary to ensure that the steak is only being licked by flames.

Repeat the rotation 5 times until the surface is caramelised to a rich mahogany.

When ready, turn the steak and season again.

Repeat the rotation and adjustment process (steps 4–6).

Remove the steak from the grill and allow to rest in a warm place for 5 minutes.

With a sharp knife, remove the bone, trim the sinew line on the inside of the rib and carve into ¼ inch slices. Serve immediately.