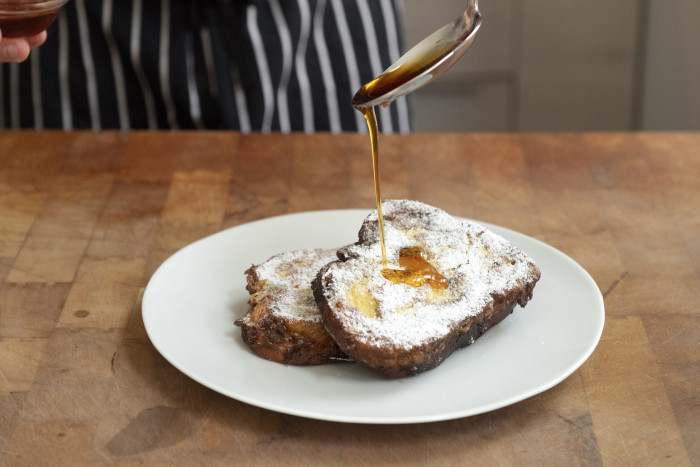 Today, Wylie Dufresne is known for his inventive and delicious donuts, which he serves up at Du's Donuts & Coffee inside The William Vale hotel in Brooklyn, and he's still revered for his groundbreaking cooking at WD~50. But on weekend mornings, Wylie puts his Willy Wonka–esque culinary skills to use for his family, cooking pancakes, eggs and this sure-fire French toast for his wife and kids.
At home in Manhattan, they cook on a customized BlueStar RNB gas range. "My wife and I designed the kitchen and we wanted to make sure that we had a range with great firepower and ample oven space,  similar to what you'd find in professional kitchens," Wylie says, noting that his wife is an excellent baker.
Their setup includes side-by-side convection and standard ovens, so they can cook at different temperatures at the same time, as well as four burners split to either side of a 24-inch griddle. It's a professional-quality kitchen befitting culinary royalty, but for Wylie and his wife, it's about having options and the space to enlist the whole family in making crowd-pleasing dishes like this French toast. "Cooking is an important part of our lives—and getting our kids involved in that has been a great joy and they love it."
What's the secret to Wylie's soul-satisfying French toast? He says to dredge the bread in the egg mixture, then place each piece in a hot sauté pan with either oil or clarified butter. This crisps the edges before the bread gets drained and placed in the oven to puff up, creating the crunchy-luscious contrast that makes this dish such a family favorite.
Wylie Dufresne's French Toast Recipe
Ingredients:
4 slices challah bread, cut 1 1/2″ thick
1 qt. heavy cream
1 1/2 cups sugar
4 eggs
1 cup vegetable oil or clarified butter
Powdered sugar and maple syrup
Instructions:
Preheat oven to 350F (with convection if it's an option).
Place challah in high sided baking dish.
Warm heavy cream with 1 cup sugar until fully dissolved. Pour over bread and allow to soak for 3-4 minutes, turning occasionally.
Place oil (or clarified butter, my preference!) in a high sided sauté pan and set over medium heat.
Whisk remaining 1/2 cup sugar with the eggs vigorously.
One at a time, carefully dredge each piece of bread in egg/sugar mixture and place directly into sauté pan. Once golden on one side (about 1-1/2–2 minutes), flip and color on the other side. Drain well on paper towels and place in oven on a sheet pan for 5 minutes, until warmed through and nicely puffed. Remove from oven and dust with powdered sugar and serve with maple syrup.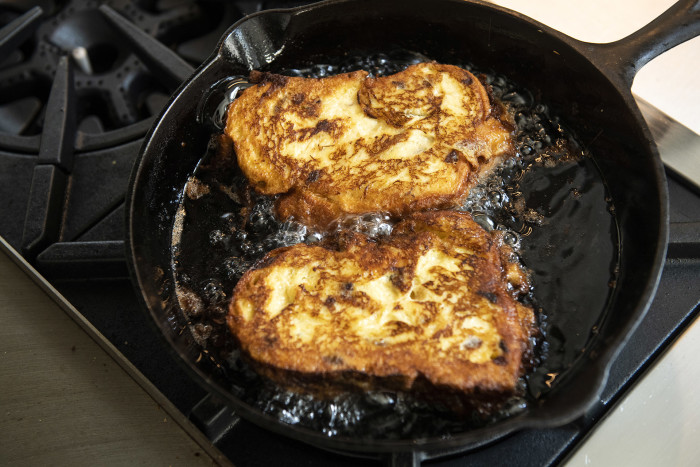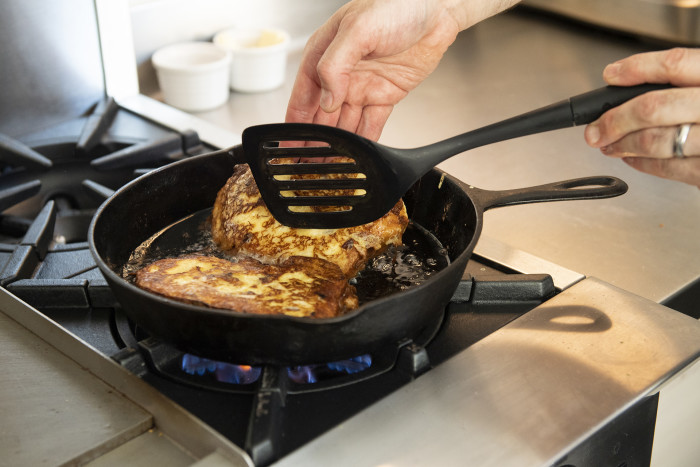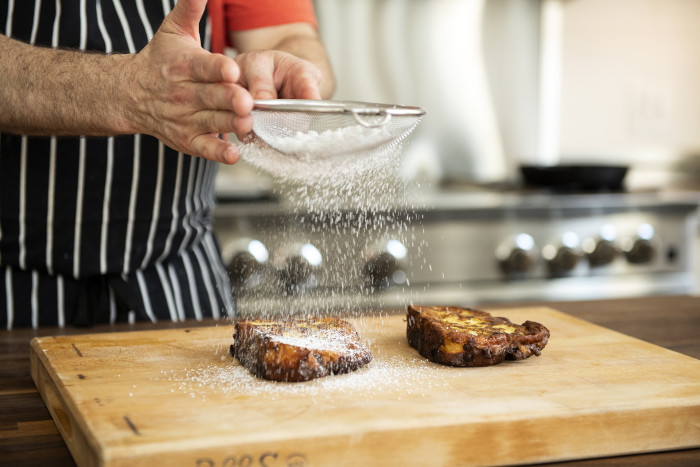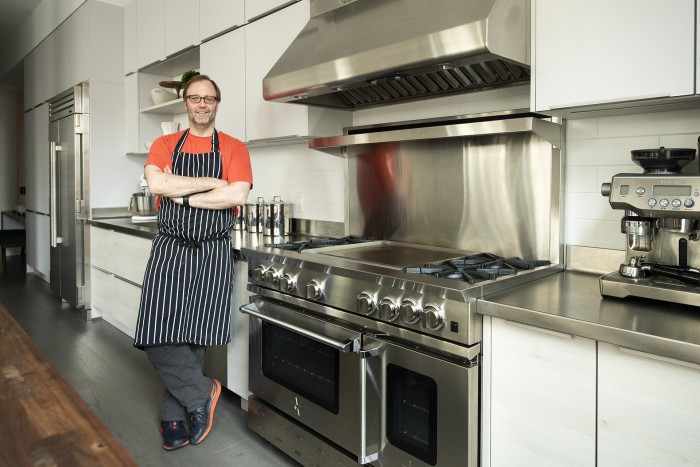 ---
This post is brought to you by BlueStar® appliances, designed for discerning home chefs who demand restaurant-quality results in their own kitchens. In business since 1880, the Pennsylvania-based manufacturer specializes in handcrafted gas ranges, cooktops, electric and gas wall ovens, complementary kitchen ventilation hoods, premium refrigeration, and induction. The company's spectrum of highly innovative appliances stays true to an authentic restaurant kitchen experience at home. Available in over 750+ colors and finishes, and with almost infinite configuration possibilities, BlueStar® offers unmatched options for customization.