Tony Mantuano Goes All-In On Upscaling Of Sports Food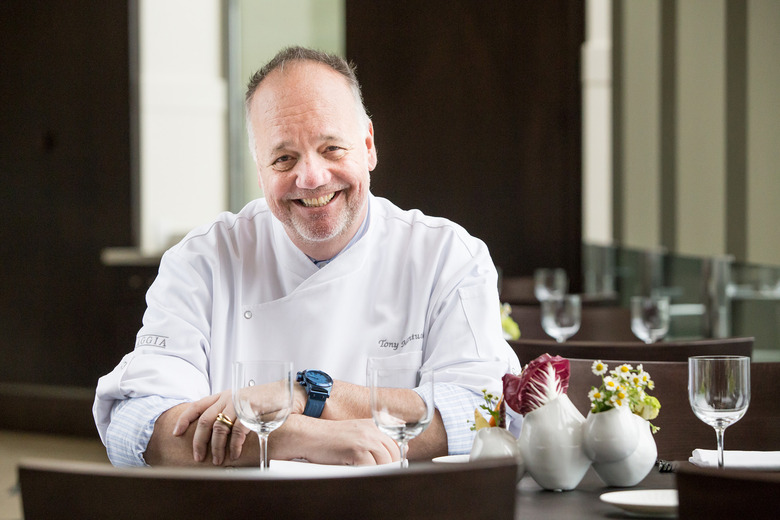 © 2014 Galdones PhotographyTony Mantuano will preside over Cafe Spiaggia at the US Open in Queens for the next two weeks, then heads home to Chicago to work on his forthcoming Wrigleyville restaurant with Cubs manager Joe Maddo
"It's the glory days" of sports food, says Tony Mantuano, speaking by phone from the grounds of the Billie Jean King National Tennis Center at the U.S. Open in Queens, New York, which starts today and runs for two weeks. The sports world's attention will be on the big names on the court, Serena Williams, Roger Federer, Novak Djokovic. But the more than 700,000 fans who'll attend the tournament will get hungry, and they will be able to choose from the most diverse assemblage of pop-up restaurants on the planet.
Mantuano will be there for his eighth straight year, making the journey from Chicago, home to his 34-year-old restaurant Spiaggia and its Café Spiaggia offshoot, to operate his long-running wine bar and the return of a pop-up Café Spiaggia, which opened last year as one of the Open's marquee standalone restaurants. There's a Fuku, and Pat LaFrieda steak sandwiches, and the omnipresent Grey Goose bar, and Esther Choi making poke, JJ Johnson previewing his forthcoming Harlem restaurant with piri piri salmon and pineapple black rice out by Court 17, and much more.
It's a menu makeover that's not unique to tennis; you can find high-grade sushi and A-list burgers at Major League Baseball ballparks around the country, and increasingly, high-end restaurants just outside the stadium doors. That's the case in Atlanta, where Linton Hopkins partnered with the Braves to open a sophisticated steakhouse. And when the Cubs start the 2019 season, fans will be able to dine at the forthcoming restaurant from Mantuano and his new partner, Cubs manager Joe Maddon.
Here, Mantuano discusses these glory days, his U.S. Open presence and his bromance with the Cubs skipper—who, it turns out, has a fondness for Cabernet Franc. (This interview has been edited and condensed.)
How did you first start working on the U.S. Open eight years back?
We started out when my wife Cathy Mantuano and I wrote a cookbook called Wine Bar Food that came out around then, and the U.S. Open thought it'd be fun to do a wine bar. So we did it and it became a hit and they asked us to do a second wine bar inside Arthur Ashe Stadium on the club level. Then last year they built a new building, a sort of Mercedes-Benz showroom on the first floor with a restaurant up above, and they said, Would you consider doing something there? I said, We could bring our Café Spiaggia from Chicago and pop it up. They told us on Wednesday of last year that it was available and it's a go and can you open by Monday? It was a challenge.
You seem to enjoy the challenges that running restaurants miles from home for two weeks brings though, right?
It's a break from the crazy other world I come from. You really bond with the team. You work like crazy and you work long and you're like, I'm never gonna get through this. And at the end you have this weird alliance to each other. It's like a badge of honor, like we made it. So it's fun.
Back in 2011, Food Republic called your ouzo shrimp at the wine bar one of the best stadium eats ever. What's popular on the wine bar menu now?
At the wine bar in Ashe, we went on the hunt for delicious pizza crust, and we found one that's made in Italy. I wanted something that didn't have more than five or six ingredients and no preservatives and pre-baked in a wood-burning oven in Italy and then frozen and shipped here, and all we have to do is top it and run it through our conveyor belt oven. It's become one of the biggest sellers up there. Pizza's really all about the crust. It's got to be delicious. I wouldn't do it unless I found a crust that was unbelievable.
After the Open, you'll head back to Chicago to work on a new restaurant outside Wrigley Field with Cubs manager Joe Maddon. What's the story?
Joe would eat in Spiaggia now and then. He's this laid back guy and loves food. Wrigleyville has become Rickettsville; the Cubs owners, the Ricketts, really restored Wrigley Field to its early 20th century [grandeur], with beautiful architecture from terra cotta tiles that you never knew existed to building a greenspace that's a park, and a hotel and six or seven restaurants in the hotel that's right next to the stadium. The Cubs' administrative offices are right next to the stadium and there's a corner spot, and that's where Joe and I are gonna put this restaurant.
How'd you decide that a partnership with a baseball manager could work?
It's something that we started talking about, and then I met his partners from his restaurant in Tampa called Ava, and I get along with them really well. We spent time last December in Hazelton, PA with Joe thinking of design and what was important to him—food and some of the influences of his upbringing. Half his family is Italian, the other half's Polish. Then before the season started in February, we spent time with him and the partners in Tampa, so I got a sense of what Joe likes, from his being at Spiaggia, from his background. We did some research together. I want him to be happy. I listened to what he wanted in a restaurant and wine is important to Joe. Joe might be one of the only managers who has a glass of red wine in front of him at his post-game interviews.
What does he drink?
He has his favorites. The grape that he seems to be enjoying these days when we last saw him was Cabernet Franc. And that's sort of a weird grape for people to like. It's different than Cabernet Sauvignon, and it shows that he understands wine; he digs a little deeper. He's enjoyed Italian wine at Spiaggia and Café Spiaggia as well. He'll send a few players in and say, Make sure you give them some of this wine. Guys will come in and I'll say, Joe wanted you to try this wine and Anthony Rizzo will say, Ah, c'mon, that guy will drink anything. It's a lot of fun to be with these guys.
How is it as a restaurateur in Chicago, with the Cubs and White Sox. Do you have to stay agnostic?
I'm a Cubs fan just because I grew up in Kenosha, WI which is an hour north of Chicago, and in those days of course we had WGN, the superstation. You'd get every single Cub game. Wrigley didn't have lights until the late '80s so when I'm coming home from school I could catch the end of the game. I'm not agnostic at all.
How do you feel about the prospect of opening a business with a Cubs manager?
We've done the research to know each other really well. I feel really good about it. It's not a sports bar and it's steps from the entrance. It's right next to Wrigley. There's plenty of places where people can get a beer and a hot dog. We did a week pop-up where the Cubs take one concession stand and give it to certain chefs, and we just finished ours. We were doing fun stuff like griddled mortadella sandwiches with giardiniera—something you wouldn't expect at a sporting event. And it's time. You can still eat whatever you want, but there and here at the U.S. Open, people want to eat anything and everything. They spend more money. They don't eat before they come. So the time for great food at sporting events, it's the glory days, it's really changing.
You're kind of a pioneer of upscale sports food.
That's gonna be on my gravestone.
Lastly, what's new at Spiaggia? How do you keep it fresh?
For me it's about mentoring the right people. You know, Joe Flamm just won Top Chef Season 15 and he's a star now, and he's been with me for almost five years. Beforehand it was Sarah Grueneberg, who won a Beard award last year and has her own restaurant, Monteverde, in Chicago. Before her it was Missy Robbins, who of course now has Lilia in Brooklyn. We're all really good friends. That's just the way we do things. I know Joe [Flamm]'s time might be coming but Joe is really transparent with me, like, Let's find you the next guy. We send people to Italy when they come on board to learn from people that I learned from. It's really all about mentoring for me at this point—bringing on young people and watching that talent blossom and steering tem in the right direction.
What do you tell a young chef about making Italian food for a Chicago audience?
One of the reasons that Spiaggia has been around for 34 years is that we stay true to Italy but at the same time Italy evolves too, so it's just a matter of keeping your finger on the pulse of what's going on around the world. You show up with passion, you show up hungry and I'll feed you. As for mentoring chefs, it's whatever you need to know. One thing you need to understand is that Italian food is about simplicity and ingredients. You gotta love Italian food. That's important. All the people I talked about have Italian souls.