Reflections From A Trip Through A Canadian Culinary Paradise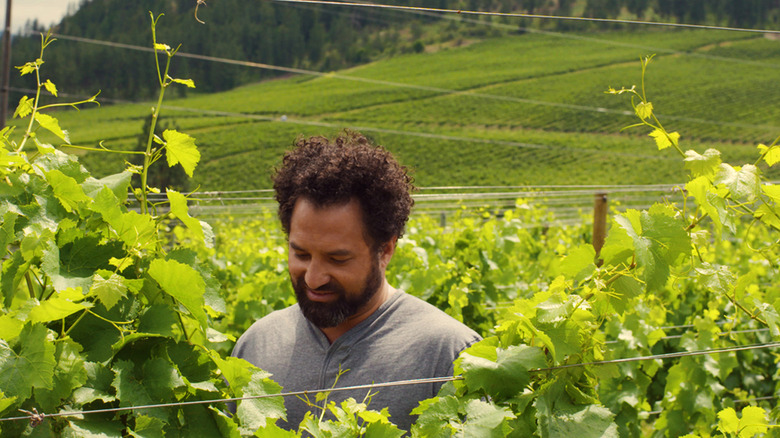 The first thing you notice in Kelowna is the sky.
Maybe it's the water unfurled below it, a glassy lake that compounds the cerulean atmosphere to even bluer depths with its shimmering surface. Maybe it's how the gently sloping mountains frame its edges. Either way, you've never seen sky like that, sky that goes on and on in an uninterrupted expanse of blue.
The city of Kelowna lies just over the U.S.-Canadian border, perched in the heart of British Columbia's famed Okanagan Valley, where lush vineyards roll for miles and the churn of orchards mark the seasons. Chef Ravi Kapur has come to bear witness to this hidden culinary gem of the North, to taste through the streets of the city where farm-to-table is less of a choice and more a basic facet of life.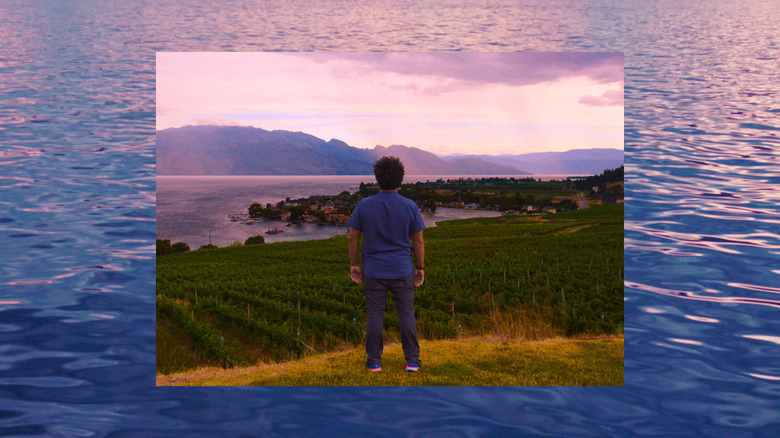 Back home in San Francisco, he's known for his precise and free-wheeling palate at beloved Hawaiian outpost Liholiho Yacht Club, with its homemade spam and tuna poke and elegantly cheeky pineapple Baked Alaska. He and his team hone in on funky and refined wines from all over the world to highlight the food of his heritage, from pét-nat to orange wine. It's a playful lens on the unlimited possibilities between the glass and plate, something that has come to define Kelowna's own culinary scene, entwined as it is with the terroir that informs their wines.
Here, Kapur is a stranger. A culinary clean slate.

A STROLL THROUGH DOWNTOWN KELOWNA.
A few days into his stay, he meanders through the crowd of Chef Meets BC Grape, a gathering of 150 wineries from across the region. He meets Canada's youngest Master of Wine, Rhys Pender, who explains that wine-wise, the Okanagan is a bit like covering a big chunk of France—that people are just beginning to scratch the surface of the exciting things the Valley can do. The varietals, the microclimates, all laying the groundwork for greatness. Christa-Lee McWatters Bond, Director of Sales & Marketing for TIME Winery, Evolve Cellars & McWatters Collection, points out that most people don't even realize BC produces wine. It isn't sold elsewhere, she says. You have to come to it.
That exclusivity makes the food scene something of an infinite loop; a pristine sustainable system that bigger cities can only dream of. Farmers live next door to their customers; the wine on the table comes from a patch of vines you passed on your way in.

DINNER AT DUSK, QUAILS' GATE WINERY.
"Our wine list is 100% local. Our food is hyper-local," says Rod Butters, the prolific chef and co-owner behind local spots RauDZ Regional Table, Micro Bar and Bites, Terrafina, and Sunny's. Butters is what you might call a legacy player in town, and he reminds Kapur a bit of the dreamers who built the Bay Area plate by plate. "When I moved here, there weren't really restaurants or accommodations to partner with the world-class wine being produced," Butters says. "You need to have that connection.
"The landscape reminds me of Italy," he adds. "The sunshine, the light on the mountains and the hillsides, the amazing lake... I felt very alone here when I came 17 years ago, but there are so many chefs here now. So many talented people."

A STOP AT SUNNY'S WITH CHEF ROD BUTTERS.
Kapur soon joins one of those talents, Aman Dosanj of pop-up dinner series The Paisley Notebook, on the trails of Knox Mountain on the edge of the city. Fields of vibrant wildflowers slope down towards the lake, while dark evergreens lean towards the peak. It's marigold yellow and olive green and rusty red dirt all around.
"The landscape is so edible," she says, loose wisps of hair framing her face in the breeze. "When you're a cook you're working with the seasons, yes, but you take it for granted. I love wine because it's a reflection of the previous season."

AMAN DOSANJ AND KAPUR TAKE IN THE VIEW FROM KNOX MOUNTAIN.
Kapur thinks about the ocean in San Francisco; how one day it's mammoth and crucial and salts the air, and the next it's as if it's not there at all. Where, oddly, nature's very existence is determined by your schedule, not the other way around. In Kelowna, life revolves around those transitions. The food grants you the immediacy of the moment, and the wine provides hindsight.
The closest thing to a local keeper of those seasons is Jennay Oliver, the fourth-generation owner of Paynter's Fruit Market. Everyone in town knows Paynter's, and so everyone knows her. They can see her family's touch in the peaches, in the melons warmed by the sun, in the thousands of tomato plants she babies each spring.

JENNAY OLIVER AND HER ORCHARDS.
In the early 1920s, Oliver's pioneering great-grandfather took dynamite west into the mountains in search of water. The resulting flow powered the family farm, and then in 1951, a fruit stand. In the 80s, her mother took over with her aunts and uncles, and ten years ago, Jennay took her place in the line.
"When you grow up on a farm, it's always in your blood. It's pretty hard to get away from it," she says. "We have so much support from our neighbors. It's really neat when you've got chefs that do these long table dinners and all the producers are right there. There's the winemaker, the meat producers, and the egg producers...pretty much everything you need to be kind of self-sustainable is here. It's pretty amazing."
That enthusiasm is no small thing. Access to beautiful product is one thing, demand for it is another.

A STOP AT OKANAGAN LAVENDER & HERB FARM.
"People are finally finding out that this is an amazing place to live. Our community has grown so much in the last 20 years," Oliver says. "You can go hiking for hours and not see anybody, or you can just go to downtown Kelowna and be right in the heart of our city. It's really good for us as humans just to go out and get some fresh air, to be more connected to our food sources, to get our hands dirty."
She laughs a little devilishly. "So maybe don't tell everybody!"
A few weeks after his return, Kapur has yet to shake that sky, all that refracting clear blue. "The hardest thing to forget is the water," he says. "You cross that bridge from West Kelowna to Kelowna...I still think about it every day. It's wild."
This post first appeared on Chefsfeed.