Derek Feldman Is Disrupting The Japanese Food Scene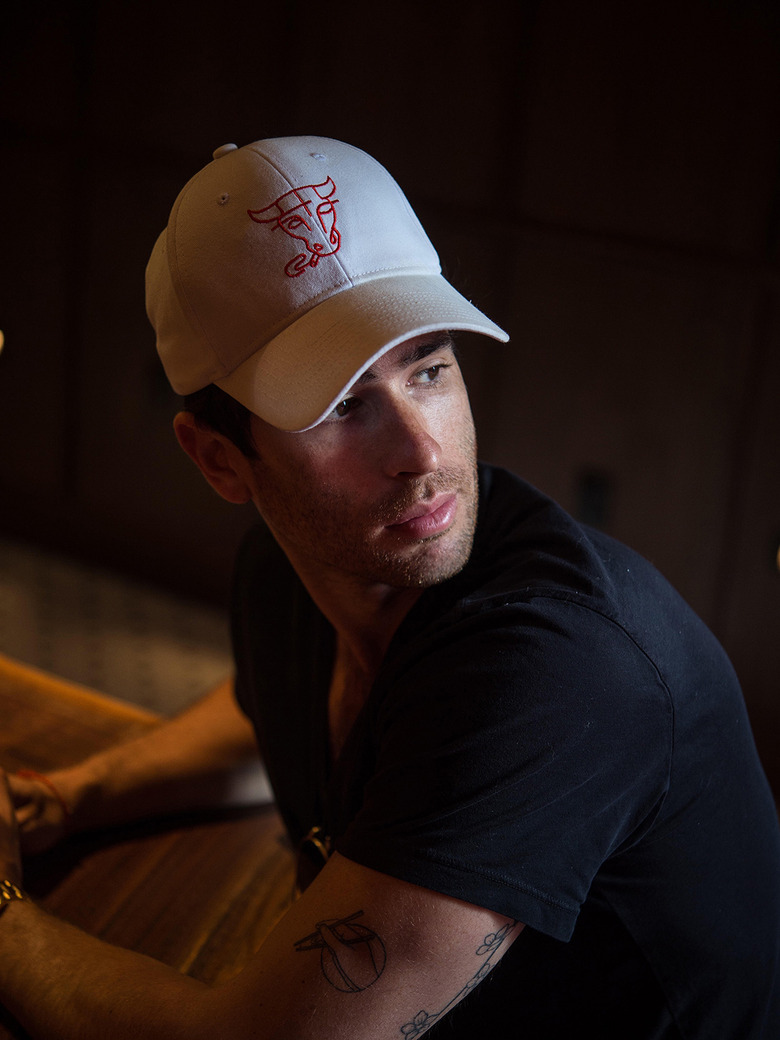 Derek Feldman is the restaurateur behind Sushi On Jones, Uchu and the new Don W
When Derek Feldman sits down next to me on a yellow wire stool at Sushi On Jones, his 6-seat outdoor omakase spot in the Bowery Market in Manhattan, I notice a tattoo of a hand holding chopsticks on his forearm, peeking out from under his t-shirt sleeve. It's playful, unexpected—not totally in character with New York City's hardest-driving restaurateur of the moment, but at the same time perfectly on message.
Feldman's spree includes Sushi On Jones, which he opened in summer 2016 with the idea of giving New Yorkers a true omakase experience—chef's choice, high-grade sushi—with the unthinkable price of $58 for 12 pieces (in about 30 minutes); Uchu, a fine dining, 10-seat omakase counter run by sushi chef Eiji Ichimura and in the next room, an 8-seat kaiseki counter run by chef Samuel Clonts; a second Sushi on Jones in the West Village with 10 seats; and the recently opened Don Wagyu, a fast-casual concept that sells sandwiches made from ultra-exclusive Japanese beef at prices aimed at the nearby Wall Street crowd.
Oh, and there's something I didn't mention about Feldman. He's 29. And he had no prior experience in the restaurant business.
So how did this hard-charging upstart get so far so fast, and does he have plans beyond this two-year rampage through Manhattan's Japanese dining scene? Read on and find out. (This interview has been edited and condensed.)
How'd you get into the restaurant business?
I graduated college and I got a job at a sports agency. I studied sports management. I love the business of sports. I wanted to get in the agency world. Within two weeks of my first job out of college I had stomach pains, went to the hospital and spent most of the next two years there. I got out of the hospital and tried to figure out what I wanted to do but I couldn't, so I put a backpack on and traveled around Southeast Asia for a couple of months. Came back, still didn't know what I wanted to do, put the backpack on and went back to Southeast Asia and then decided that I wanted to be in hospitality. I didn't know if I wanted to do hotels or restaurants, but I knew I wanted to get into hospitality.
But your first business idea was a furniture company making chairs for the elderly called AWEchair, right?
Yes, we we just went into production. It will launch early next year. While that went on, it was moving very slow and I was like, this is not taking up enough of my time. I became friends with a chef and convinced him to open a restaurant with me. [The chef was David Bouhadana; more on that later.] So we were building Uchu and I took a trip to Japan and while I'm there I'm eating exactly what we're eating at Sushi on Jones—great fast-casual sushi, omakase, chef selection. It doesn't matter if it was 11 in the morning, 3 in the morning, 4 in the afternoon—anywhere you walk in, you're getting great sushi. So in my head I'm saying, why can't we get great omakase sushi at a reasonable price in New York? Why does it have to be a $200 or $300 price point?
What's the answer that you found?
The fish is expensive—you can't get this fish and charge $50 for it because it's too expensive. In my head, I'm like, if you're going through the amount of volume you need to go through you can get the price down. So I built Sushi On Jones as a test run, as an experiment. I got introduced to the owner of the Bowery Market. I told him what I was doing at Uchu (which wouldn't open until almost a year after Sushi On Jones) and that I'd love to open an omakase bar here and he thought I was nuts. I was like, what's cooler than having an omakase outside on the street on Great Jones and Bowery? So we opened it up and the first two weeks were difficult and then word got out. It just took off. It's a great model that can work anywhere so I'm working on expanding this exact concept.
OK, let's back up to the illness and hospital stay. Were you ever diagnosed?
I have Celiac Disease, so I'm gluten free. I had seven or eight surgeries on my stomach; I had my gall bladder removed. I had stents constantly put in and taken out. I had pancreatitis four or five times. I had massive tumors in my stomach which turned out to be from Celiac Disease. They removed one tumor, but once I went on a gluten free diet, they all shrank within three or four months.
So it's practical with Japanese food?
It's so easy. All I'm changing is the gluten-free soy sauce.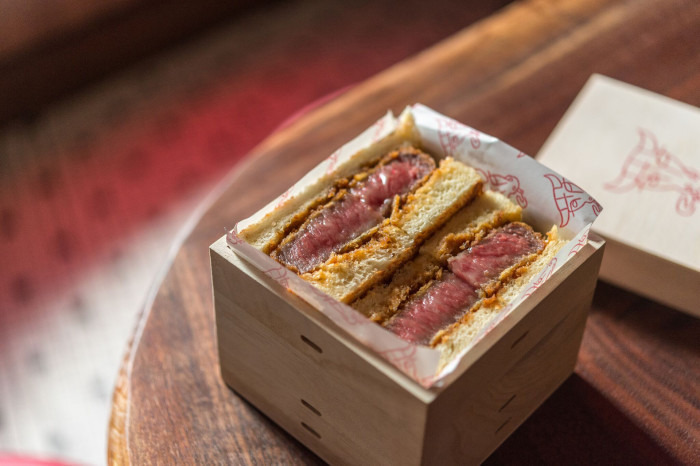 The wagyu katsu sando from Don Wagyu, a sandwich made with wagyu beef imported from Japan.
What about at Don Wagyu?
We have a dedicated gluten-free fryer, so we do fresh gluten-free panko crust. The meat is the same and we use gluten-free bread. All our sandwiches are available gluten-free, which you cannot get in Japan.
Back to the narrative of your restaurants. You were originally slated to open Uchu with the sushi chef David Bouhadana, who also worked at Sushi On Jones when you opened. What happened?
It didn't work out. We were not like-minded people at all. It's a shame. He was talented but it was very scary for me. I saw what happened here and how out of control things got. I put my heart and my soul into it and to think it could be torn down because of the chef that I picked killed me. I gave him chance after chance after chance.
But then you got lucky with a replacement, right? 
I ended up with Ichimura, who holds a very, very special place in my heart for a million reasons, but he is by far the most talented sushi chef in the city and is doing sushi the way it was meant to be done, the way it was done years back before millions of sushi restaurants opened up.
And before you landed Ichimura, you had kaiseke with Samuel Clonts?
I wanted to do food at the liquor bar [inside Uchu]. I didn't know I wanted to do a tasting menu, but I got connected to Sam, who went to culinary school with one of my best friends. We changed the entire kitchen for him. We brought in all new equipment and wound up doing the kaiseke tasting menu and then Ichamura fell into my hands from the sushi gods.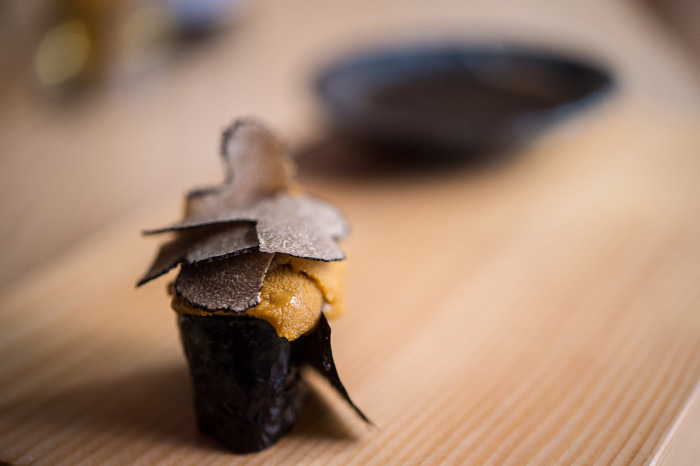 A selection from the Sushi On Jones omakase. (Photo: Daniel Krieger)
But you didn't take a step back at that point. You decided to open Don Wagyu.
Yes. Don Wagyu is something that's so popular in Japan that hasn't really been done in America yet. For a lot of reasons—it's really difficult getting this beef from Japan. It's really expensive and it's really hard trying to break into the vault of Japan where people will trust you with such fine products and ingredients.
What was the inspiration for it?
Me and chef Sam sat down, and I know that Sam's always wanted to do a fast casual spot. We had a couple of ideas, and then wagyu katsu sando came up, and we immediately snapped our fingers and said that's what we're gonna do. So we wanted start with a little takeout restaurant like we started Sushi on Jones, see how it goes, how it works. So far the response has been great. If that works out I'll expand to a much bigger footprint next. We're talking about a Japanese steakhouse in Midtown that has a little to-go shop where we're going to sell the sandwiches, but I wanted to get my feet wet.
There's been a lot of sniping in the media about the prices, which range from $25 for an American-Japanese hybrid wagyu to the A5 Ozaki wagyu, which can cost $185. How do you explain the pricing?
Our beef is really expensive. Our lowest margins are on our highest grade beef. That's the price. We're working with a single farmer in Japan who does everything himself. He can only kill 20 cows per month. That's all he's capable of and that's his price.
How did you settle on Japanese cuisine to begin with? What are some of the things about Japanese culture that attracted you?
Every place I went in Southeast Asia, I was so fascinated by the food, the culture, the people. Until I went to Japan. It's a completely different level. Anything the Japanese do is done to perfection. And the food is by far my favorite food. It's so delicious.
Was there one meal in Japan that particularly inspired you?
It wasn't one meal, it was every meal. It's amazing. You walk into a 20-story building and each floor has a different bar or a different restaurant. You walk in and it's all Michelin-graded food.
What happened when you wanted to bring the idea to New York? Did you fear that you needed a niche?
I wanted to do something that doesn't exist, which is really hard to find in New York. An outdoor omikase didn't exist and an omikase at this price point didn't exist. I think there are 75,000 restaurants in NYC, so it's difficult to find something.
Like a katsu sando—
Something dedicated. There are a couple of restaurants that have them but nobody has a dedicated restaurant doing wagyu sandos with the type of beef we're getting.
Are there specialty shops in Japan?There are a few that do it. Some are steakhouses that also sell the sandwich and some just have the sandwich, strictly to-go.Now that you have three brands, will they take on further life?
Uchu is kind of its own animal and obviously hard to recreate because it's chef-driven and staff-driven. If I wanted to do that in Macau or Hong Kong, it's really difficult to find that level of help. The wagyu restaurant is still very new. I do have a 5-year plan for it, but I just have to wait and see how the first one goes. Step 2 will definitely be a Japanese steakhouse in Midtown. And I have been focusing on Sushi On Jones. It's a very easy model. I can take a space anywhere in the world. As long as they have direct flights to Tokyo I can get the fish there, whether it's once a week or twice a week. I'm doing a pop-up in LA from September-December for Sushi On Jones, building out a shipping container that'll have 12 seats and a takeout section. And I'm looking to expand to London too.
What do people say to you that they like about Sushi on Jones?
They love the quality—that they can get the sushi for the price they're getting. They love the experience—it's fun, it's 30 minutes. You're not going to sit somewhere and having this ambiance, waiting for a list to pick your sake. No, there are no choices. You come, you sit down, you get fed and you leave. People love the quality, love the food and they love the price point.
What was the inspiration behind the wagyu with uni sushi?
[The butcher shop] Japan Premium Beef is across the street. And I had wagyu sushi in Japan. And I'm like, I want wagyu sushi. It's funny because every sushi chef doesn't like to do wagyu on their sushi because there's no skill involved. You cut the beef, you sear it and you put it on; there's no preparation needed. It's almost like a cheat. But I want to give people what they want.