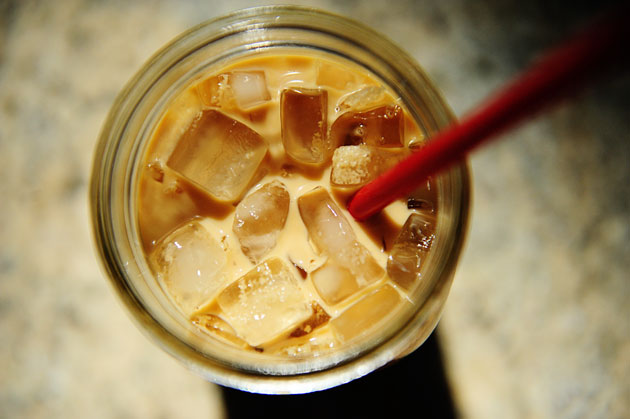 Some folks are fortunate enough to drink iced coffee year-round. But for those of us north of the Mason-Dixon line, the summer months are known as iced-coffee season. Henceforth through mid-September, our afternoon coffee breaks will be taken sucking on a straw, our at-home coffee routines made more complicated thanks to the additional step of chilling required. So, what's the best way to ice coffee? We're glad you asked. We've compiled 10 iced coffee hacks so you'll never get bored when the temperature soars.
Cold-brew your coffee
Cold-brewing is the new black. If your local coffee bar doesn't have one of those apothecary-looking super-slow-drip cold-brew towers, consider getting your java elsewhere. Brewing cold is said to reduce acidity, which may be what you want when you're sucking coffee down like a Slurpee to beat the heat. To cold-brew at home, mix together fresh-ground coffee and water (a lot, like 1 part coffee to 5 parts water) and steep, sealed in the fridge, overnight. The next day, strain well through mesh, pour over ice and enjoy.
Go Japanese
Not everyone is sold on cold-brewing. That's OK. There are options. Brewing hot over ice (i.e., the Japanese way) is said to preserve the delicate flavors of the coffee. The key is to use good, dense ice cubes to chill your coffee quickly without diluting it. Another advantage: you can make pour-over iced coffee to order, whenever your little palpitating heart needs a caffeine jolt.
Use a Chemex
Our favorite pour-over vessel is the sleek, handsome Chemex. It's perfect for the above-mentioned method. Simply add ice to the carafe and make your coffee as you normally would. Gently agitate the cubes to chill thoroughly, serve over ice or in a chilled glass, and enjoy!
Use an AeroPress
This is one of our favorite ways to make iced coffee — and it's a fine way to make hot coffee, too. It's a simple, inexpensive apparatus that looks like a chem-lab tool. Using air pressure to speed up brewing, the device helps avoid the bitter notes that can creep into coffee. When you operate the plunge, do it over ice for a clean, aromatic brew.
Go Vietnamese
Black-coffee drinkers cringe at the very thought of it, but the vast majority of people (65% of coffee drinkers in this country) take their coffee with cream or milk and/or sugar. In Vietnam, it's a given. Add a spoonful of sweet condensed milk to your iced coffee for a Vietnamese-style sugar rush that's rich and creamy, like coffee-flavored ice cream.
Go Thai
See above. Add cardamom. Thank us later.
Go NOLA
If you've never been to Café du Monde in New Orleans for beignets doused in powdered sugar and chicory-laced iced coffee, you haven't truly lived. The Big Easy institution sells its infamous chicory joe by the can, but coffee snobs might opt for Blue Bottle's version instead.
Shake it
If you order iced coffee in Italy, chances are you'll get a Shakerato. To make one at home, pour a shot of espresso or strong coffee into a cocktail shaker with a few cubes. Add whatever sugar or milk you normally take, and shake. When you strain it into a glass, it comes out smooth and frothy. Serve it "up" in a cocktail glass for the full effect.
Add booze
If you've already broken out the shaker, you might as well raid the liquor cabinet. Coffee cocktails have gotten a bad rap thanks to god-awful espresso martinis. But it's possible to spike your coffee in style. Rum and brandy are natural companions, as are many anise-flavored elixirs. Or look for a good coffee liqueur like Firelit, a small-batch product that works with craft roasters like Blue Bottle and Verve, or the tequila-based Patrón XO Café.
Add a twist
Believe it or not, citrus and coffee actually make a great match. Hey, if it works for tea, why not coffee? It gently bumps up the natural acidity in coffee. Pour espresso over a couple slices of lime and some ice and you've got yourself a Guillermo. Have it black or with a dash of milk.
This is an updated post with a new headline and improved links.
---
Read more about iced coffee on Food Republic: