San Antonio has long been associated with Tex-Mex cooking. Unlike other Texas cities, most restaurants here make their tortillas by hand, and many restaurants eschew modern design accents, instead choosing to honor the comforts of tradition and time. As San Antonio's population booms and its food scene reaches new heights, it seemed high time to check in with some of the city's leading culinary lights to learn more about their preferred taco haunts. While each chef offered different criteria for their picks, many names surfaced more than once, and a respect for both the city's icons of tradition and their contemporary peers was evident.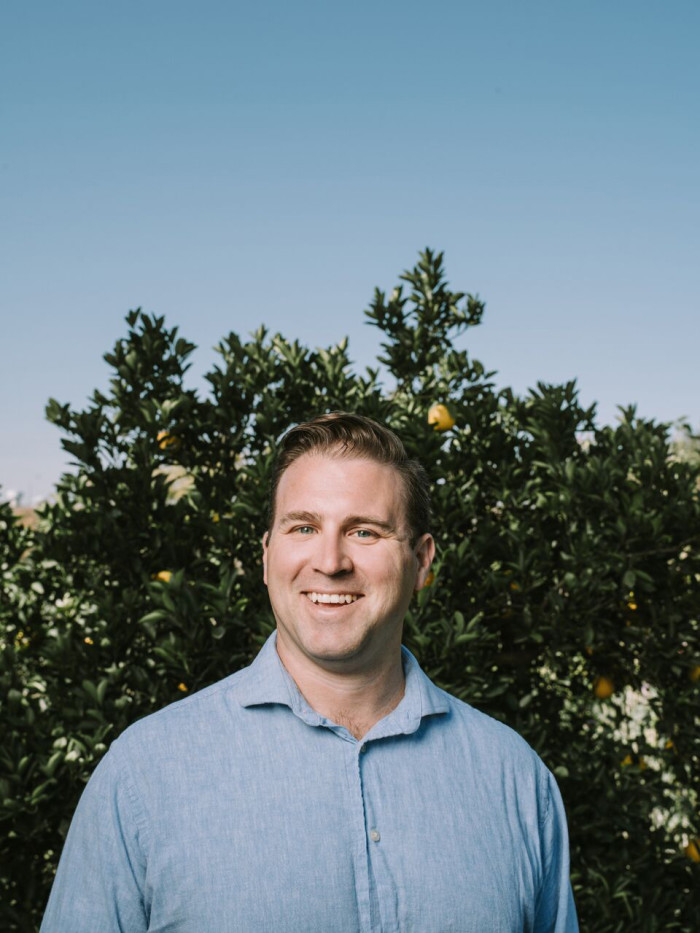 John Russ
My favorite tacos in town are at Cascabel Mexican Patio. This restaurant is a favorite for daytime tacos that are indicative of interior Mexican cuisine. We enjoy the calm and reflective flavors that are so fresh and exciting to the palate. If you visit, try the sopa de fideo (vermicelli noodle soup) with your order. Another favorite is the taco truck Tacos El Regio, also known as the Hard Bodies Taco Truck for its location on North St. Mary's, near a male strip club. The tacos al pastor are a must. To me, the offerings here are most like ones you'd find on the streets of Mexico City. The flavors, ambience and experience make a wonderful connection to the country that many San Antonians call their historic home. Having experienced so many tacos in SA, I can honestly say that there is no "best" in San Antonio, but these are my personal favorites.
Luis Colon
Bexar Pub
El Milagrito has excellent breakfast tacos, but my favorite order there is the pork chop taco with guacamole — it's delicious. The picadillo (ground beef and tomato stew) with beans and cheese is also excellent. It's a large restaurant, and a busy one — you'll always find at least 50 or 60 people dining there. Another personal favorite of mine is Los Roberto's Taco Shop. There are several locations, but there aren't many seats — it's mostly for to-go orders. My favorite item there is the crispy lengua (beef tongue) taco, and the carnitas burrito is solid, too. They have a very good salsa bar, which we don't see often in San Antonio. There are a variety of fresh salsas with varying degrees of spice. Finally, my friends at Mezcaleria Mixtli do awesome tacos. The pork belly tacos there are ridiculous.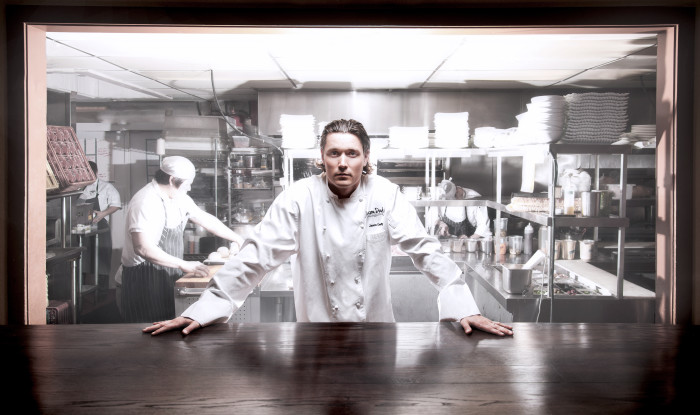 Jason Dady
For old guard Tex-Mex, I am a big fan of the original Los Barrios on Blanco. They are the greatest people, and in my opinion, they represent the iconic San Antonio style of Mexican food. They make the best handmade corn tortillas that I've ever had in the States. I usually order a classic bean and chorizo taco with pico de gallo — it's a crusher. I's perfect brunch or lunch food. They also do nice taquitos de pueblo with carne asada. For a modern taco pick, what Johnny Hernandez is doing at La Gloria is pretty dang good. It's different from what many in San Antonio were used to in that it brings in many traditional Mexican street tacos, along with dishes like tlayudas (Mexican pizza) and tortas. They have good margaritas, and my kids like it, so it's a home run for me. Late night, I end up at Los Roberto's ordering the killer shredded beef crispy taco they serve for like $3. The lengua and adobada are good there, too, especially when you only have 10 minutes to eat.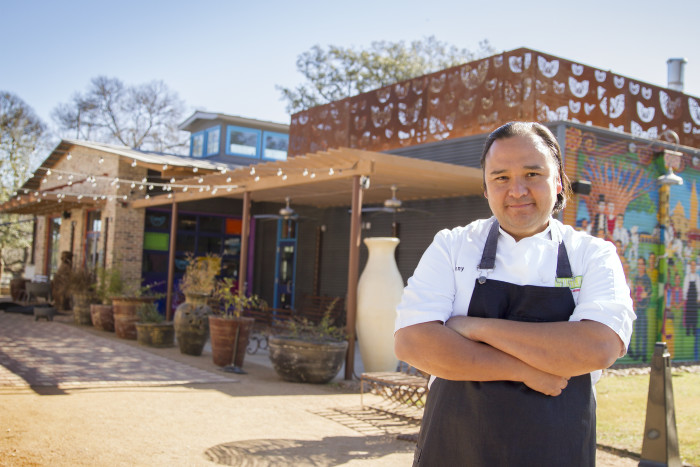 Johnny Hernandez
I grew up on the west side of San Antonio, and would often get my taco fix of chicharron guisado (stewed fried pork rinds) on flour tortillas at Roy's Taco Hut. Talking about this has me craving chicharron tacos now! Just down the street is Tacos Martinez — I loved their lengua tacos. Both are still going strong today. These days, I usually find myself at Garcia's on Fredericksburg Road. They do an excellent job with barbacoa, lengua and machacado (shredded dry beef with scrambled eggs). I'd suggest the bone-in pork chop taco, too. Garcia's is a wonderful example of family working together — they remind me of growing up in my family's business. It feels like home; it's all about hospitality and good scratch cooking. They have a barbecue pit in the back where they make a signature brisket taco.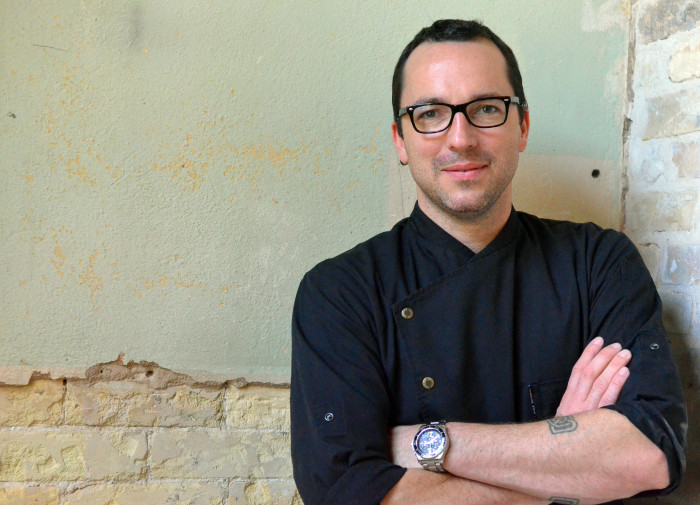 Steve McHugh
Chefs are always trying to find that secret spot. I love Garcia's on Fredericksburg Road. I know many chefs that cook brisket, but I feel like the guys there cook the best in the city. It's amazing. Another recent discovery is the chicken place Pollos Asados Los Norteños on Rigsby. It's not new, but it's new to me. There are always at least 20 people in line. They do amazing char-grilled chicken. It's crazy, busy, and cheap. They give you salsa, tortillas, limes and beans with your order — you essentially just order a half or a whole chicken. My wife and I can't stop talking about it. Finally, while it's not exclusively a taco place, Johnny Hernandez and I like to go to M.K. Davis. They have big schooners of beer and good crispy dogs, which are cheese-stuffed hot dogs rolled in a corn tortilla and fried. It's great.
Listen to our podcast interview with Steve McHugh: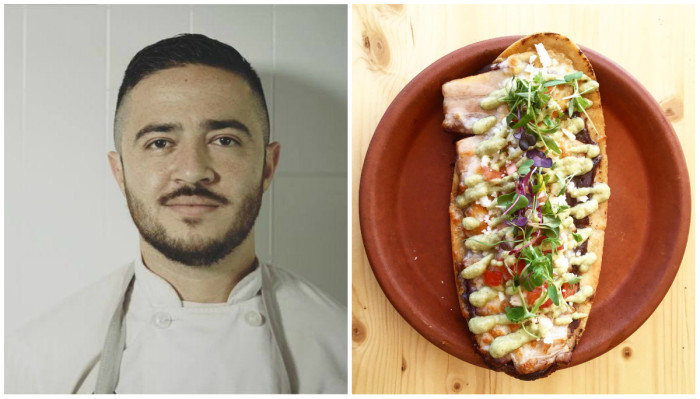 Diego Galicia
San Antonio is 140 miles away from the border. Mexico is right there, but most (restaurants here) have to cater to what people are willing to eat. The last great taco I ate locally was at the last boucherie we did in February. My friend Stefan Bowers killed it there with some pig face tacos, and he now has the same tacos on (the St. Anthony Hotel's) Rebelle's happy hour menu. Try them.
Aside from here at Mixtli, nobody I know of makes tortillas out of nixtamal, which is sad, because a tortilla is what makes a good taco. At Mezcaleria, we are doing some pork belly tacos and huarache. The word "huarache" comes from the slang word for "flip-flop" or sandals. It is long and shaped like a flip-flop. The base is made of corn masa, shaped into the huarache form by hand, then pan-fried in lard. So what you have is a long, sope-like platform. We finish it with black beans, roasted pork belly, queso fresco, crema, pico de gallo, micro cilantro and salsa. You can top it off with whatever braise or topping you wish.
Listen to our podcast interview with Diego Galicia:
Pieter Sypesteyn
Taquitos West Ave's al pastor tacos are amazing. They use a trompo with a pineapple on top and finish the meat on the griddle. The tripas there are really where it's at! They cook them down nice and tender, and then finish them on the plancha, where they get an awesome crunchy texture and caramelized flavor. They're then topped with radish, lime, cucumber, onions and cilantro. I love that they cook everything outside. It feels like one of the taco stalls I've eaten at in Rosarito or Tijuana. There's always a line here, but it moves fast.
This post has been updated to include changes to the chefs' restaurants and to add podcast interviews.