Tested: Jonathan Benno Puts BlueStar Appliances To The Test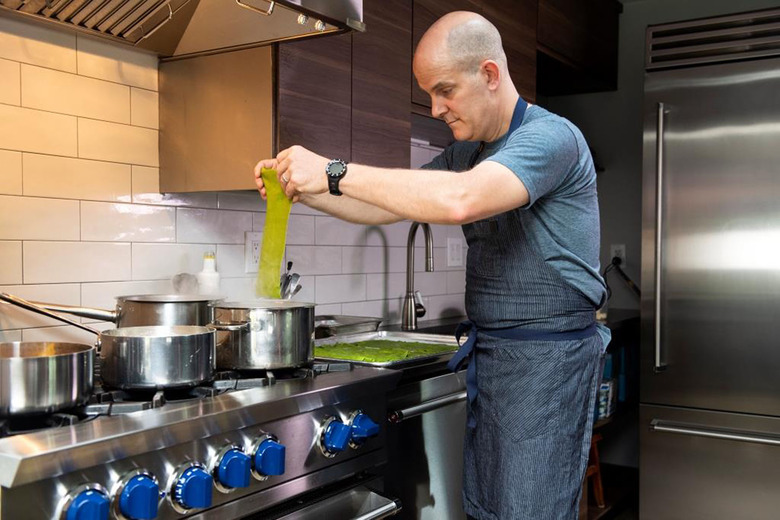 Jonathan Benno puts his 36-inch, six-burner BlueStar range to the test. (Photos by Evan Su
Jonathan Benno has worked in several of America's most celebrated restaurant kitchens, from French Laundry to Daniel, but the one that's nearest and dearest to him is in his home in Hastings-on-Hudson, New York. That's where he and his wife undertook a kitchen renovation that focused on upgrading their appliances to both cook for family and friends and to double as a test kitchen for their restaurant projects. The contemporary décor features a range of wood hues and textures on the cabinetry and flooring, nicely contrasting with the stainless steel sheen of their BlueStar appliances.
Benno and his wife and their two daughters moved to the hamlet 18 miles north of Manhattan five years ago in search of good schools and more space. His wife, Elizabeth, is a chef as well, so the first room they set out to upgrade about a year ago, once they had the resources, was the kitchen. Benno says that the most important factor was finding restaurant-quality equipment.
Benno's friend Ivan Orkin, possibly the world's best known ramen chef, has a BlueStar range, and recommended the brand, and then Elizabeth checked out the company's interactive website, which allows users to customize ranges with a multitude of colors in addition to burners, sizes, doors and many other details. The couple, who had never owned BlueStar equipment before, opted for a 36-inch, six-burner Nova Series range customized with two high-performance, 22,000 BTU burners as well as a gentle simmer burner. Another bonus of the burners is that they feature a wider surface area, which Benno says "allows us to use larger pots and pans, the equipment we're accustomed to using in a restaurant."
Besides cooking restaurant-quality meals for their family, Benno has been using the equipment to test recipes for the huge project he's about to undertake, his first step away from Lincoln, the restaurant he left in 2017 after an acclaimed six-year run. He's just opened two new restaurants inside the Evelyn Hotel in Manhattan's happening NoMad District, Leonelli Taberna and Leonelli Focacceria e Pasticceria, and he'll open a signature fine dining restaurant, Benno, at the hotel this fall.
So how is the BlueStar equipment working for Benno and his family about a year in? Let's find out in the latest installment of Tested.
THE FIRST MEAL
"This is a true story," Benno says. "Every construction project is delayed. It doesn't matter if it's a kitchen renovation in your home or if you're building three restaurants on 27th Street and 5th Avenue in Manhattan. So we had invited family for Thanksgiving, and [the contractors] finished installing the kitchen the Wednesday before Thanksgiving. The first thing we did with our new stove—at 4 in the morning—was put a turkey in it. And then we cooked all day for 25 people in our home. Real trial by fire."
The joke that day was that they might have to order pizza for Thanksgiving, but the BlueStar equipment came through, and in the end?
"We nailed it," Benno says.
"The burners allow you to do different things," Benno says of his six-burner range. "First, they have the BTUs, the strength, of a restaurant-quality range. Second, the two high-performance burners are made so that you can lift the grate out and set a wok perfectly on them," to achieve the high direct heat you need for wok cooking.
What do they cook in the wok?
"My wife makes this incredible pork fried rice," he says. "When you find a vegetable that kids will eat, you know, it becomes a staple. So the kids love sautéed flowering chives with garlic. Liz makes pork fried rice with flowering chives and garlic probably once a week."
Cooking with such intensity calls for proper ventilation, right?
"Yes," Benno says. "We got a BlueStar hood as well that sits over the range. You definitely need it." The kitchen has a complimentary stainless steel 36" Pro-Line hood with powerful 1200 CFM in-line blower. Good ventilation is critical in drawing out heat, grease, steam and unwanted cooking smells.
Besides the wok, Benno says that the 22,000 BTU burners allow him to boil water "lightning-fast," a nice perk for a guy who's known for his pasta prowess. Sautéing is easy too, he says, because the pan heats up almost instantly. "You gotta be ready!"
On the other end of the spectrum, Benno says the simmer burner allows him to cook with nuance, something he wasn't used to when using with his previous in-home kitchen ranges. "You know how you try to simmer something and you put a small pot on a stove and the flame curls up the side? It burns whatever you're cooking. The smaller burner on my BlueStar allow me to simmer something very gently. I can put a braise on and cook it all afternoon, off to the side of the stove, and I don't have to worry about it or check on it constantly to see if it's scorching on the bottom or the sides."
COMPLETING THE KITCHEN: THE REFRIGERATOR
Benno was excited to be among the first group of chefs to outfit his kitchen not only with a BlueStar range and hood but with their new, award winning 36-inch built-in refrigerator/freezer. "It's made completely out of stainless steel. The shelves are all glass—no plastic anywhere. The thing is massive and virtually indestructible. And it's wide enough that you can slide a full sheet pan into several of the shelves."
The chef uses the slide-out tray in the refrigerator to keep fresh pasta ready on a full-size sheet pan, or to spread out just-cooked ingredients that he needs to cool down quickly."
He also lauds the "very deep" freezer and "great" icemaker.
The convenience of being able to prep ingredients or meals on full-size sheet pans, store in the refrigerator or freezer and then move directly to the oven is paramount. It saves time and dishes!
ANY NEGATIVES?
Benno says that those used to more typical home ranges might need to get accustomed to the power and nuances of a true professional-grade setup like the one he has. Since both he and his wife are chefs, they find it convenient to be able to test recipes on the same type of equipment you'd find in a restaurant kitchen, but the home cook probably shouldn't jump in to high-heat wok cooking, for instance, without doing a bit of research.
THE VERDICT
His home kitchen has given him an advantage that few chefs who are about to open their restaurants have—a place to test out recipes and experiment with menu items without having to walk out the front door.
"Normally, if you're lucky, you can ask your friend who owns a restaurant if you can sneak into their kitchen early in the morning and do some testing before they get busy. Or there's a Chef's Warehouse in the Bronx that has a test kitchen that they allow chefs to use. So there are ways to prepare for a restaurant opening, but it always means schlepping product all over New York. I mean, what a luxury to be able to have product delivered to my house and test it at home."
And what Benno has been testing will get you excited for his Leonelli Taberna as well as Leonelli Focacceria e Pasticceria. He runs through items such as cookies, cakes, pastas, meats and fish. All from a chef who spent his formative years cooking for Thomas Keller, Daniel Boulud and Tom Colicchio before making Lincoln one of New York City's most respected fine-dining restaurants.
In other words, Jonathan Benno is a chef who has earned a right to be opinionated. And his opinion about BlueStar?
"It's really, really well designed, and well thought out; they're making really superior pieces of equipment. They've clearly listened to the chefs that they work with to make the best kitchen appliances for the home better."
For more information on BlueStar products, visit bluestarcooking.com.
For more information on Chef Jonathan Benno and his restaurants, visit leonellirestaurants.com.