64 Brazilian Portuguese Food Words To Help You Order Like A Local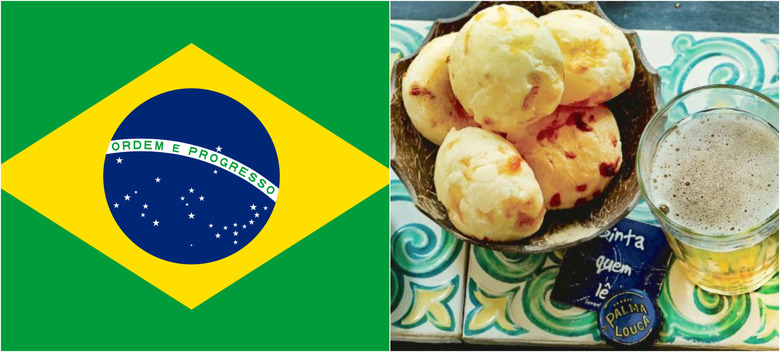 We've compiled a list of Brazilian Portuguese food and drink words, as well as some basic terms that will help you get around the busy streets of São Paulo and beautiful beaches of Ipanema. Saúde!
Drinks (Bebidas)
Cachaça: A distilled spirit made from sugarcane juice
Caipirinha: The national cocktail of Brazil, made with cachaça, sugar and lime
Cerveja: Beer
Guaraná: A classic Brazilian soft drink
Vinho: Wine
Fruits and Juices (Frutas e Sucos)
Abacaxi: Pineapple
Açaí: A small, purple berry
Agua de coco: Coconut water
Banana: Banana
Carambola: Star fruit
Goiaba: Guava
Jabuticaba: "Brazilian cherries," native to the country
Laranja: Orange
Limonada: Lemonade
Maçã: Apple
Manga: Mango
Maracujá: Passion fruit
Melancia: Watermelon
Melao: Melon
Morango: Strawberry
Uva: Grape
Vitamina: Fruit smoothie
General Food Terms
Açúcar: Sugar
Arroz: Rice
Cadeira: Chair
Colher: Spoon
Comer: To eat
Feijão: Beans
Garfo e faca: Fork and knife
Guardanapo: Napkin
Mesa: Table
Pão: Bread
Pão Frances: French roll
Sal: Salt
Savories (Salgados)
Acarajé: Deep-fried ball of black-eyes peas, usually filled with shrimp and vinaigrette
Bauru: Sandwich with roast beef, mozzarella cheese and tomato on a French roll
Coxinha: Small fried "raindrops" filled with chicken and a creamy cheese
Farofa: Fried cassava flour with egg, bacon and other add-ons
Feijoada: Brazil's national dish, a black bean stew with various types of meats
Misto quente: Melted ham and cheese sandwich served on white bread
Moqueca de camarão: Shrimp stew cooked in coconut milk and palm oil, traditional to the Northeastern state of Bahia
Pão de Queijo: Little rolls of bread with cheese
Pastel: Fried empanadas, usually filled with cheese or meat
Sweets (Doces)
Bolinho de chuva: "Rain cake." Little balls of fried dough sprinkled with sugar and cinnamon
Bolo de chocolate: Chocolate cake, usually served with a warm chocolate syrup/finishing on top
Brigadeiro: Chocolate truffles made with condensed milk instead of cream and covered in chocolate sprinkles
Creme de papaya: Papaya blended with vanilla ice cream and topped with cassis liqueur
Quindim: A custard dish with baked egg yolks, sugar, and ground coconut flakes
Getting Around
Aeroporto: Airport
Ate logo: See you soon
Banheiro: Bathroom
Bom apetite: Enjoy your meal
Divirta-se: Have fun!
Campeão: Champion
Cuidado: Watch out!
Futebol: Soccer
Meu time ganhou: My team won
Obrigado(a): Thank you
Oi/bom dia: Hello/good morning
Parabéns: Congratulations!
Quanto custa: How much does it cost?
Quarto: Room
Taxi: Taxi
Tchau: Good-bye
This post is updated from a 2014 World Cup–related series on Brazil.Learn to order in other languages on Food Republic: