A Bartender's Guide To Drinking In Houston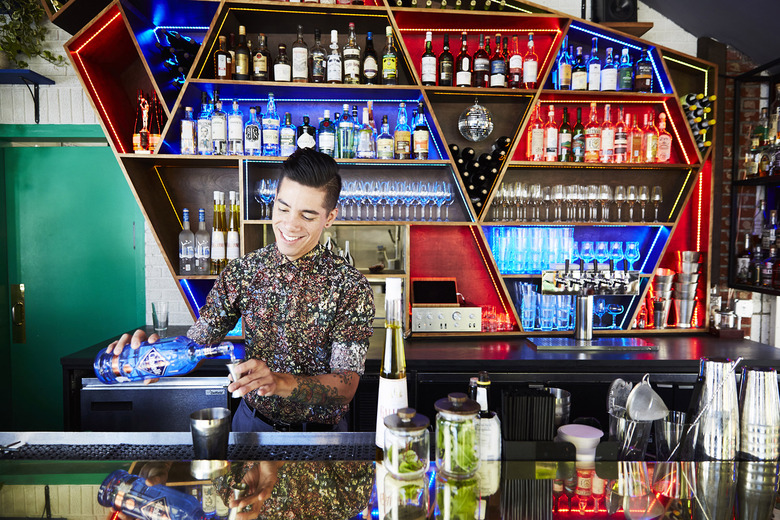 Once a barista and bartender in Seattle, Alex Negranza moved to Houston four years ago for a coveted job at Anvil Bar & Refuge and a chance to work under its owner Bobby Heugel, the bar entrepreneur and agave-spirits evangelist who put the city on the drinking-world map.
Since then, Negranza has become a driving force in the Houston cocktail scene, becoming the only Houstonian to become an Eater Young Gun, in 2016. He now oversees Heugel's downtown bars (Pastry War, Tongue Cut Sparrow and Nightingale Room) as Director of Operations. "A couple things really speak to Texan drinking culture—people forget that there are four very large cities here that account for a lot of people drinking a lot of things," says Negranza. "Houston's always played second fiddle even within the state, to Austin, so we have this thing where we don't have to keep up with the Joneses. Elsewhere there's an impulse to get the next hottest product and put it behind your bar before someone else does. We don't have that culture here."
Perfect example: Houston skipped over the whole speakeasy movement. "Good luck getting a bunch of Texans to stand outside and wait in line in three-piece suits when it's 90 degrees outside," Negranza jokes. But that doesn't mean Houstonians don't have their own drinking traditions—take, for example, the Texas ice house, or those casual, outdoor beer joints that function as neighborhood gathering spots—or are unwilling to adopt new ones. "The Texas highball has become a thing in the past five years," says Negranza. "Frozen Japanese whiskey poured in frozen glasses with Mountain Valley soda water—it's easy and refreshing and perfect when it gets really hot."
But where Houston shines most is its brand of inclusive hospitality—it's now the most ethnically diverse in America, partly because it also resettles a plurality of the country's refugees. And when Hurricane Harvey devastated large swaths of the Gulf Coast last year, Negranza says seeing how the restaurant-and-bar community banded together made him feel like the city was truly home. "The first places that were opening up again were bars," he explains. "We were all calling each other, reaching out to anyone with a car to deliver the food we'd cooked to shelters nearby."
Consider Houston's scene stronger than ever—here's Negranza's guide to drinking in the Bayou City to prove it.
The Cocktail Pioneer: Anvil Bar & Refuge
Negranza's first gig in town was at this critically-acclaimed cocktail bar that he calls the city's "old faithful." Find an extensive list of classics with just seven house cocktails that are developed collaboratively between bartenders and senior staff over a period of months. Notable in that selection is Negranza's Backseat Leather, stirring aged rum, Becherovka, Scotch, Bonal, and Scrappy's Black Lemon Bitters with a garnish of anise, smoked on a plate in front of you.
The No-Frills Wine Bar: La Carafe
Wine snobs need not apply. This cash-only mainstay has been around for half a century, but it's one of the best wine bars in town. "The stairs are a little slanted, they've got an old-school cash register, but you go in there and you're looking at this amazing wine list," says Negranza. "Is this a bottle of Domaine Del' Ecu Muscadet for like $40? What is this?" Head across the street to Market Square Park to complete your downtown Houston experience. Fun fact: the building that houses La Carafe is listed on the National Register for Historic Places for being the city's oldest commercial structure.
The Best Damn Margarita in Town: Ninfa's
Ninfa's has been a Tex-Mex legend in Houston since 1973. Negranza's favorite margarita in town is at the restaurant's original location, Ninfa's on Navigation. "People think all we drink down here is margaritas and it's not-not true," he jokes. "When I'm in the mood for a margarita, I'm either going to Ninfa's or going home."
To Geek Out Over Whiskeys and Wines: Public Services
At this swanky Bond-inspired parlor located in the historic Houston Cotton Exchange Building, freewheeling sommelier Justin Vann offers a forward-thinking selection of whiskey and wine along with sherries and fortified wines. "This is where I go if I'm trying to nerd out over pet-nats, grower champagnes, and outstanding vintages of stuff but also have a super-awesome whiskey list," says Negranza. "[Vann] ties things everything together, like using whiskeys that are sherry- or wine-casked finish or somehow resonate with the rest of the curated program." If that wasn't enough, the bar recently launched a cocktail program as well.
Here's a Dive Bar with an Insane Whiskey List: Poison Girl
"I once went into Poison Girl with some bartenders visiting from Canon in Seattle and we ordered one shot of every back-vintage of Old Forester they had and then a Lone Star," recalls Negranza. "It was $50. I was like, God, I'm in love with this place." Yes, this is a neighborhood dive bar that claims to have the best whiskey selection in the whole of Texas. What more do you need to know?
For a Quintessential Texas Tradition: West Alabama Ice House
Negranza says he chose his first apartment based on its proximity to West Alabama Ice House and the nearby permanently-parked taco truck, Tacos Tierra Caliente, which he insists hawks the best tacos in Houston. Though ice houses are dying out, this neighborhood standby has stood the test of time, selling some-hundred of types of beers and wine for you to drink while you crush barbacoa tacos and play a game of cornhole. "Go across the street and get the al pastor and barbacoa tacos for a buck-fifty apiece and then kick back on the outdoor patio" says Negranza. "You just crush tacos and drink beers!"
The Ultimate Texas Steakhouse Bar: Pappas' Bros Steakhouse  
The Pappas are one of Houston's most well-known restaurant families. They've got Pappas' Bros for steak, Pappadeaux for Cajun, Pappasito's for Mexican—you get the idea. But despite being a chain restaurant group, they've got some serious stock in the beverage department. For the ultimate steakhouse bar experience, Negranza says to head to their Westheimer location for a martini or a glass of wine from their award-winning cellar: "This is what every steakhouse cocktail program wishes they could be."
This post first appeared on ChefsFeed.