A Bartender's Guide To Drinking In Manhattan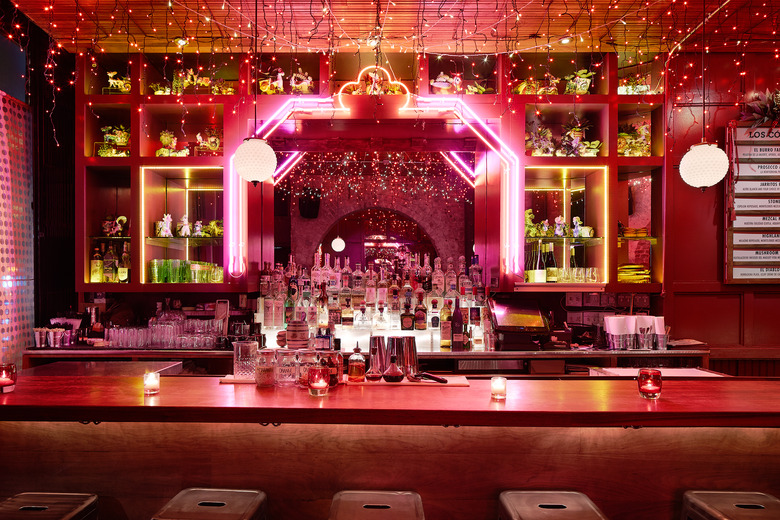 (Photo: Charles de Vaivre.
While a handful iconic bartenders are credited for revolutionizing the city's craft cocktail scene—like Dale DeGroff, Julie Reiner, Audrey Saunders, and the late Sasha Petraske—few perhaps fully understand the city's broader drinking culture like Tim Cooper. From the bartender-driven cocktail den to the trendy, luxurious hotel bar and the bottle-service nightclub, he's a household name in the tight-knit New York bar industry.
"I've always been a hybrid bartender," says Cooper. "A lot of people in the cocktail world started off in the cocktail bars. I'm the opposite, I was slinging drinks as quickly as I could and got into cocktails in 2002 or 2003."
A Jersey native, Cooper moved to New York after graduating from high school in '94. His first bar gig was at the Soho Grand Hotel, where he worked from 1996 to 2002 during what he describes as "a glamorous time when people were going to hotel bars for an experience." Since then, he's honed his knowledge of classics at Julie Reiner's lauded cocktail temple Flatiron Lounge, catered to clubgoers at the now-shuttered BED NY, and introduced the concept of high-volume and fresh-ingredient bartending at GoldBar, a gilded, music-centric lounge now notable for catering to both the nightlife set and anyone who wants a well-made cocktail.
These days, Cooper is beverage director at GoldBar and Sweetwater Social, as well as a brand ambassador at The 86 Company (Fords Gin, Aylesbury Duck Vodka)—and, even as a dad, he's not leaving the city anytime soon.
As he's evolved as a New York bartender, Cooper has a lot to say about what the makes drinking here so special. Of course, there's the obvious: along with London and San Francisco, New York birthed the whole cocktail movement as we know it today. Although the scene is rooted in classics, Cooper says "there's a creativity and willingness to push boundaries, and things change on a year-to-year basis." He also cites New Yorkers' love affair with whiskey, often in the form of Old-Fashioneds and Manhattans, as one reason for the resurgence of brown spirits worldwide.
"I was bartending when the most popular drink in the city was a Cosmopolitan, and now I think you need to give that to the old-fashioned," he says. "In 2007, there were about ten places to get a really good cocktail—now there's upwards of 300. You're starting to see nightlife venues put out fresh-ingredient cocktails, or at least making a Manhattan or Negroni."
But with so many places to get a good cocktail, how do you choose? We asked Cooper to narrow down some essential bars to hit up to get a sense of drinking in Manhattan (besides the ones he works at, of course). Whether you're a spirits professional or the everyman drinker, here's the bartender's guide to drinking in Manhattan.
The Secret Speakeasy Experience: PDT
Hidden-door, password-guarded speakeasies may be a dime a dozen now, but it all started here behind East Village hot dog mainstay Crif Dogs. "There's this iconic telephone booth that you walk into, and a door magically opens," says Cooper, referring the bar's "secret" entrance. "It's a special moment." While the bar scene around them has evolved, the folks at PDT, helmed by Jeff Bell, have remained consistent, turning out grade-A cocktails and preserving the mystique that captivated New Yorkers.
The Japanese-Inspired Bar: Bar Goto
Japanese cocktail bars like Angel's Share actually preceded the mainstream cocktail revolution in many ways, from fresh ingredients to thoughtful menus. Though Bar Goto owner Kenta Goto was trained right here in New York at bar maven Audrey Saunders' Pegu Club, he blends his Japanese upbringing to show what the postmodern Japanese cocktail experience might resemble. Think martinis garnished with salted sakura cherry blossoms instead of olives. And don't forget the grub: Cooper says, "The food is tremendous—it's funny because I'm always telling people to order the [miso-glazed] chicken wings and [kombu-sesame] celery sticks. They're the absolute best."
For a Have-It-Your Way Cocktail: Attaboy
"We still have a heavy influence of foundational classics in the Sasha Petraske style," Cooper explains, referring to the genteel, Prohibition-era tradition of cocktailing that the late cocktail pioneer championed. "There's Little Branch, Middle Branch, Diamond Reef, and Attaboy, and they're all great." The latter has become known for its excellent Bartender's Choice, where the guest tells the bartender what spirit, sensation, or flavors they're in the mood for to receive a drink tailored to those preferences.
The Hotel Bar with Live Jazz: The Django
Run by Maxwell Britten, formerly of Maison Premiere in Brooklyn, The Django at the Tribeca's Roxy hotel offers live jazz to go along with the drinks. "The cocktails are extravagant, and there's comedy or live music every night that they're open," says Cooper. "I don't know of any live music jazz spot with cocktails at this level."
To Travel in Time to Prohibition-Era Cuba: Blacktail
Opened by the team from "World's Best Bar" the Dead Rabbit, Blacktail reimagines the bars of Havana, Cuba during Prohibition, when revelers and drinkers flocked to the island for their mojitos and Cuba Libres. But hold the Coca-Cola: here, your ol' rum-and-coke is a Rum & Cola and it comes with premium-grade white rum, Fernet, house Cola syrup, and Orinoco bitters—all topped with Champagne. Cooper says it's the perfect way to kill two birds with one stone: "You're right there by the Statue of Liberty, so you can quickly turn it into a quintessential New York City experience. It's a spectacular visual."
The New-Age Mezcaleria: Ghost Donkey
The AvroKO Hospitality Group's new-school mezcaleria can always be counted on for a good time. Sidle up to the pink, neon-lit bar for creative agave-based cocktails—think a mushroom-infused mezcal margarita—whipped up by beloved downtown bartending fixtures Nacho Jimenez and Masa Urushido. "They really hit the nail on the vibe of having fun but also making serious cocktails," says Cooper. "It almost reminds me of a London cocktail bar vibe—the bartenders have a lot of personality and there's more interaction."
The People-Watching Restaurant Bar: Freemans
Heading down the tiny stone-lined Freeman Alley to "discover" Freemans never gets old. A favored brunch-to-dinner spot for downtowners and visitors alike, the restaurant has earned attention for its bar program. "It's a high-volume bar environment that's great for eating as well," says Cooper. "The way the bar curves out into a half-circle makes it fun to people-watch." In February, the Freemans team opened Banzarbar, a tiny, weekend-only cocktail bar above the restaurant with low-ABV drinks by former Death & Co bartender Eryn Reece, inspired by an Antarctic expedition.
The Sexy Date Spot: Dear Irving
"If I were to take someone on a date, Dear Irving would definitely be the place to do it," says Cooper. "It's an intimate, sexy cocktail bar where you can create an experience." With four separate rooms decked out in unique, decade-appropriate trimmings—an art-deco-style JFK room, a fancy Great Gatsby room, and a decadent Marie Antoinette lounge—Dear Irving is the romantic, time-traveling bar to wow a significant other.
The Rooftop Bar with the Best Views: The Crown
If you've ever had to entertain guests visiting New York, you'll be familiar with the request for a rooftop bar. Perched above the Bowery Hotel, which also houses Top Chef alum Dale Talde's restaurant Rice & Gold is this spacious rooftop lounge shaking up Asian-inflected drinks (a Manhattan with a Szechuan tincture; a watermelon-Thai basil marg). The panoramic views of the Brooklyn Bridge, Manhattan, and New Jersey are unparalleled.
This post originally appeared on ChefsFeed.