A Master Sommelier Shares His Favorite Spring Dishes (And What To Drink)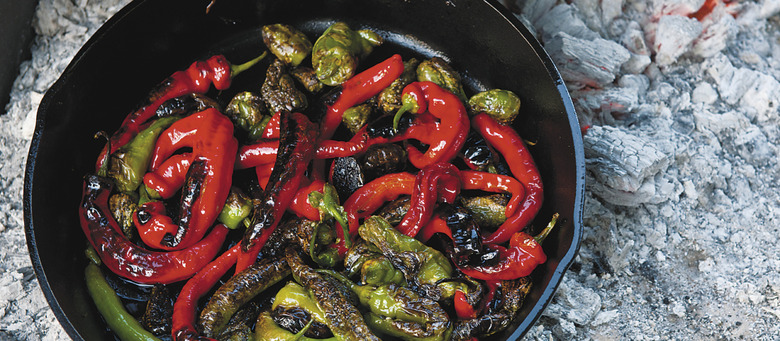 Padron and Shishito peppers charred in a cast iron pan make for a great springtime dish to pair with wines from Spain's Ribera del Duero and Rueda regio
For Brahm Callahan, Master Sommelier and corporate beverage director for Boston's Himmel Hospitality Group, pairing wine with food doesn't have to be complicated. Or expensive. While many somms will get rhapsodic about the perfect crisp white to accompany oysters or a tannic red to go with steak, Callahan says that his spring go-to is something simple and delicious.
All it takes is a cast iron pan and some fresh-from-the-market peppers like shishito or Padron, and then a white, rosé or red from Spain's Rueda or Ribera Del Duero or other acclaimed regions. Check out Brahm's wine recommendations and other food pairings below, and then read through for his tips for charring these tasty and (usually) not too spicy peppers, which make the perfect side dish or appetizer to round out a springtime meal.
WINE RECOMMENDATIONS:
New sparklers
Prosecco and Cava will continue to be massively popular; however, more consumers are branching out to try sparklers such as Crémant from France or Sparkling Wine from Rueda. Perfect to pair with a halibut that's either pan roasted or from the grill.
Try: Finca Montepedroso Verdejo 2014 ($18), or a Viña Cantosán NV Brut ($11).
Rosé all day—will still happen!
While many people are sipping wines out of new containers — cans, a keg, or simply wines that have distinctive packaging or an exciting typeface, rosé is still waaaay in for 2018.
Sip on some pink while outdoors enjoying fresh fruit on the porch or farmer's market favorites.
Try: Bodegas Protos Rosado ($12), or Finca Torremilanos Montecastrillo Rosado ($13)
Reds in the spring
Gamay and other off the beaten path grapes will get some serious love due to their light floral nature. I predict a lot of Cabernet Franc this spring and into the summer!
If you're looking to stay with your favorite reds, consider J.P Brun's Beaujolais 2016 ($23), an amazing value from a very cool and unique producer!
FAVORITE SPRING DISH:
One of my favorite dishes to make right now is shishito and/or Padron peppers in a cast iron pan, I sauté 1 clove of garlic and ½ cup of onions in olive oil in a cast iron pan. I then remove the garlic and onion from the pan and add a pound of shishito or Padron peppers into the cast iron pan and cook over medium heat until they have a char; I add the garlic and onion back at the end just to bring back to temperature. The pepper mixture then gets pat dried on a paper towel to remove any excel oil. This is an amazing pairing with the Menade Rueda because the herbaceous notes in the Menade pair perfectly with peppers, and the little bit of heat is tamed by the ripe fruit found in the wine. There is perfectly balanced acidity as well that keeps the dish nice and refreshing.