Get To Know Rosés From France's Languedoc Region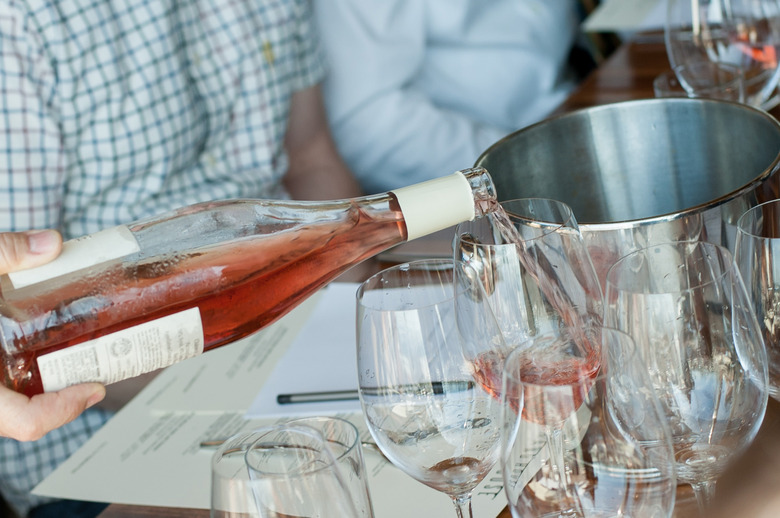 When raising that glass of rosé, have you ever stopped and thought about where everyone's preferred summertime wine comes from?
The celeb-obsessed might assume that it's the stylish creation of Hollywood royalty or perhaps a business-minded Housewife. Insta influencers could reckon that it was developed by savvy branding managers as a perfectly photogenic poolside libation. Those of us who grew up with grandmas in the 1980s are apt assume that rosé is just another stop along the evolutionary path of White Zinfandel, a perennial favorite of ladies of a certain age. Or perhaps the pull of wine geography lands you in the South of France, the region where rosé was in fact born.
"Rosé has been around since the beginning of wine," says Victoria James, sommelier at New York's Cote and author of Drink Pink: A Celebration of Rosé. In her newly released illustrated hardcover book, she traces rosé's history back to ancient Greeks settling in the South of France and planting grapevines. And since that fateful first planting, rosé has remained in vogue in the region, and eventually became loved around the world.
And while Provence is perhaps the more renowned region for sourcing French rosés, James aims further south when making recommendations. "I encourage people to look for wines in the Languedoc," she explains, part of a growing chorus advocating for Languedoc rosé.
James ventures to the Languedoc for a number of reasons. The pale, peachy pours from Provence are the style that kicked off the rosé boom of the last ten or so years. That in turn, this has put a strain on Provence, which James says can lead to subpar bottles with inflated price tags.
In an up and coming region like the Languedoc, producers have more wiggle room when it comes to winemaking.
"In the Languedoc, there's almost no constraint and no preconceived notions when it comes to making rosé," James explains.
With the Mediterranean coast on the east and the Pyrenees mountains to the south, the region is full of unique geographical factors that make for a rainbow of rosés. A diversity in soil types, ocean breezes and Southern French sun provide an ideal environment for independent winemakers to bottle unique vintages that range in hue from unripe peach to deep coral.
These wines are blended from a selection of red varietals including Syrah, Grenache, Mourvèdre, Cinsault and Carignan. Some are aged in oak, others in tanks, with each vineyard allowing the character of its land to come through in the final bottle.
In Pic-Saint Loup, Chateau de Lancyre takes advantage of high altitudes and fragrant Mediterranean scrub known as garrigue to make a rosé with enough body and fruit to please those who generally opt for reds.
Closer to the Mediterranean, Domaine Montrose, a family-run vineyard with roots tracing back to the 1700s, makes rosés that split their time in steel and oak, emerging a faint blush color with a bright hit of acidity and balance thanks to the addition of a bit of Roussanne.
Real-deal rosé enthusiasts have been snapping up bottles from the Languedoc for a while now, finding both quality wines and a price point that's considerably more affordable than anything from the neighbors to the north.
This summer, the Languedoc is going to be gaining even more visibility with the introduction of Hampton Water, an unlikely collaboration that brings the south of France to the east end of Long Island.
Gerard Bertrand, owner of several well regarded estates in the region, has partnered with rock star Jon Bon Jovi and his son Jesse and created a wine that's bright, juicy and ripe for summer afternoon enjoyment.
Hampton Water is one way that Languedoc rosé will be on the radar this summer, but there's no time like the present to get in the spirit, which is why you'll want to follow along on social media with the hashtag #LanguedocDay, which takes place May 25. It's yet another way to familiarize yourself with the wines of this exciting region.