How To Grill The Perfect Mushrooms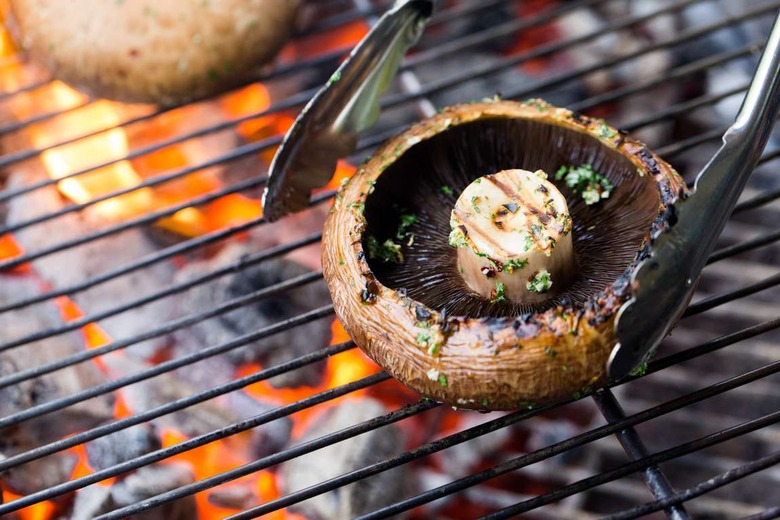 We may receive a commission on purchases made from links.
Memorial Day Weekend is just around the corner and you need to make sure your vegan and vegetarian friends are having as great as a time as those carnivores. Our friends at ChefSteps wrote in this week with this grilling season staple that is no typical smoky 'shroom. Brush on a garlicky and chili-spiked oil to make these the underrated star of the cookout.
Perfectly Grilled Portobello Mushrooms With Chili Oil
Makes 2 super-juicy shrooms; 15 minutesIngredients:
2 portobello mushrooms
20 grams garlic
5 grams parsley
100 grams extra-virgin olive oil
2 grams salt
2 grams lemon juice, fresh
1 gram chili flakes
Equipment:
Grill
Brush
Tongs
Digital instant-read thermometer (optional)
Instructions:
Heat the grill. If you're using charcoal: Pull your coals to one side of the grill, creating a high hill of heat. For mushrooms, you'll want the heat between medium and medium-high, so if the hottest part of your grill is a 10, use the spot that would correspond to a 7. If you're using gas: Heat gas on medium-high to high. (If the hottest your grill can get is a 10, we are looking to get to about 7 here.)
Clean mushrooms. Finely chop garlic and parsley and set aside. To a medium bowl, add oil, garlic parsley salt, lemon juice and chili flakes. Stir and lightly brush all over the mushrooms. be sure to reserve enough chili oil for finishing.
Place large-capped mushrooms on the grill so that the tops of the caps are facing upward—grilling the undersides first will keep retain moisture. Grill for about four minutes, then flip to grill them cap down. Continue grilling mushrooms on their caps until the stems leak juice, or until a thermometer inserted into the steam reads either 171 °F / 77 °C (for steaklike shrooms) or 199 °F / 93 °C (for a softer texture that still has a bit of a bite).
Pull mushrooms off the grill, and pop onto a cutting board. Use a good knife to thinly slice shrooms. Drizzle generously with remaining chili oil, and serve right away.
ChefSteps comprises a team of award-winning chefs, filmmakers, scientists, designers and engineers focused on revolutionizing the way people cook by inspiring creativity and encouraging expertise in the kitchen. Try your hand at sous-vide cooking with the Joule, specifically designed to bring elevated cooking to your fingertips.