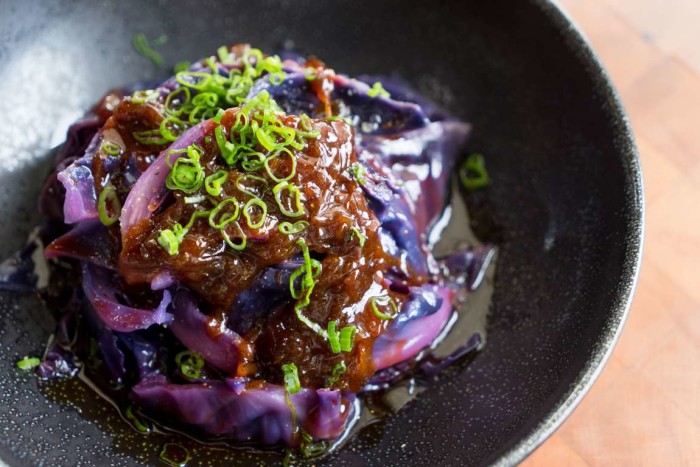 Agrodolce in Italian literally translates to "sour-sweet," and that's exactly what this jammy scallion recipe will offer. Spread it on sandwiches, add it to a cheese or charcuterie plate, swirl it in with some pasta — whatever you do with your agrodolce is sure to brighten up your dish. Our friends at ChefSteps wrote in this week with this simple recipe that will make you want to churn out multiple batches (lest you run out).
Sweet And Sour Spring Onion Agrodolce
Makes roughly 1 quart; 30 minutes
Ingredients:
430 grams spring onions, sliced into coins
170 grams sherry vinegar
270 grams sugar
80 grams dry sherry
585 grams demi-glace
11 grams thym sprigs, tied together with butcher twine
50 grams finishing oil (high-quality extra virgin olive oil)
Salt, as needed
Pepper, as needed
Equipment:
Directions:
You can buy demi-glace at most stores, but if you really want to step up your kitchen game, you can make your own. Try these beef-fortified or vegetarian recipes.
Put all the ingredients except for the finishing oil, salt and pepper into a pot, and get these bad boys boiling.
Turn the heat down to medium-high and simmer the mixture until the onions are cooked and the consistency resembles jam, roughly 25 minutes.
Remove the thyme and finish with salt, pepper, and oil. Serve atop…well, anything!
ChefSteps comprises a team of award-winning chefs, filmmakers, scientists, designers and engineers focused on revolutionizing the way people cook by inspiring creativity and encouraging expertise in the kitchen. Try your hand at sous-vide cooking with the Joule, specifically designed to bring elevated cooking to your fingertips.