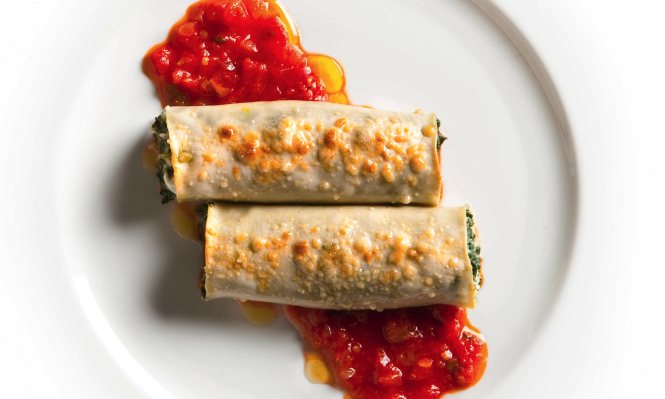 The humble goat, that hardy farm critter with the crazy horizontal pupils, really sets the bar around this time of year. In the spring, when the grass it eats is tender, fresh and extra-flavorful, goat's milk makes for some truly superb chèvre. Creamy, fluffy, tangy and often tolerated by the lactose intolerant, it is perfect for cooking.

Here's to the cheese that isn't mozzarella but still goes with just about everything. Try one of our eight delicious ways to incorporate it into dinner tonight.

This spin on classic cannelloni (Italian for "reed," owing to its tubular shape) swaps the typical spinach-ricotta filling for tangy goat cheese and earthy Swiss chard.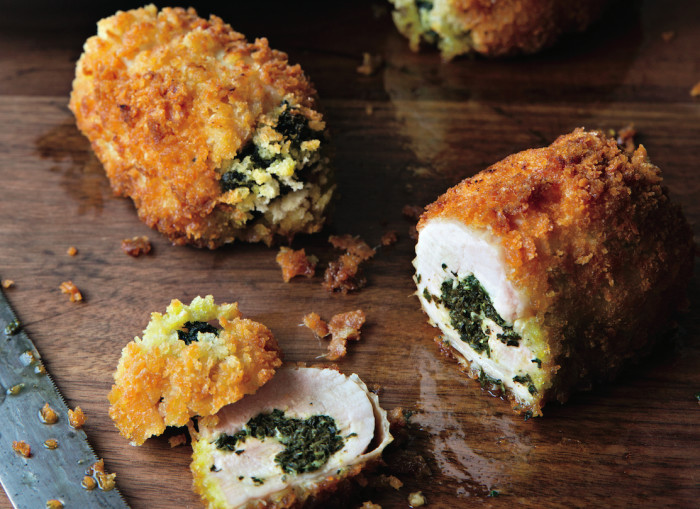 Renowned chef Mario Batali's new cookbook, America — Farm to Table, is a celebration of local farmers around the country. Travel from coast to coast with one of the nation's most beloved culinary faces and see how the master uses local fare to everyone's advantage. Ready to show kale the ultimate respect? Stuff it into juicy chicken, pan-fry and enjoy.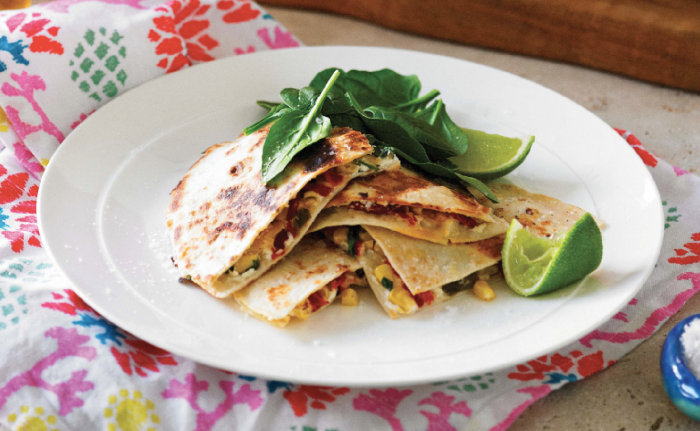 A quesadilla (a word derived from queso, the Spanish word for cheese) is a tortilla "sandwich" containing cheese and any of a wide number of spicy filling ingredients, which is grilled, fried or toasted and usually served with salsa. We cooked these quesadillas in a frying pan, but you can cook quesadillas, one at a time, in a heated sandwich press if you have one.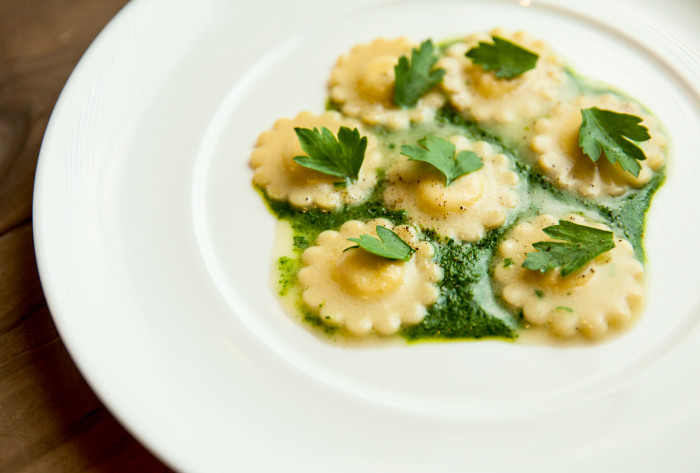 From Doug Psaltis, chef and partner of RPM Italian in Chicago, here's a ravioli recipe that takes full advantage of one of our favorite seasonal ingredients: ramps! Bright, earthy and bold, these spring shoots, which taste like a combination of onions, garlic and awesome, won't be around for long. Grab a bunch, pair with creamy goat cheese and put your fresh pasta dough to work.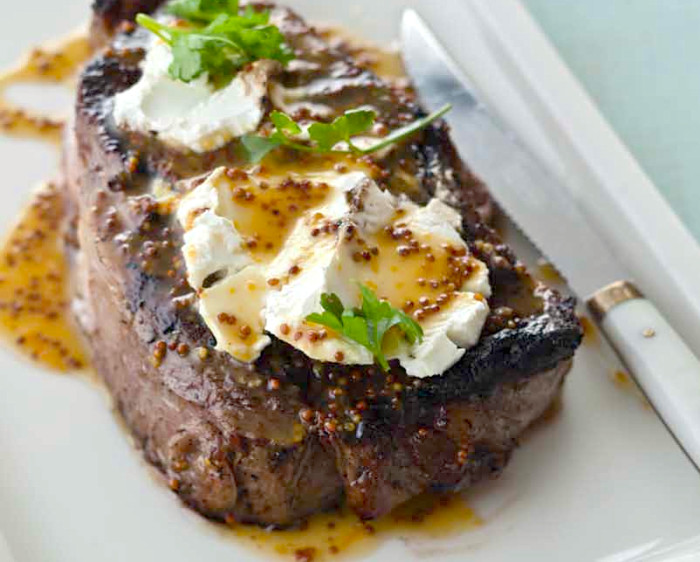 Ribeyes are the kind of steak I often order when I'm out. They have the most flavor, which comes from all that gorgeous marbling. This dish may sound like a crazy combination, but I have to tell you, it works. I just love the way the tangy goat cheese, bright mustard and fresh peppery watercress come together to complement the rich beefiness of these thick steaks. As a matter of fact, I think it works so well that I serve a burger with these same toppings at Bobby's Burger Palace; the Napa burger is one of my favorites.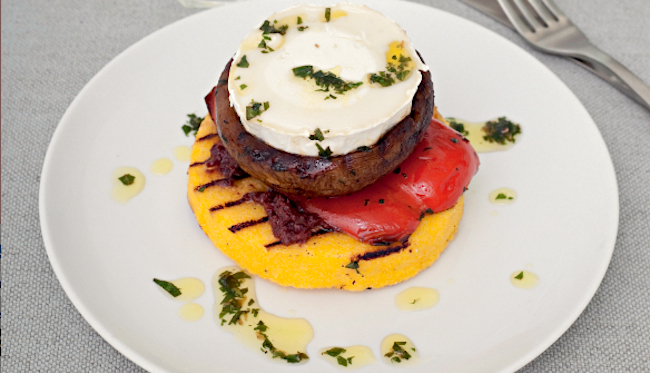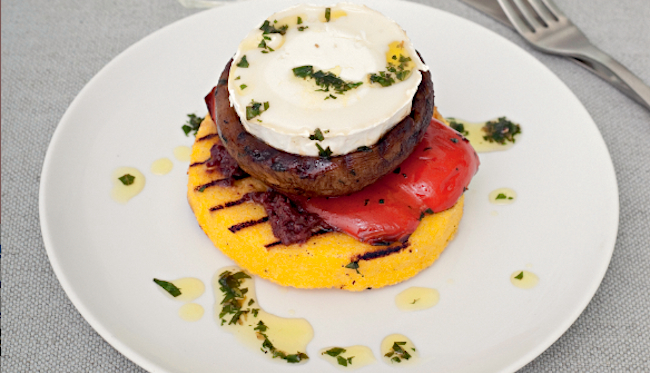 Vegetarian guests deserve more than a dry old veggie burger from the freezer, so why not make something to make everyone's mouth water, even the die-hard carnivores? Take the goat cheese from the fridge a good hour before you use it for the best creamy texture.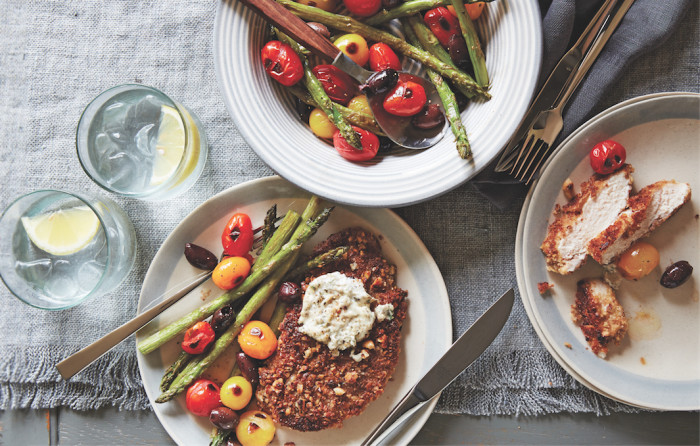 Sometimes I find myself stuck in a rut when it comes to chicken. Grilled, baked, sautéed, roasted — it all starts to taste the same. So I created this meal utilizing some of my favorite ingredients to make an elegant, tasty dish. I use sweet, nutty pecans to create a crispy crust for the juicy, tender chicken breasts. In addition, I use fresh goat cheese amped up with herbs and black pepper to serve as my "finishing" sauce by melting it atop the hot chicken right when it's cooked. Trust me, this goat-cheese technique is to die for. I like to serve this dish atop a bed of roasted tomatoes and asparagus. It goes right into the oven in one pan — simple, clean cooking at its finest. This meal pairs well with crisp, mineral-y white wines and light reds.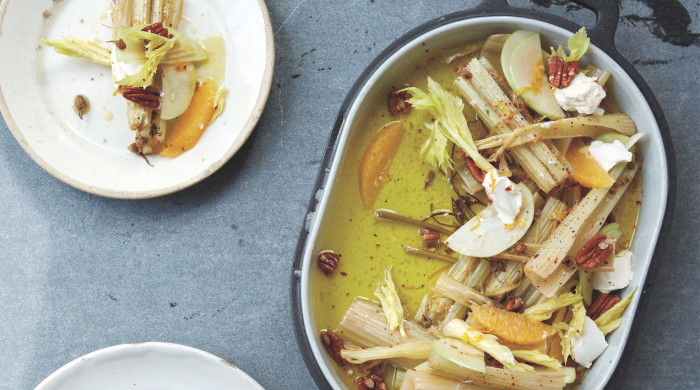 It is not often you see celery taking center stage on the plate; it is usually just an add-on, like chopped onions. But celery has great flavor and deserves to be enjoyed for what it is. So here is a recipe to get it out of the crisper and onto the table. It's equally good as a room-temperature side dish for grilled meats.