Pinkies Up! These Fancy Canapes Are Fit For A Royal Wedding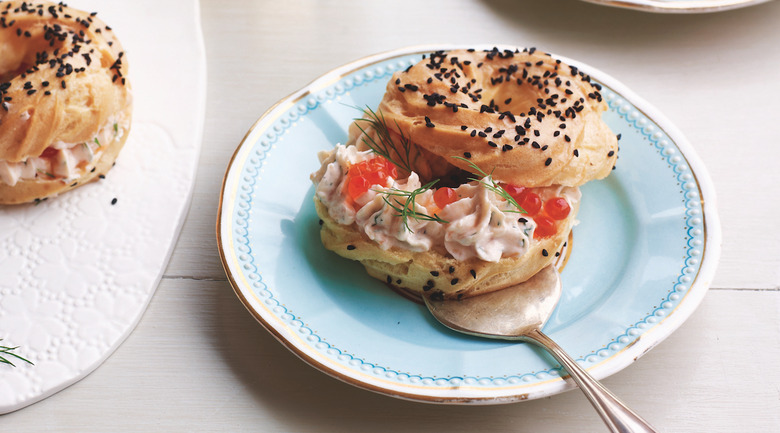 Planning to watch the royal wedding from across the pond? You'll need some fancy canapes, a.k.a. "royal fuel." Personally, we're bigger fans of unfancy canapes (but we'll also never pass up an opportunity to throw a theme party). Oh and as for the Queen's no-garlic, no-shellfish rule...well, we're not British, are we then?
Salmon Mousse On "Bagel Pastries"
This is my savory take on the French pâtisserie classic. The filling is a smooth smoked salmon mousse with a luxurious addition of salmon roe that sparkles under the crispy lid of the Paris-Brest.
Duck Liver Mousse With Warm Duck Fat Financiers
For Nicole's first attempt at financiers, little French almond cakes, she followed a recipe from a cookbook whose author called for cream and honey, and that unconventional rendition became her tradition. It stuck with her even after she eventually came across the classic version in Claudia Fleming's The Last Course (spoiler alert: no cream, no honey). Since Nicole's financiers were already deliciously wacky, she decided to take the fun one step further, substituting the brown butter with duck fat. In one of the earliest collaborations between the savory and pastry sides of the State Bird kitchen, we paired the sweet cake with an unexpected French friend: duck liver mousse.
Eggplant Rolls With Goat Cheese
British-Iranian chef Sabrina Ghayour is an award-winning chef, writer and cookbook author famous for her London supper club and popular cooking shows. When it comes to Middle Eastern food from across the region, she's the authority. Pick up a copy of her vibrant, diverse and storied new collection of recipes and add a new favorite to your repertoire, like these flavor-packed eggplant rolls with goat cheese.
Slightly Pickled Vegetable Bundles
I like to call these creations my little gardens! As well as being supercute, they are so fresh and crunchy, and I like to serve them with a rich satay sauce. 
Of course, you can use other seasonal vegetables or dipping sauces if you prefer.
Black Tie Scallops
Critic Bryan Miller judged Daniel Boulud's "sea scallops fantasy in black tie" (its name on a 1987 menu), "unforgettable . . . an individual silver casserole dish of exquisite sliced sea scallops layered with black truffles, moistened with buttery vermouth and truffle juice." The recipe evolved into one of Boulud's iconic creations; ultimately, the chef wrapped each whole Maine sea scallop (layered with truffles) in spinach leaves and baked it in a crisp puff-pastry shell. It may require a lot of labor, but for home cooks it's entirely doable, and just as memorable.
Pickled Fig And Ricotta Canapés
I first discovered this flavor combination on a tartine at Cyril's, the sultry, candlelit wine and cheese bar my friends Sasha and Michael opened in Portland, Oregon. I entered the restaurant sighing with happiness, leaving the gray chilling-my-bones weather at the door, and my eyes turned to saucers when I spotted these gorgeous purple, green and white darlings on the marble bar counter. Upon first bite, my mind was sent aflurry on how I might re-create, modify, and enhance this sensual little snack for my own impromptu fetes. Many a good idea has been born at the behest of a cozy space, the company of pals and the perfect bite to eat, right?
Mini Charcuterie Boards
Charcuterie has become very popular — it seems that everyone loves a good selection of preserved meats. We often do a large charcuterie station at events, but this is another example of taking one of our favorite foods and making it mini.
Handball Sushi
Nigiri-zushi, hand-squeezed sushi is the most difficult to master — it is not just a case of making small rice nuggets and putting slices of raw fish on top. It is an art that takes years of apprenticeship, and out of respect, in Japan people tend not make this type of sushi at home, but go to sushi bars. But do not be disappointed, because there is a quick and easy version of nigiri-zushi called temari-zushi, literally handball-sushi. It is the nearest thing to nigiri-zushi without undergoing years of training, and all you need is a plain cotton handkerchief or plastic wrap.
Matcha Tea Cake Cookies
Cookbook author Ben Mims makes these not-too-sweet cookies with a soft, cake-like texture. The "it" ingredient matcha — an antioxidant-rich green tea powder—gives the cookies a beautiful color and a light, toasty flavor.
Mini Lobster Bakes
Having spent all my summers on the water, I find the clambake one of the most all-American staples of summer. This mini version is a substantial hors d'oeuvre that could also serve as a first course. A small metal sand pail holds one whole cooked crayfish and two cooked, shelled crayfish tails, a salt-baked baby potato, and fresh baby corn. For easier eating, throw in a wooden fork. Check with your local fishmonger for cooked whole crayfish and tails; you can also order both online. Fresh baby corn is appearing more frequently at farmer's markets, but if you can't get it locally, just use the canned variety.