This Tampa Restaurant Takes Star Wars Day Very Seriously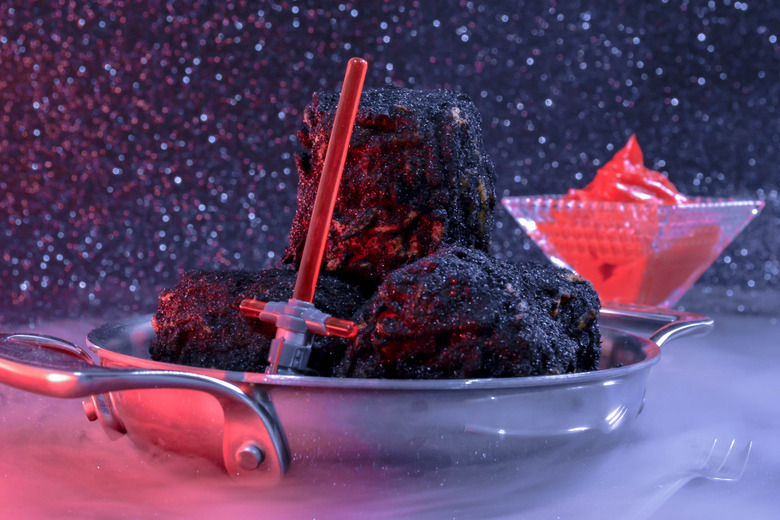 Photos: Datz Restaurant GroupWhatever these Star Wars Day jumbo tater tots are saying, make sure you imagine it in a Darth Vader voi
Calling all Florida-based Star Wars obsessives: Tampa's Datz restaurant and sister bakery Dough are gearing up for Star Wars Day (May the 4th) like few we've ever seen.
All month long, they're slinging specially designed dishes like Darth Taters (photo above) and Forcecakes. Chef James Knight has made it clear in no uncertain terms there's no reason why his passion for cuisine and intergalactic heroism can't occasionally cross paths.
"Obi-Wan Kenobi has always been something of an inspiration to me," says Knight of his Star Wars menu. "He's wise, kind and he controls the Force like I try to control food. One thing he said has really stuck with me: 'Your eyes can deceive you. Do not trust them.' I add to that, 'But your taste buds never lie.' May the Fourth be with you!"
Ready your fork and light saber, it's Jabba the Hummus time!
Or perhaps you'd prefer the powerful glow of Forcecakes.
But wait, there's more! Fuel up with a blue milk latte, an extremely specific reference to a sweet, blue-colored liquid produced by a female bantha's mammary glands, commonly consumed within the Star Wars realm. At no point were we kidding about Datz's devotion to the franchise.
And if you're ready for a stiff drink after a long day of moisture farming and shooting womp rats in your T-16, pull up a barstool for the lean, green A Drink, Yoda Is: Mezcal, Clement Coco, matcha, spicy honey syrup, lime and orange blossom water.