Icelandair Debuts Transatlantic IPA, Energy-Efficient Planes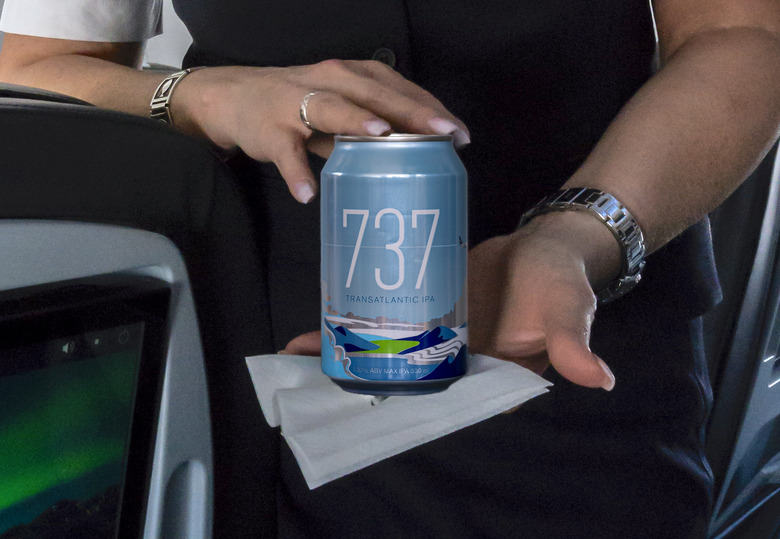 Thanks to Icelandair's brand-new, squeaky clean Boeing 737 MAX 8, there's never been a better time to stop over in Reykjavik. The new plane is up to 20% more fuel-efficient than its predecessors, about half as noisy — a game-changer once you've experienced it — and includes newly designed low-energy LED-lit windows for enhanced viewing and photo-taking (something you'll definitely want to do during take-off and landing). To celebrate this momentous occasion, the airline just launched a limited-edition craft brew: 737 Transatlantic Icelandair Pale Ale (IPA).
Available on board and in the business class lounge at Keflavik International Airport through the summer, the beer clocks in at a respectable 7.37% ABV and is brewed with wallop-packing hops from the Pacific Northwest (where Boeing planes are made) and British malt.
I flew aboard the inaugural "Iceland by Air" flight over Akureyri, where Icelandair was founded in 1937, to test the brew's flavors with my altitude-deadened taste buds for myself.
Even at 32,000 feet, this beer is utterly fantastic — balanced and thirst-quenching, with formidable bitter tangerine and pineapple notes, and savory, toasty malt. My initial thought after cracking it open was, "holy heck, look at that killer view of Jökulsárlon Lagoon!" I'm entirely kidding; I do not know how to pronounce the name of that particular glacial pool. It was, in fact, "I'm not certain that Western Europeans/Scandinavians are going to like this."
In my experience, Europe typically favors light, malt-forward pilsner, kolsch and lager, maybe a Guinness, perhaps a gose in the summer. But nothing with such pronounced hop notes. So why dive (or fly) headlong into such an unapologetically powerful style? Well, it's gutsy and smart for an airline to serve as a path for beer-drinkers to transition their palates into enjoying sharp bitterness as part of a balanced craft brew. Craft beer is frequently synonymous with hop-bombs nowadays, and that trend isn't going away any time soon. If you want to get into it, you've got to acclimate your taste buds over and over again. That's a very European, no-nonsense way of thinking: oh, you don't like it yet? You will, just keep trying.
Pairing the beer with the smoked fish, caviar, pickled beet and egg dish onboard was also a good move. You'll generally like something new more if it's served alongside something familiar, and the rich saltiness of the dish really cut through the beer's tongue-curling heft.
There's also nothing like a great beer with a meaningful story behind it, and sourcing West Coast hops — famous for that punch-in-the-face tropical fruit flavor and citrusy, piney bitterness — to commemorate non-stop flights from San Francisco, Portland and Seattle to Reykjavik is the perfect way to celebrate this awesome new airplane.
When we landed — with a solid little IPA buzz on, I might add — a crowd of Icelandair employees and their families greeted us on the tarmac for a plane-warming party in a hangar with local food trucks, and I experienced my first (and very likely last) disembarkment to cheering and applause.