Everything You Need To Know About Spain's Ribera Del Duero Region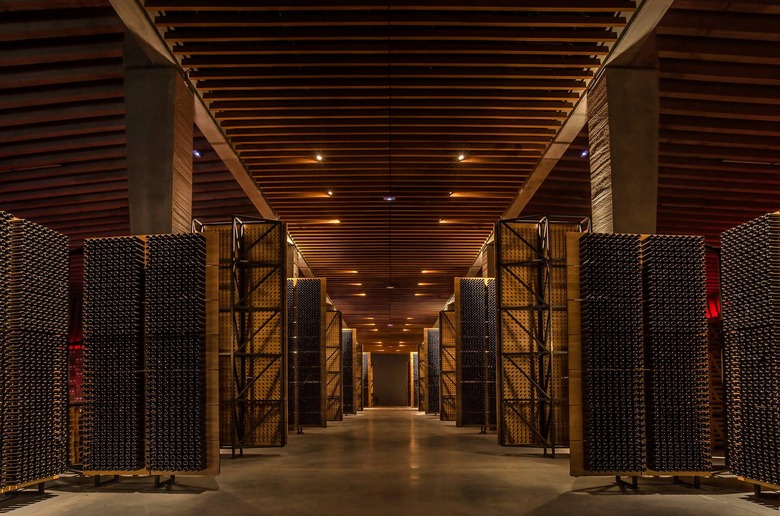 Ribera del Duero is located in Castilla y León, roughly two hours north of Madrid. Before achieving D.O. status in 1982, growers sold grapes to co-ops, and wine was sold in bulk. A small group of local growers saw potential for the area and applied for D.O. recognition. The rest is history, and Ribera del Duero remains a relatively young appellation to hold such prestige within the wine world.
The wineries in Ribera del Duero, however, have hundreds of years' experience perfecting the art of winemaking. They produce an array of the most flavorful, full-bodied red wines to please every palate and preference. Learn all about this storied wine region and you'll be ready to plan a trip and experience it for yourself. By car or bus from Madrid, the scenic drive to Aranda de Duero takes less than two hours.
The local scenery
The vineyards of Ribera del Duero stretch intermittently for more than 70 miles along the River Duero. These sprawling lands feature a mix of different soils, exposures and elevations — some as high as a half-mile above sea level. The semi-arid terrain, ample amounts of sunlight and extreme temperature swings from day to night — sometimes a 50-plus degree difference — create optimal ripening conditions for the Tempranillo grapes that define Ribera del Duero wines' distinctive character.
Which wines are produced in Ribera del Duero?
In Ribera del Duero, Tempranillo-based wines are king. Tempranillo from Ribera Del Duero is a red wine lover's dream and tastes even better with age. If you like Cabernet Sauvignon, you will love the big, rich, bold red wines of the region. The serious complexity and character of Ribera del Duero Tempranillo wines pairs well with everything from delicious steaks to hearty soups. Ribera has garnered a reputation for producing some of the world's most spectacular, award-winning reds and is considered the purest expression of the Tempranillo grapes.
Which wineries are "must-sees?"
There are more than 300 wineries; however, a few to start are:
Vega Sicilia in Ribera del Duero
One of the most iconic and luxurious wineries in Spain, this winery has a 150-year history and is obsessed with perfection, producing very high-quality wines. The wines are timeless, where if you're a collector who has the chance to try Unico 2007 you'll be one of the lucky few in the world! Tempranillo has always been a benchmark in the world of wine and is revered in Spain, and Vega Sicilia proudly carries that torch. Its wines are so well made, it answers only to Bordeaux in terms of its ability to age.
Bodegas Finca Villacreces in Ribera del Duero
This is one of the first wineries in the region and is situated in the middle of Ribera del Duero's "Golden Mile." The first vines were planted on this estate in the 13th century, where during the 14th century it was run by Saint Pedro de Villacreces. Later on, with its perfect conditions for prayer and retreat, it became a monastery. Enjoy a bike ride along the vineyards next to the breathtaking Douro River. At the end of your ride, cool down with delicious Pruno Tempranillo.
Bodegas Portia in Ribera del Duero
A must-visit for design-lovers! The impressive feat of design is a three-pointed star in the heart of Ribera del Duero and the only winery in the world designed by the famous and prestigious British architect Sir Norman Foster. The winery is the perfect union of winemaking and architecture, showcasing the balance of technical and artistic flair. A visit to Bodegas Portia typically includes a tasting paired with tapas and a rotating art collection.
Which wines would professionals recommend we try?
You can access Ribera del Duero wines on Wine.com and at your favorite retailers, including (but not limited to) Stew Leonards, Binny's, Total Wine and Fairway. Below are a few selects.
For the wine aficionado: Pesquera Ribera del Duero Tinto – $35.99
Pesquera Ribera del Duero Tinto is a world famous wine that will please any wine lover! This bold, intense Tempranillo is filled with classic notes of cherry, black fruit and spice. Following family tradition, legend winemaker Alejandro Fernandez has been producing quality wines since 1972 and was one of the first in his country to return to biodynamic, low yield viticulture in order to produce concentrated oak-aged red wines capable of extended bottle aging.
For the hostess with the mostess: Finca Villacreces Pruno – $21.99
This highly rated wine will impress any hostess. Finca Villacreces Pruno is a Tempranillo wine is similar to a Cabernet Sauvignon in that it is soft, juicy and impressively flavorful!
For the big baller: Bodegas Vega Sicilia Unico Tinto - $389.99-505.00
This is the ultimate gift if you're looking to shell out. This wine features a velvety texture with notes of cigar box on the finish. The Bodegas Unico Tinto boasts the perfect proportion of fruit (plums and berries), tannins and acidity and is critically acclaimed.
For the rosé all day lover: Arzuaga Rosae – $20.99
Rosé all day, even around the holidays. This clean and bright blush with have your gift recipient merry with cheer enjoying notes of raspberries and strawberries.
What are some unique recommendations for what to do in the region (outside of wine)? 
Book a hot air balloon ride over the "golden mile" of Ribera del Duero. At 500 feet in the air, you'll be able to take in the landscape from river to valley.
Visit the Zarceras — giant mismatched stone domes, as tall as men, which pop out of the ground like giant mushrooms. Links to the outside world, the Zarceras go deep underground into the ancient caves that were used to store wine in ancient times.
Walk through Peñafiel, a historical castle with a wine museum comfortably housed in its impressive stonewalls and turrets!