Travel The World In Style And Visit These Incredible Hotels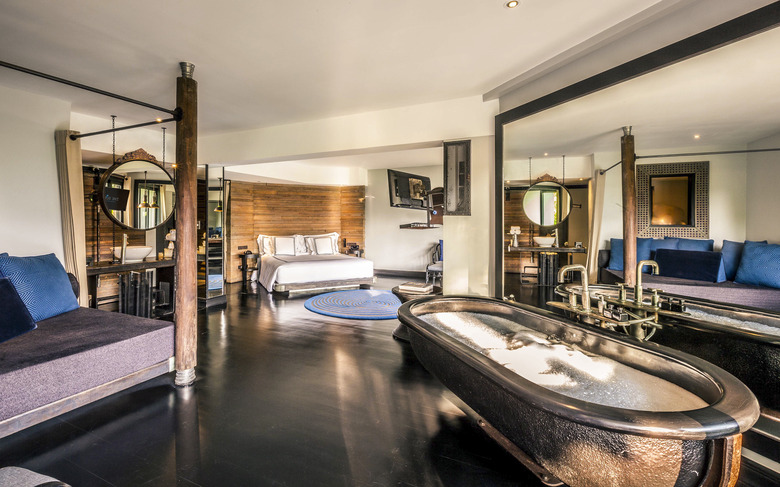 Nothing will nudge you out of your humdrum routine faster than the prospect of an awesome trip, preferably one involving a truly delightful home away from home. We've been combing the globe for the most comforting rooms in the most breathtaking locales, and gathered up the ten most incredible hotels to inspire your next vacation. Whether you're looking for a truly unique bar, soaking tub in the bedroom or simply the most comfortable bed in, well, the world, we've got something you'll love right here.
The Ultimate Relaxation Retreat Can Be Found At The Slate In Phuket, Thailand
As the story goes, Phuket has transformed over the years from a sleepy backwater with a smattering of backpackers into an island overrun with the kind of package tourists most discerning travelers would rather avoid. And it's easy to see why — its vastness and diversity meant that it's become a microcosm of Thai beach life, so whatever it is that you're looking for, chances are that you'll be able to find it on Phuket.
Hôtel Bachaumont Is A Paris Dream, In Shades Of Teal
The Art Deco-inspired Hôtel Bachaumont opened less than two years ago on a quiet street in Paris' central 2nd Arrondissement. It's a 15-minute walk from many of the attractions you'd want to see on your first visit, and for more seasoned travelers, a short trip to several Metro lines. No matter what your familiarity with Paris may be, Hôtel Bachaumont will serve as an excellent home base and trip highlight in itself. Traverse the grand entrance and see for yourself.
Hotel 65 Embodies Tel Aviv's Sleek And Playful Vibes
Israelis often say Jerusalem is where you pray, and Tel Aviv is where you play.
One of Israel's youngest cities, Tel Aviv, sits to the right of the Mediterranean Sea. The word "hip" doesn't begin to cover it. Half-shaven heads, tattoo-clad body parts and an ultra-cool fashion sense rule the streets. It's the type of place where one can find a 20-something-year-old woman blaring Britney Spears' "...Baby One More Time" from her convertible and Snapchatting her karaoke performance at a stoplight. If you're thinking this sounds like your typical, "up and coming" Brooklyn neighborhood, you're right. Hotel 65 leans on this vibe.
The Orlando Hotel Offers Easy Access To The Best Of Los Angeles
Like many a sensible New Yorker who travels to Los Angeles for business, my first stop after alighting at LAX is usually In-n-Out for a double-double and animal-style fries. On a recent trip, however, I Uber-ed straight to my lodging, the Orlando Hotel, and then wrestled with the idea of taking another Uber to get to my burger fix. Then, with help from a GPS-backed dining app, I realized that I was mere steps from Son of a Gun and could just beat the lunch cutoff at Jon Shook and Vinny Dotolo's reliable seafood-centric restaurant. Soon enough, I was face to face with a tuna melt and a pint of Acme California IPA that settled me into the West Coast mindset quite nicely.
Dine Like A Royal At Ireland's Ashford Castle
How often do you get to dine in a real castle, complete with ancient stone walls, tapestries, towers, hounds (yes, hounds) and rolling green grounds decorated with quaint gardens? Unless you're a royal or work in one of the few remaining functional castles, chances are you haven't had the esteemed pleasure. That's what makes staying in Ireland's Ashford Castle such a treat, provided you can navigate the narrow and winding streets that lead there. On the plus side, you'll have all the privacy you need.
The Monverde Hotel In Portugal Features Its Own Winery And Fine-Dining Restaurant
Eco-friendly vineyards with a state-of-the-art winery, a carbon-neutral hotel, expansive grounds, eco-lodging opening out onto the vineyards and a fine-dining restaurant? This isn't Napa, it's Portugal. Opened in August 2015, Monverde Hotel is the first hotel of its kind, not just in the idyllic Douro wine region (where Vinho Verde wines hail from), but in the whole country.
Pull Up A Lobster At The Press Hotel In Portland, Maine
"People don't take trips – trips take people."
—John Steinbeck, Travels With Charley — In Search of America
The above quote is inscribed on the keycard envelopes of the Press Hotel. It is indicative of both the vibe of the hotel and a weekend spent in Portland, Maine. The hotel, like the charming port town that houses it, welcomes you to explore a place where time moves a half-click slower, the people smile a half-watt brighter and the hospitality is a half-cheer merrier. It's a quaint collision of modernity and heritage. Whether it materializes as a five-star dish featuring lobster caught using handmade wooden traps or a luxury hotel dropped into a now-defunct newspaper printing house, Portland is full of these happy contrasts.
Sydney's The Old Clare Hotel Spoils You With Two World-Class Restaurants (Plus Two Bars)
When I was invited to stay at the Old Clare Hotel in Sydney, I didn't have to vet it first (as I typically do with other hotels). I just said yes.