Heston Blumenthal's Beautiful Grills Are Coming To America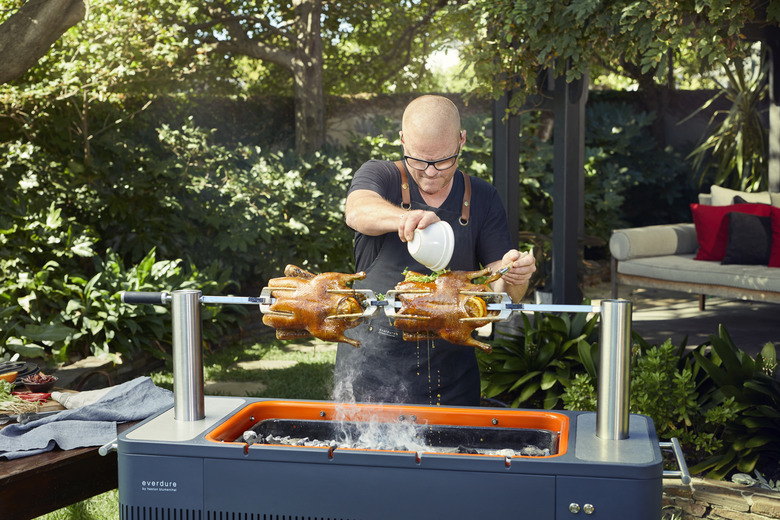 Heston Blumenthal designed these grills to make outdoor cooking easier and more stylish. (Photos courtesy
Michelin-starred British chef Heston Blumenthal just made it easier and more stylish to be a grill master. Everdure by Heston Blumenthal grills heat up quicker and can perform multiple tasks at a time, all while looking great.
The line features five gas and charcoal-burning grills, ranging from the easily portable Cube to the enormous, backyard-mainstay Hub. Grills come in four or five colors, depending on the model: charcoal, mint, red, stone and orange. The English chef partnered with Australian appliance company Everdure to launch the grills Down Under in 2016, and they are now entering the U.S. market. Find them at Williams-Sonoma.
The Cube looks like it comes straight from a 1960s American family picnic and features storage layers like those found in a bento box. Undo the latches and out comes a bamboo serving plate and carrying tray for paper plates and cutlery or food and an ice pack. Below those layers is the compact charcoal burning grill. A plus: since the Cube is tabletop-safe, Blumenthal says there is no reason why you couldn't host an interactive Korean barbecue night at your own home.
Other charcoal ranges include the Fusion and the Hub, both of which can also run on electricity. Fast Flame Ignition System is installed into both of these ranges and allows the grills to be heated in a mere 10 minutes. The Hub is the larger of the two and has the capability of roasting whole pigs and chickens up to 80 lbs.; the Fusion can roast up to 35 lbs. of meat. As for gas ranges, the Furnace and the Force feature three and two independently controlled burners, respectively, to make cooking different proteins and vegetables all the simpler. If you're looking to do some convection cooking, the Force's high hood circulates heat evenly so that chicken or roast comes out perfectly.
Blumenthal tells us that while testing the grills, they did more than just throw a few steaks down.
"During this process, we have been able to work on straight grilling recipes as well as fruit rotisserie recipes, baking pastry and slow roasting of meats," he writes via email. "I think the time has come to realize that BBQs are for much more than flipping burgers and steaks."
Check out the grills below.