What's The Hype Over "GG Crackers?" Might We Suggest These Instead?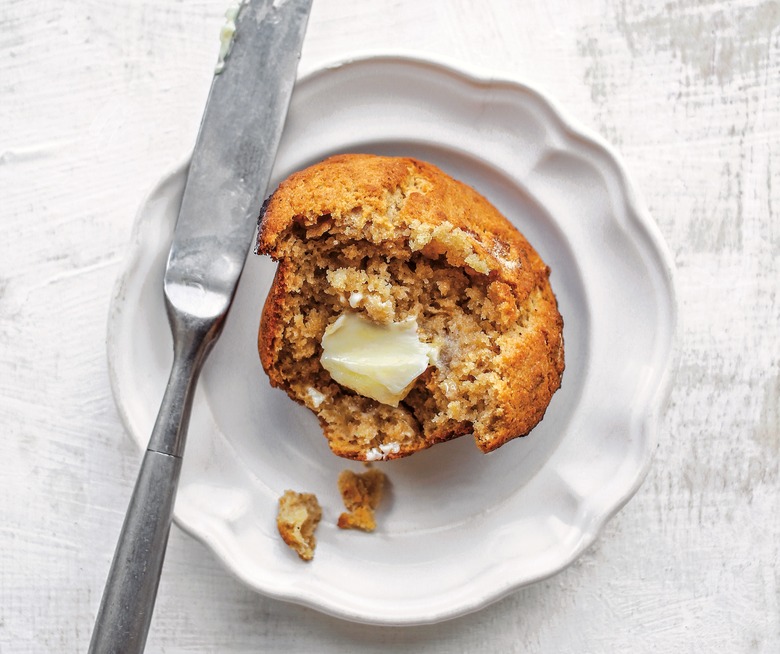 We here at Food Republic will never hate on a food for the way it tastes. Lack of taste, however, lands you directly in the hot seat. The latest diet trend hitting Instagram in the form of gussied-up health food are GG crackers, from Scandinavia. Developed in the 1930s by a constipated Norwegian — no joke — these fiber-rich flatbreads taste every bit as satisfying and delicious as they look. Therein lies the problem.
They may, by some Nordic magic, pack four grams of fiber into something resembling recycling that fell out of the bin, but being full of fiber is not the same as being satisfied by food. The cracker thins are currently being billed as "appetite control crackers," when the problem was never really appetite, but fiber intake, to begin with. Henceforth, we call foul and would like to offer you some real, easy-to-prepare snacks containing realistic amounts of fiber that contribute to deliciousness, not take away from it. That way, your mindful eating habits aren't derailed by hatred for these dumb crispbreads and you're not stuck with 17 grams of fiber in the form of this.
Kombucha Muffins
I thought I could use the carbonation and acid to make some kind of quick bread or breakfast muffin. So this is my tea-twist on the Irish soda bread I come across so often here in Boston.
Smoked Trout, Beet and Radish Matzo Tartines
I always keep a box of the stuff in my pantry for cooking experiments. Sometimes I go sweet, covering the matzo with melted chocolate, chopped nuts, and dried fruit; sometimes I go savory, crushing it into bits to make bread crumbs. Here I use matzo as the base for an open-face sandwich, spread with chive mayo and topped with two completely underappreciated supermarket ingredients: smoked trout and packaged steamed beets.
Seared Avocado
Seared avocado with fried lentils, drizzled with a tangy, savory tahini sauce. It's a hearty vitamin and protein-packed lunch that's big on flavor and low on impact.
Juicer Pulp Muffins With Chocolate Glaze
I always feel guilty dumping the pulp from my juicer into the compost bin, which is why I thought the moist pulp would be the perfect addition to a breakfast muffin. A quick search online made me realize I wasn't the first genius to think that idea up. So here goes: these are what I deem THE BEST JUICER MUFFINS in the world— tried and tested by me, my family, and my dog. We approve—let's hope you do too!
Super Crispy Potato Peels
The next time you're peeling potatoes, don't throw away the peels. Baked in the oven, they make a crunchy, moreish snack or a great topping for soup. The secret is to wash and dry them well, toss them in oil and get them into the oven quickly. They're so good, and so easy, you'll wonder why you haven't been doing it for years.
Sardines On Toast With Tomato Relish
A staple in Mediterranean Europe and Britain, sardines on toast has never quite taken hold here in North America. I'd like to change that. Sardines are an exceptional source of vitamin B12 — essential to our brain health, nervous system, and the production of red blood cells — and vitamin D, which we need for healthy bones. For the most tender results, brine these pretty little fish for at least 30 minutes and up to 24 hours before cooking.
Garbanzos Con Chile
When we were growing up in Mexico, fried chile-and-lime-spiced peanuts were the snack we would eat while hanging around, watching movies, or waiting for dinner. Since it is difficult to find organic peanuts in California (and they can be expensive), we tried the recipe with fried dried chickpeas instead. It works perfectly, and the crunchy, salty little chickpeas are addictive.
Herby Egg and Blue Cheese Souffles
Tangy blue cheese and plenty of fresh herbs keep these light, simple soufflés on their toes, though if you're not a blue cheese person, crumbled feta or Parmesan could happily stand in. I love that these do equally well as festive brunch fare and quick, weekday breakfast — if you make a batch on Sunday and store the leftovers in the fridge, you'll have easily grabbable egg cups all week long.