This isn't farewell to bolognese and sausage, it's just "see you later!" Tonight, lighten up your dinner with some fresh seafood pasta recipes featuring incredible olive oil, chili peppers, citrus, fresh herbs and lots of veggies. Pick up a bag of mussels, a big hunk of bottarga or a mess of fresh squid and toss away.
This is sort of an all-star pasta dish for me. It's got all the hits: crispy squid, caramelized lemons, and lots of fresh chili. The key here is to give the squid the space and time it needs to brown properly. This means working in batches, being patient, and letting it do its thing in the skillet. You'll notice that despite being patted dry beforehand, squid has quite a bit of liquid in it, which tends to come out while cooking. This is okay, and while it looks like maybe your squid is simmering rather than sautéing, the liquid will evaporate and the squid will brown, and there will be dark, crispy bits on the bottom of the skillet. Those bits are what you came here for. When scraped up with a bit of pasta water, simmering along with those fresh chiles and caramelized lemon slices, they are what make this whole thing so damn delicious, creating a sauce to coat every piece of pasta, inspiring you to shout, "Squid! I finally get it!"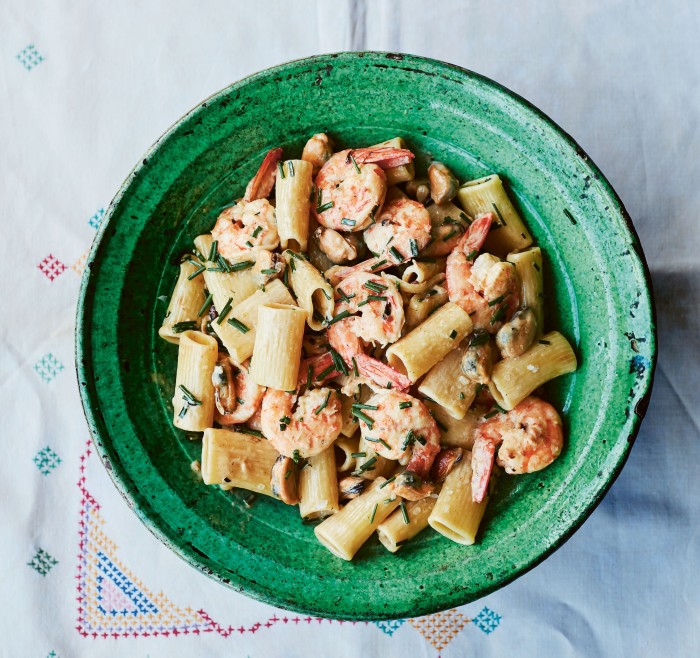 Pasta dishes have been a big part of Catalan cuisine since the seventeenth century, and some of the old recipes are still really well known today, such as cannelloni or the Fideuà or Sopa de galets, which is typically served at Christmas. Galets are big pasta shells, and the soup has meatballs in it as well. I tried something similar to this recipe at a restaurant in the old shipyard area of Barceloneta. The restaurant is called Suquet de l'Almirall – it's so worth heading down there to try it. That, and the paella Denominación Origen (D.O.) Barcelonetta.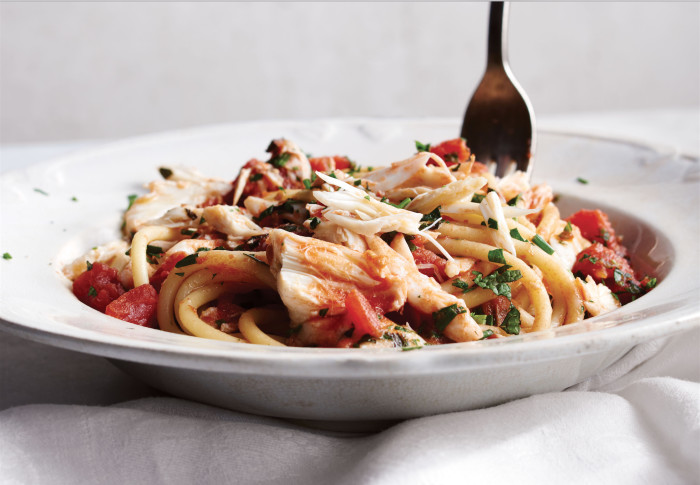 As boys, my uncles Michael and John often went crabbing in Barnegat Bay off the coast of New Jersey with their cousins. They'd bring back the day's catch to my great-aunt Mary's house, where she would make a marinara sauce, throw in the cleaned crabs, and then serve them straight from the pot with either pasta or bread. This recipe is inspired by their memories; even with shelled crab for ease and hot pepper for kick, the sentiment is the same.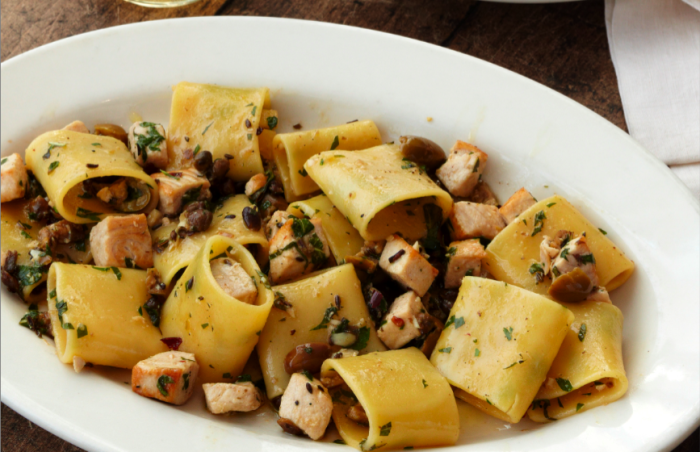 People often think of swordfish as a strong-flavored fish, but I think that's more about its texture, which is meaty and dense. The flesh is actually sweet and mild. And for this dish, swordfish's density is an advantage, allowing for lovely, resilient chunks that can stand up to the al dente pasta. Their size and texture goes well with the pasta called paccheri (in Italian it means "a slap in the mouth") — the bits of fish nestle nicely inside the wide openings of the pasta — but you can also use rigatoni or any other large tubular shape. The pungency of chili flakes, mint and fennel seeds make a nice contrast to the gentle saline flavor of the fish.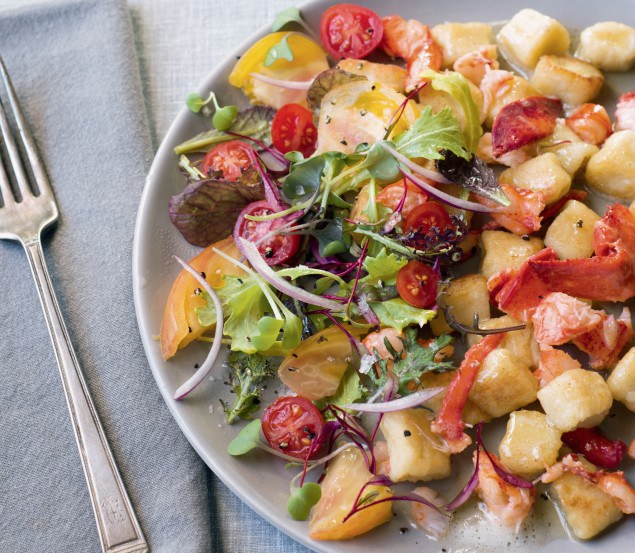 We met Jeff Landry back when he was the chef and owner of the Farmer's Table, a restaurant on Commercial Street in Portland serving locally sourced food. Since then, Landry has taken his expertise from the kitchen direct to the farmers and fishermen themselves, working to distribute their goods to other like-minded restaurants and to convert those restaurants that still import food unnecessarily. Gnocchi is Landry's favorite lobster dish, and he recommends starting a day ahead of time, as the gnocchi actually turn out best if you make them, freeze them, then cook them from the frozen state.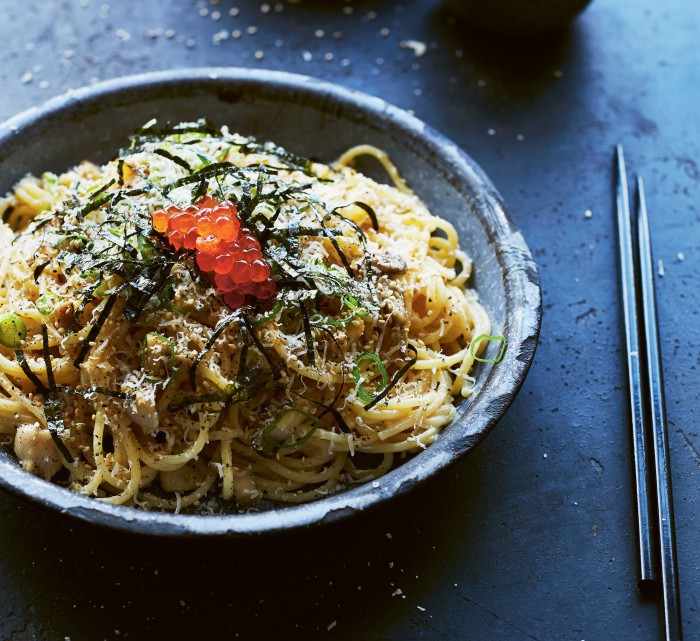 Believe it or not, there is a whole world of Japanese pasta dishes, collectively known as wafu (Japanese-style) pasta. Almost invariably based on spaghetti (which is not so different from ramen, in a way), Japanese pasta often resembles traditional Italian or Italian-American pasta dishes, but with innovative touches based on indigenous Japanese flavors. A classic example is mentaiko pasta, which uses pollock roe cured with chilli to flavor a buttery sauce – the flavor of mentaiko is kind of like a combination of Italian bottarga and chilli, so it makes sense.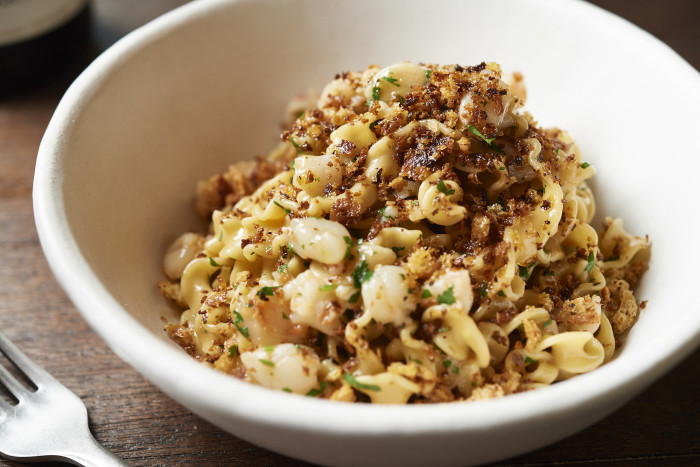 "The malfadini scampi is my reimagined take on the classic iteration of the Italian dish," says PJ Calapa, chef/owner of NYC's Scampi. Calapa's mastery of the dish left us speechless, and eager for more.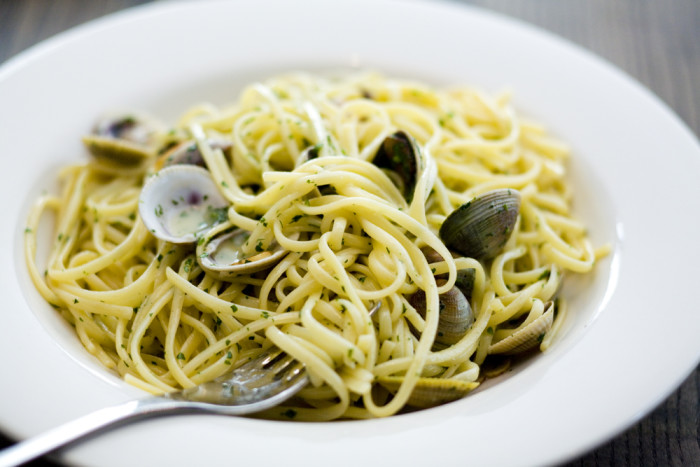 Linguine con vongole is one of those rare Italian pasta dishes whose simplicity outweighs the lack of cream, heavy cuts of pork or need for obscure-sounding artisan pastas. Owing to the shellfish and fresh herbs, this linguine is light, delicious and satisfying in any season. It's great to make for a quick weeknight dinner or hungry crowd in a pinch. Feel free to add more red pepper flakes for a spicier kick.